Logitech ConferenceCam Connect puts video chat in stick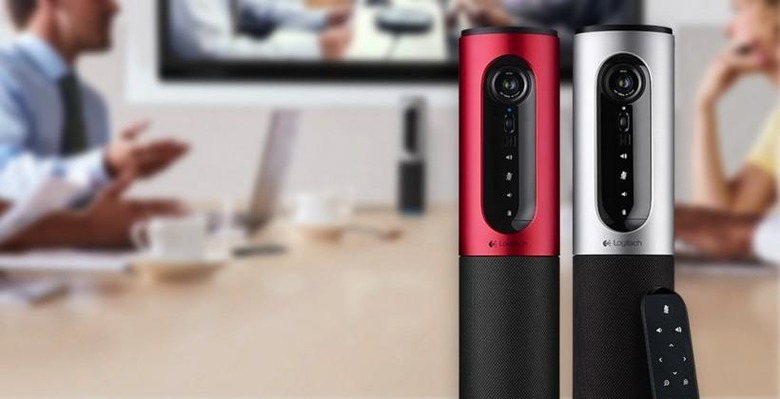 There's clearly a trend toward slightly-ominous slender cylinders in tech: first Amazon's Echo, and now Logitech has put the form-factor to use as a portable Full HD video conferencing gadget. The Logitech ConferenceCam Connect may at first glance look like a fancy sippy-cup for commuters to tote their coffee around in, but it's actually a fancy 1080p camera with ZEISS optics and integrated wireless, capable of turning a smartphone or tablet into an impromptu display, and linking roving employees into their company's video conferencing systems.
Since you'd struggle to find a phone or a tablet without a built-in front facing camera these days, Logitech has had to step up its game with the ConferenceCam Connect's features, mind.
For instance, along with the ZEISS optics, there's autofocus and a lens with a 90-degree field of view. That can be adjusted, too: the webcam has mechanical tilt control – physically shifting the angle of the lens up and down – as well as digital pan/tilt control.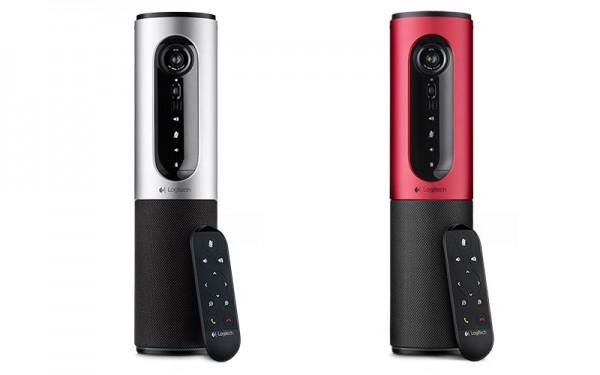 There's also a 4x digital Full HD zoom, which means you can get closer in on the frame without sacrificing resolution as would normally be the case.
On the sound side, there's a full-duplex speakerphone with echo and noise cancellation, using a pair of omni-directional microphones. That, Logitech says, is good enough for 360-degree sound capture within a 12 foot diameter.
Connectivity includes WiFi, Bluetooth, and NFC, and there's an HDMI port for hooking up an external display. Alternatively, you can wirelessly tether an Android or iOS phone or tablet, and then use that as the preview monitor and for screen-sharing things like presentations, videos, and content from online with other participants.
A USB port allows an external microphone to be plugged in, while an internal battery is good for up to three hours of video conferencing or up to fifteen hours of speakerphone use.
There's a remote control – which docks into the back so you don't lose it – for handling the core functionality from across the room.
Unsurprisingly, this isn't really aimed at the home market – Logitech has the TV Cam HD for that – but at mobile business people. They probably won't blanch at the $499.99 price tag, and will instead be impressed by the Lync 2013, Cisco Jabber, WebEx, and Skype support.