Livescribe Echo Smartpen Boosts Storage, Slims Size; Artist Features Due This Fall [Video]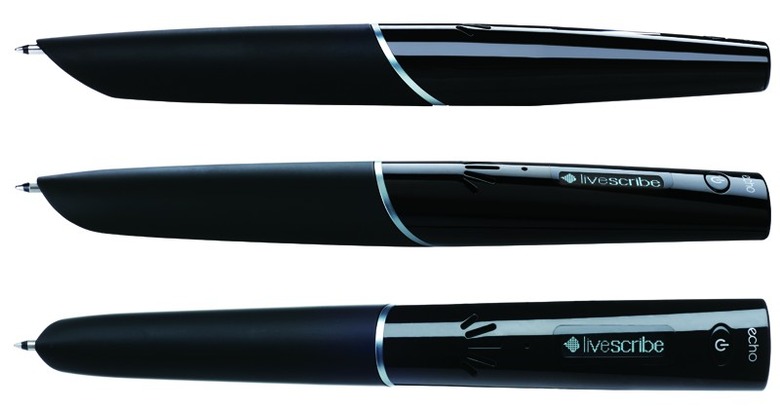 Livescribe has outed their latest digital pen, the Livescribe Echo Smartpen, and as well as slimming down from its Pulse predecessor it also has more memory and the addition of social networking support for its recorded notes.  Meanwhile, a promised update for this coming fall will bring Paper Tablet, a new feature that turns the Echo into a Wacom-style digital tablet with just a microUSB cable.
Video demos after the cut
4GB and 8GB versions of the Echo are on offer, and as before the stylus records both audio and handwritten notes, linking the two together for easier later recall.  The two units can record up to 400 or 800 minutes of audio respectively.  A 3.5mm headphone jack adds private review capabilities, while the Livescribe Desktop companion app has also been tweaked.  It now gets optional password protection for notes, the ability to name your Smartpen and have that shown on the integrated OLED display, custom notebooks and pencast support.  The latter basically involve real-time playback of audio/handwritten notes that can be shared via social networks or email.
Of course, there's also access to the Livescribe Application Store, with apps like a dictionary that can show definitions for handwritten words on the OLED screen.  The Livescribe Echo Smartpen is available today, priced at $169.95 for the 4GB model and $199.95 for the 8GB model; the 2GB Pulse is now reduced to $129.95.  Meanwhile UK buyers can get the 8GB Echo for £179.  Paper Tablet and Pencast Player will be available later this year.
Press Release:
Livescribe Unveils Echo™ Smartpen

Company previews new communication and collaboration software for business professionals

OAKLAND, Calif. – July 19, 2010 – Livescribe Inc. (www.livescribe.com) maker of the award-winning Pulse smartpen, unveils Echo™, the newest smartpen in its product lineup, along with software enhancements geared for the business professional that make sharing, securing and organizing information simple. Today's announcement also previews new communication and collaboration capabilities coming this fall, including Connect and Paper Tablet, which simplify and streamline the sharing of information within existing workflows using industry-standard document formats like Adobe PDF.

"Livescribe's mission is to enhance the capture, access and sharing of written and spoken information to improve communication, collaboration, productivity and learning," says Jim Marggraff, CEO and founder of Livescribe. "Today's announcement of the Echo smartpen and preview of our new communication and collaboration tools marks a significant advancement in paper-based computing, as well as personal and professional information management. Notes, audio, and other information captured on paper are now seamlessly integrated into readily used online applications and services. Integration with Adobe PDF brings the communication benefits of audio and ink together in a ubiquitous format for use by millions of people."

Echo Smartpen

The Echo smartpen captures everything consumers hear and write and provides quick and accurate access to important information by simply tapping on the written notes either directly on paper or on a computer using the Livescribe Desktop software.

Echo features a sleek ergonomic design with a rubberized grip and anti-roll surface. It is available in 4GB and 8GB models, recording approximately 400 and 800 hours respectively. This new smartpen also features industry-standard connectors, micro-USB and 3.5 mm audio jack, to enable customers to use their favorite ear buds for private listening as well as share common USB cables with other mobile devices. Click here to see a demonstration of Echo.

The 8GB Echo smartpen features abundant storage, for up to 800 hours of audio or a combination of audio, digital ink and applications. Applications range from rich reference tools like a complete 120,000 word American Heritage Desk Dictionary to simple games and study aids, available from Livescribe's Beta Application Store, which now includes more than 60 applications. Livescribe smartpen applications enhance many aspects of digital life from productivity and education to entertainment and communication, enabling users to customize, personalize and extend their smartpen functionality.

New Smartpen and Livescribe Desktop Enhancements

A variety of free enhancements to Livescribe Desktop and the smartpen have been added for both Echo and Pulse customers.

Launch Line: a new way to access and launch applications in seconds

Password protection: ensures recorded audio on your smartpen remains private and safe

Custom smartpen name: display a name or other contact information on the OLED screen, making identifying the owner of a smartpen easy

Custom notebooks: group and organize notes as easily as creating a playlist in iTunes

Pencast import/export: save and share pencast files locally to your desktop, a server, or to send to others as an integrated audio/notes document. Anyone with the Livescribe Desktop software (free download online) can now open, view and interact with a native Livescribe file

New Communication and Collaboration Tools Available this Fall

This fall, Livescribe will also make available new Connect software, which enables customers to send notes, audio and Pencast PDFs quickly and easily from smartpen and paper to a wide range of destinations including email addresses, online sites and other popular third-party consumer, education and business applications. Information is automatically sent when the smartpen is docked to a Mac or PC. With Pencast PDF, customers will also be able to author and share pencasts in an industry-standard Adobe PDF document directly from smartpen and paper. Anyone with Adobe Acrobat Reader 9.3 or above will be able to view and listen to an interactive Pencast PDF. To see an example Pencast PDF, click here.

Livescribe will also introduce Paper Tablet, powerful new collaboration software that lets consumers communicate in real-time, directly from a Livescribe notebook to a Mac or PC using an Echo smartpen and a standard micro-USB cable. Now any Livescribe paper product can also be used as an interactive, high-precision graphics tablet, with the smartpen being used as a real-time graphics stylus. Customers will create and share notes, drawings, and annotate or sign documents or presentations locally or over the Web with popular video conferencing applications and industry-standard education collaboration tools.

Pencast Player from Livescribe on Apple iPad, iPhone and iTouch

With the launch of Echo, the company is announcing the Pencast Player for iPad, iPhone and iTouch, which enables customers to access their pencasts anywhere they go. Now notes and audio from critical meetings or lectures are portable, playable and easy to share with a simple touch. Pencast Player will be available for free from the iTunes store later this summer.

Product Availability

All Livescribe smartpens and the Livescribe Desktop software for Mac and PCs are localized and available in English, French, Italian, German, and Spanish. Additionally Korean, and Chinese languages are supported in the Windows version of the Livescribe Desktop and all smartpens.

US: The company is also introducing several new accessory products to enhance the experience with Livescribe smartpens.

Echo 3-D Recording Premium Headset ($29.95): features embedded microphones that enable 360 degree binaural recording – ideal for recording in lecture halls or conferences

Smartpen Portfolio ($24.95): a convenient all-in-one solution for professionals, fits Livescribe journals or A5 notebooks, and provides extra storage for a smartpen, business cards and extra ink cartridges

Deluxe Carrying Case ($24.95): a protective zippered case, with plenty of room for a smartpen, ear buds and other cables and accessories

The new Echo smartpens, available in 4GB ($169.95) and 8GB ($199.95) models, dot paper and accessories are available now at Best Buy, Amazon.com, Apple, Staples, Target and online at Livescribe.com. In addition, select applications for the smartpen will be sold at Best Buy, with a full set of downloadable applications available at Livescribe's Application Store at www.livescribe.com/store. The 2GB Pulse smartpen is now available at a new entry price point of $129.95.

UK: The 8GB (£179) Echo smartpen is available exclusively through www.amazon.co.uk for the next four weeks. The Pulse smartpen is also available in 2GB (£129) and 4GB (£159) models.

GERMANY: Starting today, the 8GB (€199.95) Echo smartpen is available exclusively through Unimall for students and teachers in the education sector. Starting in September 2010, Echo will be available at all sales partners in the German speaking markets.

AUSTRALIA: The 8GB ($299AUD) and 4GB ($259AUD) Echo smartpens are available starting today at retail partner Dick Smith and later this week at JB HiFi and OfficeWorks. The 2GB Pulse smartpen is now available at a new entry price point of $209AUD.

About Livescribe

Located in Oakland, Calif., Livescribe has developed a new low–cost mobile computing platform that enhances productivity, learning, communication and self expression for anyone that uses pen and paper. The Pulse smartpen revolutionizes the act of writing by recording and linking audio to handwriting, so users never miss a word. For more information, visit Livescribe at www.livescribe.com.

About Anoto Group AB

Anoto Group is the world leader in Digital Pen and Paper technology and inventor of the first commercialized Digital Pen and Paper system allowing quick and reliable transmission of handwritten text from paper to digital media. Anoto works with a global network of partners focusing on user–friendly forms solutions for efficient capture, transmission and storing of data for a variety of business segments including healthcare, banking and finance, transportation and logistics, government and education. The Anoto Group has around 100 employees, offices in Lund (head office), Boston and Tokyo. Major shareholders are Norden Technology A/S, Robur and SEB. The Anoto share is traded on the Mid Cap of the OMX Nordic Exchanges in Stockholm under the ticker ANOT. For more information: www.anoto.com