Livescribe Pulse smartpen gets more storage, App Store promised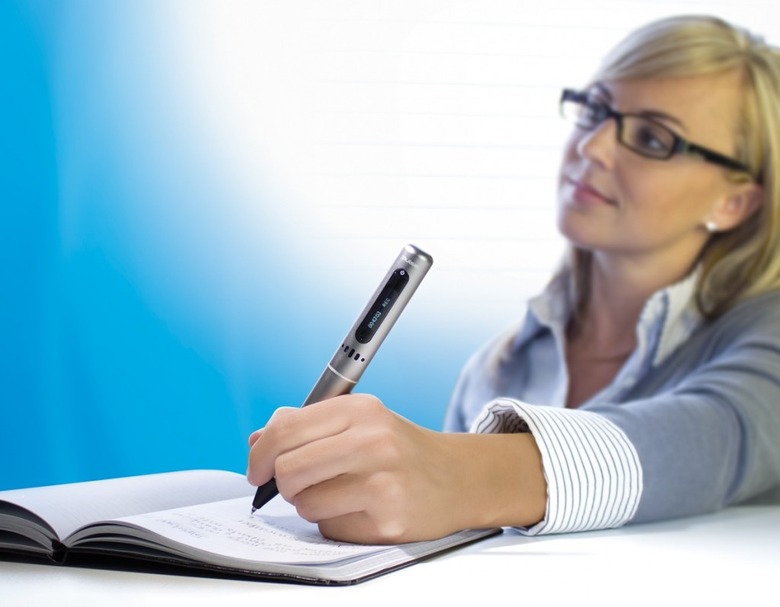 Livescribe have outed the latest versions of their Pulse smartpen range, which promise to take your chicken-scratch, digitize it and make it less of a headache to read back at a later date.  The Pulse now comes in two memory options – the original 2GB and a new 4GB model – together with getting a makeover in the shape of a titanium-finish casing.  There's also a ProPack on offer, which bundles an exclusive black 4GB Pulse smartpen, charging cradle, leather carrying case, A5 notebook and handwriting-to-text transcription software.
The Pulse smartpen uses a combination of specially printed paper – which is covered in microdots – and an infrared camera and microphone in the stylus itself, to take digital notes, line up emails by simply ticking an "email" box, and record meetings and conversations.  Once you're done writing, you can sync it all back to your computer and have the software transcribe your handwriting into something more usable.
The new 2GB Pulse smartpen comes in at $169.99, while the 4GB version is $199.99.   Meanwhile the ProPack comes in at $249.99.  Livescribe are also promising an application store of their own later in the year.
Press Release:
LIVESCRIBE EXPANDS THE PULSE SMARTPEN PORTFOLIO IN TIME FOR HOLIDAY GIFT-GIVING

Retail availability extended to Apple Stores, Best Buy and Staples

OAKLAND, CALIF. – Oct. 19, 2009 /PRNewswire/ — Today, Livescribe Inc. announced the expansion of its line-up of award-winning Pulse smartpens, a computer in a pen that digitally captures and syncs handwriting and audio together. Customers can now select a 4GB and 2GB model in a new, stylish titanium color. The 4GB model holds more than 400 hours of recorded audio and provides ample storage for consumers to add applications such as, entertainment, education and productivity tools to their smartpen when Livescribe launches its Application Store later this year. The 4GB Pulse smartpen has a retail price of $199.95 and the 2GB model is $169.95.

Also, released today is the Pro-Pack bundle, a new option for the business professional. The Pro-Pack includes the 4GB Pulse smartpen in an exclusive black color, an A5 size starter notebook, a premium leather carrying case, handwriting to text transcription software, and the new Pro Charging Cradle. This special bundle is initially available at Livescribe.com for $249.95. The Pro Charging Cradle has a stylish ink-well design and charges Pulse from an electrical outlet or computer.

To meet growing demand and provide greater purchase accessibility, Pulse can be found at several new retail outlets, including Best Buy, select Apple stores nationally and Apple.com. Starting in mid-November, the Pulse smartpen will be available at Staples stores nationwide. Pulse continues to be available at Target and Amazon.com.

"We are thrilled to have broadened not only our product line, but also our retail distribution to reach people wherever they shop for electronics. We know that many people like to see things in person before purchase and our new retail relationships with Best Buy, Apple and Staples will help demonstrate how Pulse can positively impact their lives professionally, academically and personally by never missing a word," said Livescribe CMO Byron Connell.

About Livescribe

Located in Oakland, Calif., Livescribe has developed a new low–cost mobile computing platform that enhances productivity, learning, communication and self expression for anyone that uses pen and paper. The Pulse smartpen revolutionizes the act of writing by recording and linking audio to handwriting, so users never miss a word. For more information, visit Livescribe at www.livescribe.com.
[via Gearlog]