Libratone Zipp Review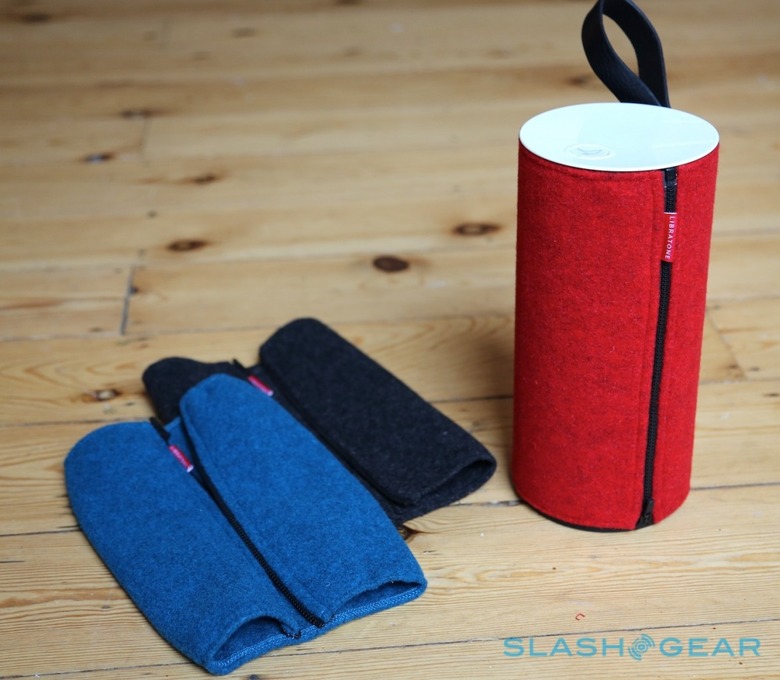 Time was, if you wanted a wooly column of wireless musical pleasure, you had to train a sheep to stand upright and sing. Libratone's new Zipp, however, changes that: a wool wrapped portable speaker delivering not only Apple's AirPlay but a tweaked version intended for the wide open spaces that the Zipp – or sheep, for that matter – might go frolicking in. Read on for the SlashGear review.
Hardware and Design
Libratone has been pushing its brand of quirky fabric-clad simplicity for a few years now, and the Zipp follows in the footsteps of the Beat we reviewed last year with more wool wrapping. A 10.2-inch tall, 4.8-inch diameter cylinder, the 4 pound Zipp has a whimsical leather handle and can be dressed up in one of eight different colors of outer sleeve.
These range from the sober – black or a pale grey – through to the more eye-catching, such as bright red or purple; each has a simple zip fastening running the length of the speaker. Libratone will offer individual Zipp models – in grey or red – at Apple Stores for $399/£329 apiece, or in three-pack boxes with either black/blue/red or black/pink/yellow covers and a single speaker for $449/£369. Additional covers are available from Libratone direct, priced at $49.95.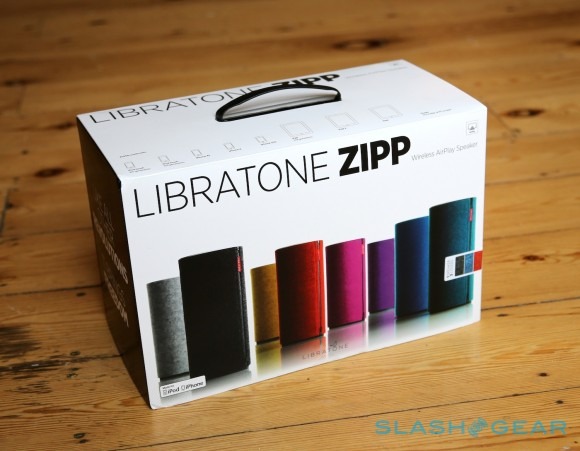 Under the Italian wool lurks the latest version of Libratone's FullRoom sound technology, here paired with a single 4-inch bass driver and two 1-inch ribbon tweeters driven by 60W of digital amplification. Although that may sound like a 2.1 setup, Libratone insists on calling it "360-degree" audio, with no front/back or left/right, and the same quality of sound no matter where in the room you're sitting.
That's the same promise as the Libratone Beat, but whereas that model was stuck within cable range of a power socket, the Zipp can join you in the garden or on the go. An internal rechargeable battery means the Zipp can go entirely wireless, with Libratone claiming up to eight hours of runtime if you plug in your source direct, or half of that if you're using AirPlay.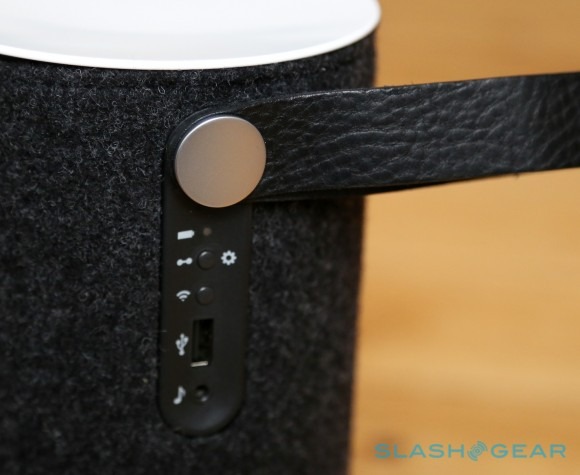 It's not the smallest portable speaker, but it's also not the most difficult to transport; certainly it's easy to tote around the house, while we could see it getting packed into a rucksack with your next picnic too. The leather carry handle is a neat touch, and feels sturdy enough to swing the Zipp from; it also masks the majority of the ports and buttons on offer. While the power button and volume keys are on the top of the speaker, under the strap there's a USB port, aux-in input, LEDs for battery and wireless status, a WiFi button, and a PlayDirect/Setup button.
PlayDirect
What's PlayDirect, you ask? That's Libratone's alternative to AirPlay, based on Apple's system's little-discussed device-to-device WiFi support. Rather than demanding both iOS or OS X gadget and the Zipp be hooked up to the same wireless network, a direct connection can be established between the two. Unfortunately, because iOS doesn't support simultaneous PlayDirect and WiFi internet access, using the out-of-the-box settings you'll find your iPhone or iPad loses its data connection when you pair it straight to the Zipp.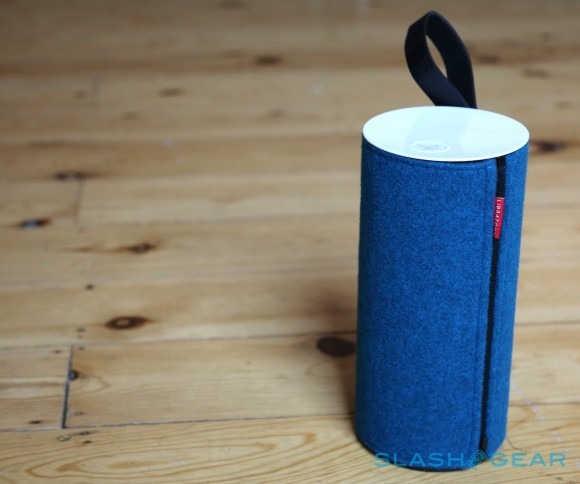 That's fine if you're content to play back nothing but music stored locally on your phone, but an issue if you were hoping to stream music from Spotify, Pandora, or similar services. Libratone provides instructions to work around it (basically assigning a static IP address to the iPhone/iPad's WiFi connection) but you can only then stream from internet services if your device has a 3G/4G connection. WiFi-only iPads are out of luck.
Of course, you can use AirPlay as normal, as long as there's a WiFi router in-between to connect to – a distinct possibility in your home or garden; less likely when you're at the beach – and hooking the Zipp up is straightforward. You can either plug in your iOS device via USB and have the Zipp suck the WiFi settings out, or you can navigate to the speaker in your computer's browser and punch in the relevant details that way. Switching between AirPlay and PlayDirect is a simple matter of hitting each button on the Zipp, with it taking under a minute to reconnect; however, if you roam out of range of PlayDirect, it can take a power cycle of the speaker to get it paired up again.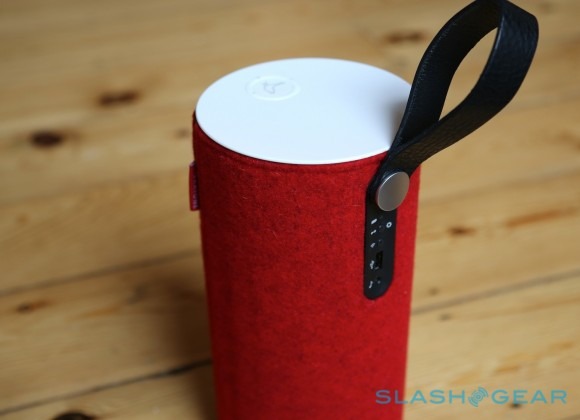 It's also possible to connect an iOS device via USB and play back music that way, and the aux-in port takes a stereo audio input from any external source – whether it's your Android phone or an old Discman – you might have lying around. Still, the emphasis is most definitely on Apple' ecosystem; you don't get Bluetooth.
Performance
We used to have generally low expectations of portable speakers: battery powered generally meant mediocre sound. Since then, though, we've seen several attempts to supercharge mobile music, and so the Zipp has plenty to live up to. The most obvious rival is probably Jawbone's BIG JAMBOX, though slightly smaller than the Libratone and eschewing AirPlay in favor of Bluetooth.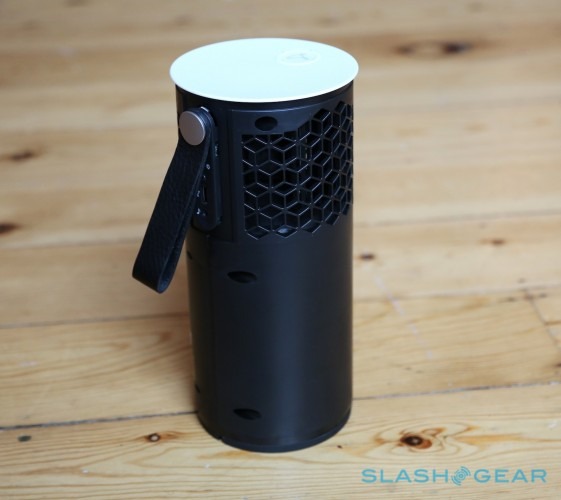 What the Zipp has as its main advantage is an active bass driver, rather than the passive bass radiators of the BIG JAMBOX. With that, the Libratone system sounds a whole lot more rounded and complete: trebles and mids are bright and broad, while the bottom end is enthusiastic but without the imprecision that can affect passive rivals.
Libratone is keen on its 360-degree sound concept, and it's certainly less directional than traditional speakers. Where Sonos' PLAY:3 works best when firing forward, into the body of the room, the Zipp can fill a space with less concern to its actual placement. On the flip side, though, there's no way to pair two Zipp units together for actual stereo playback – as you can do with Sonos speakers – and the Zipp generally blurs the stereo channels together.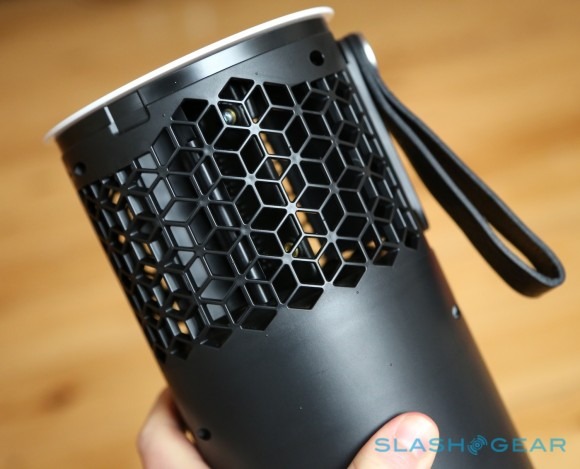 A companion iOS app allows for remote selection between seven different EQ presets – neutral, easy listening, soft, rock, jazz, movie, and live – with a separate setup tab for choosing between different placement positions. You can tell the Zipp whether it's on a floor or a shelf, on a table, or outdoors, and even specify the distance from the walls and other more precise factors. Battery life came in at around the four hour promise from Libratone when we streamed from an iPad over PlayDirect.
Wrap-Up
Apple is pushing away from speaker docks and focusing on wireless audio, and the accessory industry is eager to oblige. Such systems have generally been more expensive than traditional, wired docks, but that's also encouraged manufacturers to dress them up and make an altogether more "premium" experience.
On that front, the Libratone Zipp makes a convincing argument. The hardware is solid and distinctive, and the wool covers, though initially seeming gimmicky, make more sense when you think about being able to easily replace scuffed, ripped, or otherwise damaged sleeves that may get battered around while you're on the move.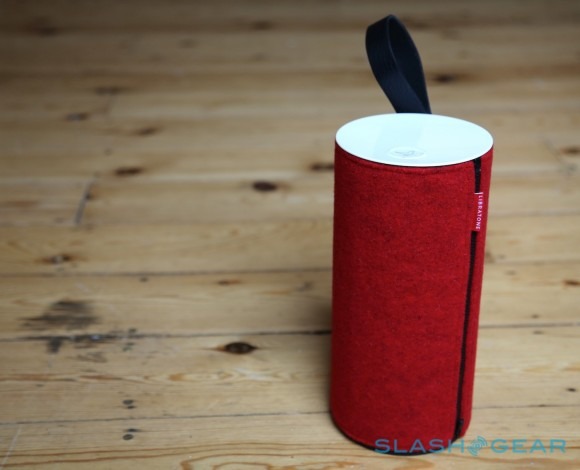 Most importantly, though, it sounds great. It may lack the simultaneous multi-room playback option of systems like Sonos, but it's far more portable; that iOS doesn't make coexisting PlayDirect and internet data connections straightforward is a blip on usability, but it's one that will hopefully be addressed with new firmware. Unfortunately there's no chance of adding in Bluetooth, which means the Zipp is unlikely to gain any great following among the Android faithful.
At $399 it's a hundred bucks more than a BIG JAMBOX, but to our ears the audio performance is well worth the extra cash. Broad compatibility with Apple devices and appealing design make the Zipp a solid pairing to your iPhone or iPad, with the reassurance that it won't be left behind when the next range of iOS devices appears.