BIG JAMBOX Review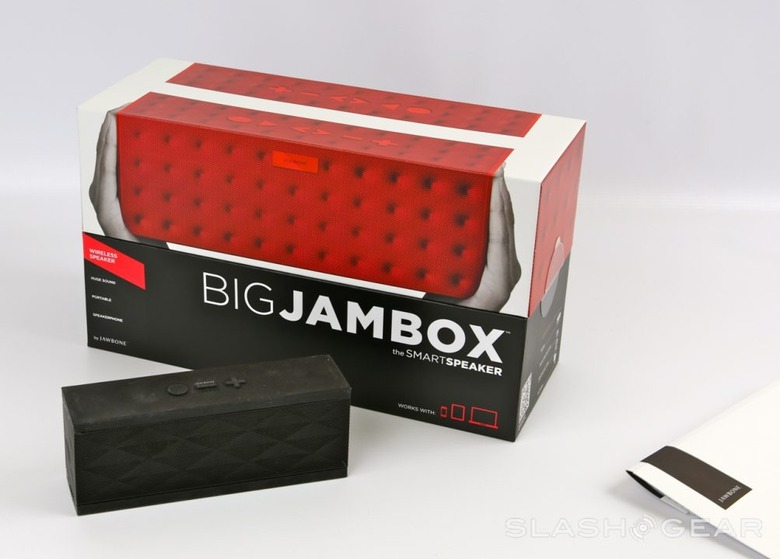 Jawbone's JAMBOX personal speaker put music and hands-free calls in your backpack, messenger bag, your briefcase and on your nightstand. Now, with the BIG JAMBOX by Jawbone, it's time to take your music out into the backyard, poolside or park and do some sharing. Bigger all round – more power, more battery life and more heft in your bag – the BIG JAMBOX comes at a $100 premium over the $199 original, but is it worth it? Check out the full SlashGear review to find out.
Hardware
The BIG JAMBOX is more of the same in terms of design, though given how much we liked the original, smaller model, we're not complaining. At 10 x 3.1 x 3.6 inches and 2.7lbs it's certainly bigger than the first JAMBOX, but it's still battery powered rather than demanding a permanent mains tether.
BIG JAMBOX Unboxing and hands-on
[vms 065e000ffe8a4f03eeb3]
Externally, it's a wrap of perforated steel capped with elastomer end panels, with the mesh finished in one of three patterns: either dotted, on the red model, waved, on the white, or honeycombed, on the graphite. The larger top panel gets three extra buttons, the talk and volume keys joined by play/pause and previous/next. A power button and a pairing button are on the right end-cap, along with a 3.5mm line-in port, a microUSB port and a charging port.
We can't fault the BIG JAMBOX's build quality, it being sturdy and flex-free. It's not to big to comfortably grip with one hand, and the size sits in the sweet-spot between offering solid sound – more on which later – and still remaining portable.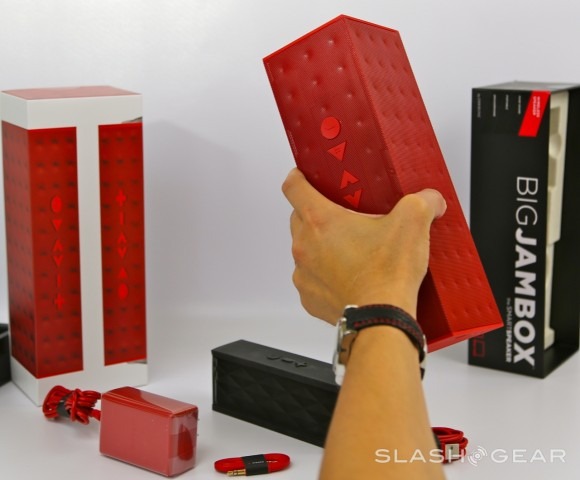 Inside, there are two custom-designed active drivers paired with twin opposing passive bass radiators and a fair amount of audio DSP. Since the BIG JAMBOX can be used as an oversized speakerphone, an echo-cancelling microphone is also included. The battery is a rechargeable, non-user-accessible Li-Ion pack with its own AC adapter; you can't recharge via a USB connection.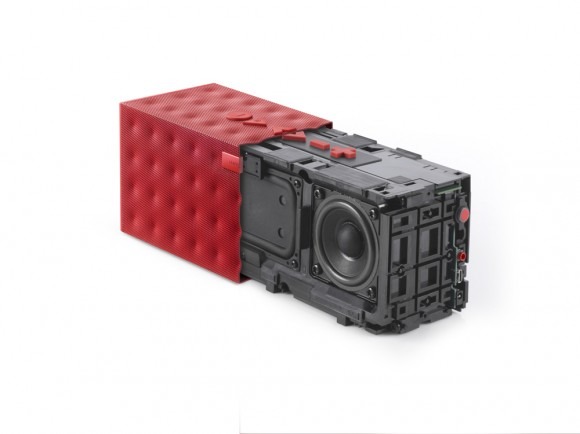 Connectivity – if you're not using the wired input – is courtesy of Bluetooth, with support for up to eight device pairings to be stored and simultaneous connections with two. Up to 33 foot range is promised, though we saw more than twice that when we had line-of-sight between our iPad and the BIG JAMBOX. Unfortunately, there's no support for the aptX Bluetooth profile for higher-quality audio, though even if there had been you'd have needed a compatible source device to actually take advantage of it.
Performance
The original JAMBOX was a great portable speaker, but fell short of bass and overall power when faced with larger rooms. That's not a problem the BIG JAMBOX encounters: as the name suggests, it's simply a bigger sound. That's not to say it's aimless, though, with plenty of clarity and distinction between vocals and different instrument types. Rock and R'n'B are suitably energetic, but trickier acoustic and classical tracks are also clean and crisp.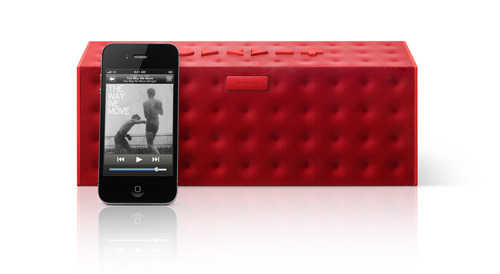 Meanwhile, though there's no active subwoofer, the bass has plenty of thump to it and only begins to get muffled and imprecise at the top end of the volume range. Jawbone is pushing the BIG JAMBOX as being not only ideal for streaming music but for game audio, and sat in front of the speaker with a tablet in hand and a racing game proved to be a far more immersive experience than just the slate's speakers alone.
Jawbone also implements its LiveAudio technology, a virtual 3D sound system. It works best, the company says, with specially processed binaural audio – where the track is recorded using two microphones positioned (or artificially post-processed) to mimic the way human ears would hear it.
However, LiveAudio also works with non-binaural tracks, working much as the virtual surround sound settings on other speaker systems we've seen. It's an artificial sense of depth; more a wider soundspace than actual 3D, and it doesn't necessarily suit all tracks. Download a few of Jawbone's sample binaural tracks, however, and you can see what you're missing with regular audio.
Software
Jawbone first started pairing Bluetooth gadgets with special software with its headsets, but the BIG JAMBOX also gets app support in the company's MyTALK system. After creating a free account, and downloading the Jawbone Updater app, you can connect the BIG JAMBOX to your PC and transfer apps and new features to it.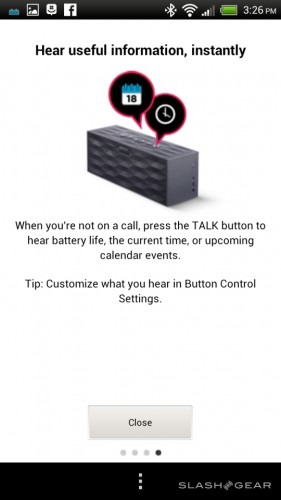 For instance, the DialApp allows you to customize the behavior of the TALK button on the Bluetooth speaker, while the AudioApp means you can change the voice that announces battery life and caller ID. Then there's the Android app, the Jawbone Companion, which turns the BIG JAMBOX into a virtual personal assistant of sorts, announcing calendar events, streamlining the dial-in process for conference calls, and showing the speaker's battery status on your phone's screen.
Battery
Jawbone claims up to 15 hours of playback and 500 hours of standby time from a full charge of the BIG JAMBOX's battery, with a complete recharge taking around 2.5 hours. How much you'll actually get out of it is very much dependent on volume, of course.
We'll need more time with the BIG JAMBOX to get a better sense of real world battery life so make sure to check back on SlashGear for our follow up article.
Wrap-Up
At $299, the BIG JAMBOX isn't cheap, but nor is it as expensive as some of the style-focused AirPlay speakers we've seen for Apple devices. It doesn't compromise on sound, either, either in terms of volume or audio quality; Jawbone positions it as a portable speaker ideal for the bedroom, garden or beach, and the BIG JAMBOX does indeed have the battery life to move between all three.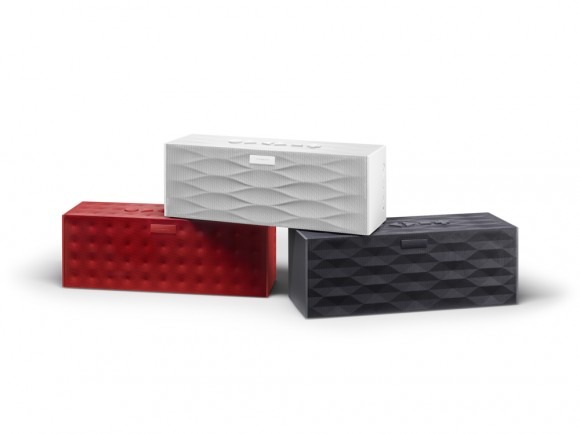 In doing so it loses a little of the portability of its $199 predecessor (which remains on sale as a smaller option) but delivers sound that's far more suited to communal use than as a "personal" speaker. If you like your music on the move and you want to share it, the BIG JAMBOX is an excellent way of doing that two thumbs up from SlashGear. Pre-orders starts today with units available in store on May 15 with a $299 price tag. [BIG JAMBOX]