LG X130 netbook gets 12hr 9-cell battery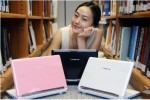 If you ask me, this young lady looks a bit smug; still, she has not one but three of LG's new X130 netbooks, so I guess she has cause to be.  Behind the by-now-clichéd glossy pink, black and white lids there's a 10.1-inch 1024 x 600 LCD display, while under the hood there's a 1.6GHz Intel Atom N270 CPU and 1GB of RAM.  In fact, if you're thinking that this all sounds strikingly familiar then you'd be right: the only major change here is the standard 9-cell battery.
That, claim LG, is good for 50-percent more capacity than previous models, quoting runtime figures of up to 12 hours.  During that time you'll get to play with the 160GB of hard-drive space, WiFi b/g/n, Bluetooth 2.0+EDR and Windows XP Home.
No sign of an integrated 3G WWAN option as has been offered on previous LG netbooks, but that's not to say it won't be forthcoming in future updates.  The LG X130 will go on sale in Europe, Asia, Latin America, the Middle East and Africa, priced at around 789,000 Korean won ($632).