LG X110 netbook reviewed: integrated 3G handy, but it'll cost you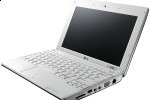 The LG X110 is, under its pleasant casing, basically an MSI Wind.  What LG throw into the mix is integrated 3G, and it's that which singles the netbook out in Register Hardware's review.  The 10-inch X110 has the usual Intel Atom N270 processor, 1GB of RAM and a 160GB hard-drive; it's also available free, if you sign up with one of a number of mobile broadband contracts in the UK.
Other than more connectivity freedom, the X110's keyboard is praised for not feeling as cheap as it undoubtedly has to be, while the casing is better than MSI's own efforts despite the shared guts.  However the display is a frustration, with webpages looking cramped, and the touchpad is smaller than the space allows.
These mobile broadband deals are all well and good if you lack the upfront money for a new netbook, but don't be blinded to the fact that, over the course of the contract, you'll be paying significantly more for your "free" computer.  Without the integrated 3G the LG X110 will set you back £299 ($406); with it, even though there's no upfront cost, you'll have spent £720 ($977) once your two year agreement is up.