The LG Watch Urbane is not LG's brand new "ready to battle Apple Watch" device coming from nowhere with a metal body. On the contrary. The LG G Watch R was released earlier this year with almost the exact same specifications – but with a plastic body instead of metal. The LG Watch Urbane comes with a metal body and no printing around the edges of its circular face. It has the same display, same processor, and same amount of space inside. And it runs the same software, of course.
Both the LG Watch Urbane and the LG G Watch come with the following specifications. The same innards, the same abilities. The look is ever-so-slightly different, but the feel will be mostly the same. You've got changeable straps on both, as well – the same size, even!
• Chipset: 1.2GHz Qualcomm® Snapdragon™ 400
• ŸOperating System: Android Wear™
• ŸDisplay: 1.3-inch P-OLED Display (320 x 320, 245ppi)
• ŸSize: 45.5 x 52.2 x 10.9mm
• ŸMemory: 4GB eMMC/ 512MB LPDDR2
• ŸBattery: 410mAh
• ŸSensors: 9-Axis (Gyro / Accelerometer / Compass) / Barometer / PPG (Heart Rate Sensor)
• ŸOther: Dust and Water Resistant (IP67)
Here are the differences: size (just a TINY bit different) and color options. Color options for the LG G Watch R only include black, and that's black plastic (with a metal back and a heart rate sensor, of course).
LG Watch Urbane
• ŸSize: 45.5 x 52.2 x 10.9mm
• Colors: Gold / Silver
LG G Watch R
• ŸSize: 46.4 x 53.6 x 9.7 mm
• Colors: Black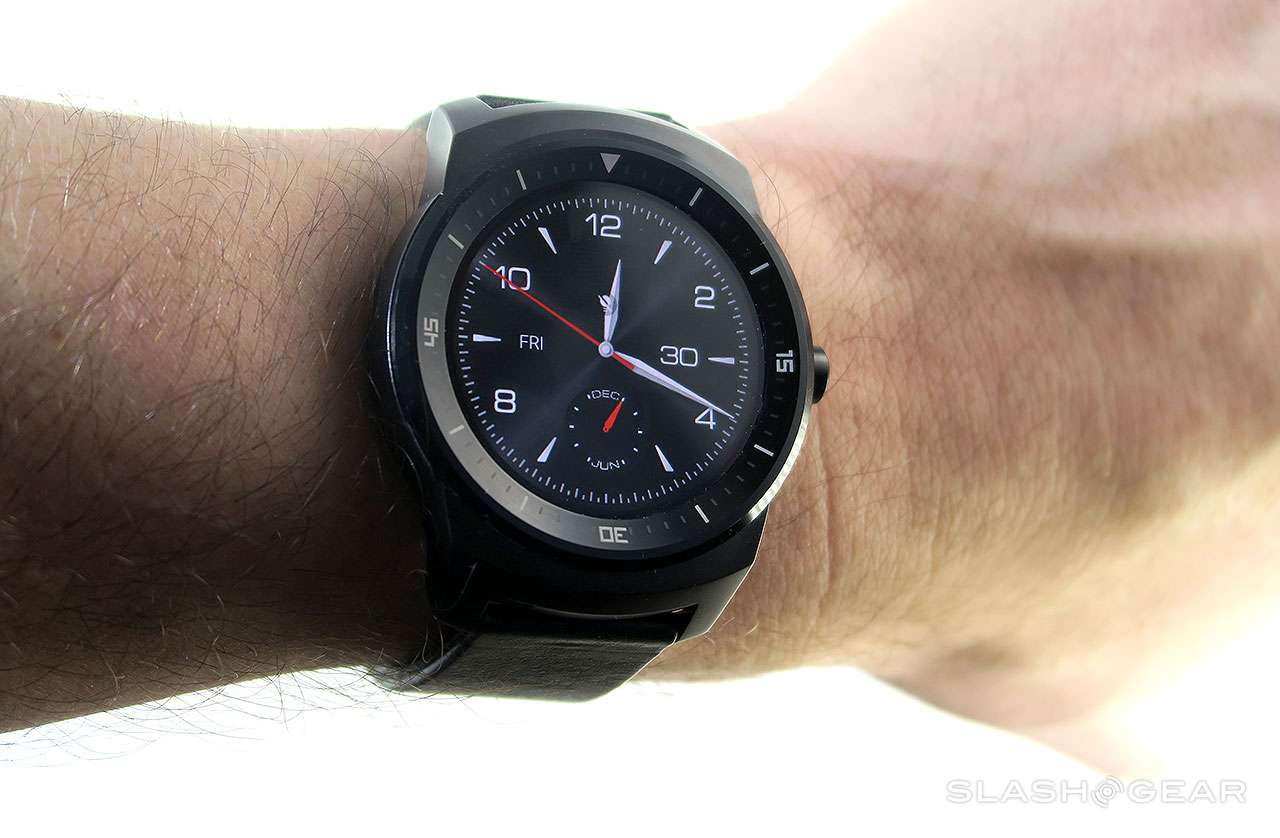 The LG Watch Urbane didn't come out this week to battle the Apple Watch any more than the LG G Watch R came to battle the Apple Watch when it was first released late last year. It's the same watch, this time in metal.
That said, the LG G Watch R is one of – if not THE – nicest Android Wear watches on the market today. Have a peek at our LG G Watch R review right now to see if it – or the Watch Urbane – are right for you.