LG VS930 for Verizon leaks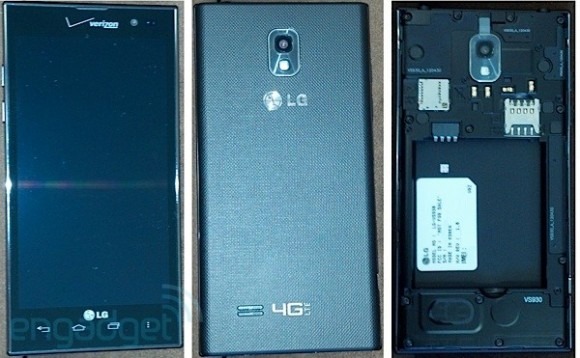 Just a few days ago we heard rumblings that LG was planning another high-end smartphone that would feature a quad-core processor and 10-megapixel camera, and now it looks like the company is about to release another LTE handset on Verizon. Engadget has scored pictures and specs for the VS930. It looks quite similar to the LG Optimus LTE II, and the specs are certainly nothing to sneeze at.
The phone will reportedly come with a 4.7-inch screen with a 720p IPS display, a Qualcomm Snapdragon S4 dual-core processor clocked at 1.5Ghz, 1GB of RAM, 16GB of storage, NFC, and global radio support on top of Verizon's LTE. The phone will also come with an 8-megapixel camera, and come in at 9.2mm thick.
A leaked service manual for the phone indicates that it will be running Ice Cream Sandwich out of the box, have a 2,150mAh battery, and that it may possibly be released very shortly on July 13th. Feast your eyes on the service manual in the meantime, and we'll bring you the official announcement if the handset does indeed drop on the 13th.