LG V960 IPS 21:9 UltraWide All-In-One PC To Be Showcased At IFA 2013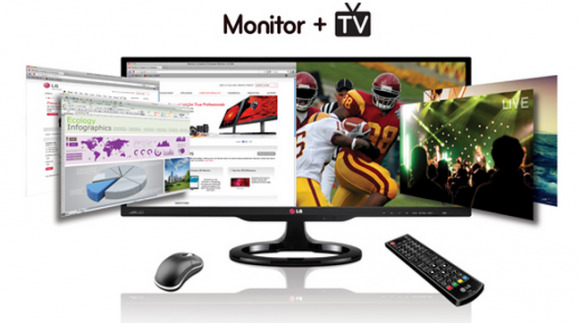 Yesterday, LG Electronics took the wraps off the LAP340 Sound Plate and a couple Sound Bar models it plans to show off at IFA 2013. Tonight, the electronics maker has introduced a new product, this time an all-in-one IPS 21:9 UltraWide V960 that it will be showcasing at the event in Berlin. In addition, the company will also be showing off three new monitors.
The monitors are models 29EA73, 29EB73, and 29MA73, all of which also share the 21:9 UltraWide cinematically proportioned aspect ratios. The 29MA73 model features a TV tuner and Extra View, which reserves part of the display for an application or TV schedule if desired. All the monitors allow for more convenient multitasking, says the company, also offering 4-Screen Split and Dual Link-up options. All offer HDMI, DisplayPort, and MHL.
And then there's the all-in-one itself, which harbors a 21:9 aspect ratio monitor and runs Windows 8. Under the hood, LG has included an NVIDIA GeForce GT 640M GPU for high-end graphics, something it says makes the computer applicable to PC gamers and other with demanding video needs. The processor, meanwhile, wasn't specified, and neither were other particulars like hard drive and memory details.
The PC does allow for picture-in-picture use, something one might use to watch TV and surf the Web at the same time, for example. The system will be shipped to buyers with a mouse and keyboard to allow for immediate use. Wrapping it all up, LG brags that its IPS monitors have scored the Plus X Award and other notable titles/certifications.
Said LG Electronics' IT business division head Hyoung-sei Park: "Since LG's launch of the world's first 21:9 aspect ratio monitor nearly a year ago, consumer interest in this new class of displays has seen a huge increase. The IPS 21:9 UltraWide All-In-One PC will further solidify LG's reputation as a leader in this relatively new but growing UltraWide segment."
SOURCE: LG Newsroom