LG LAP340 Sound Plate and Sound Bars to be showcased at IFA 2013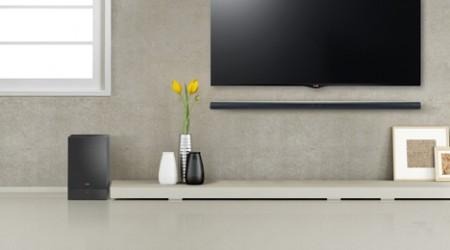 At the upcoming IFA 2013 event in Berlin, LG Electronics will be showcasing its LAP340 Sound Plate and two Sound Bars, the NB4530A and NB5530A models. The electronics maker will also be showing off some other devices, among them being Smart Blu-ray players, both docking and portable speakers, the BH9530TW home theater system, and the CM3430 Micro Audio System.
The Sound Plate is a small audio device that measures in at 35mm high and is designed for placement beneath televisions ranging in size from 32-inches to 55-inches. This is the company's latest model among its offerings, and it features a 4.1 channel sound system with dual integrated subwoofers. The Sound Plate is designed to throw audio in multiple directions.
The Sound Plate features a neodymium magnet that it says allows for "powerful audio," as well as Bluetooth functionality for use with wireless devices. From there, the NB4530A Sound Bar is designed for the minimalists out there, and features a silver and black finish to match the design of many modern televisions. This particular device features 2.1 channels, 310 watts, a subwoofer separate from the bar, and the 3D Surround Processor.
That Sound Bar also has support for HDMI with ARC, as well as Bluetooth connectivity for use with mobile devices. LG didn't detail the other Sound Bar except to say that it received the Red Dot Design Award, and likewise said of the Micro Audio System only that it received the EISA2013 Award.
LG Electronics' Senior Vice President Seog-ho Ro said: "Through extensive R&D, consumer insight and technological knowhow, LG is able to produce stellar audio visual products that are sure to impress visitors at Europe's premier consumer electronics tradeshow. Our creative designs and industry leading audio visual solutions will enable consumers to enjoy the most phenomenal home entertainment experience available today."
SOURCE: LG Newsroom