Why The LG V40 ThinQ's Five Cameras Aren't Overkill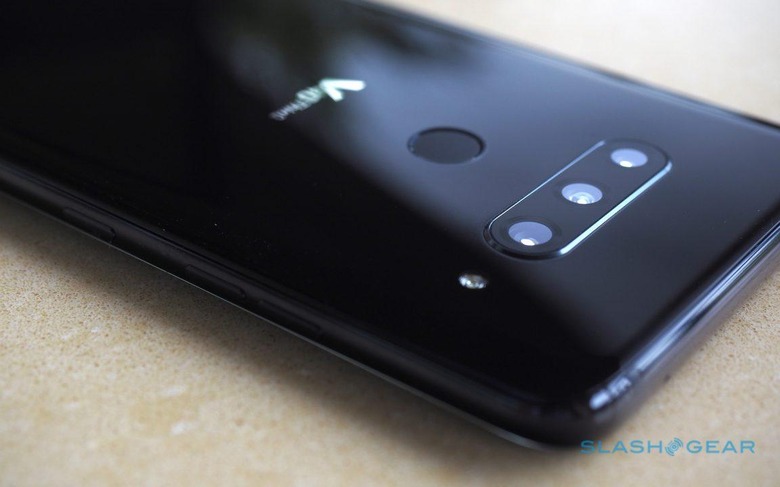 Do we really need five cameras on a smartphone? LG is convinced the answer to that is yes, and so the LG V40 ThinQ arrives with a quintet of sensors ranging from 8- to 16-megapixels and from a 45-degree field of view through to a whopping 107-degrees.
LG's phone isn't the first to have three sensors on the back. Huawei's well-reviewed P20 Pro, for instance, has a trio of cameras on its rear, while teasers for the upcoming Mate 20 Pro suggests that too will have three cameras. However, the P20 Pro took a different approach to what the V40 ThinQ is offering.
Zoom, Wide, and Ultra-Wide
The P20 Pro offers a regular sensor, a monochrome sensor for better contrast data, and a telephoto sensor for an optical zoom. The LG V40 ThinQ, however, has three color sensors. What differentiates them is how much each will fit in the frame.
As with the old V30, there's a regular camera and a wide-angle camera. On the V40, the regular cameras has a 78-degree field of view, uses a 12-megapixel sensor with an f/1.5 lens, and has both optical image stabilization and dual phase-detection autofocus. It's the camera you'll probably end up using the most often.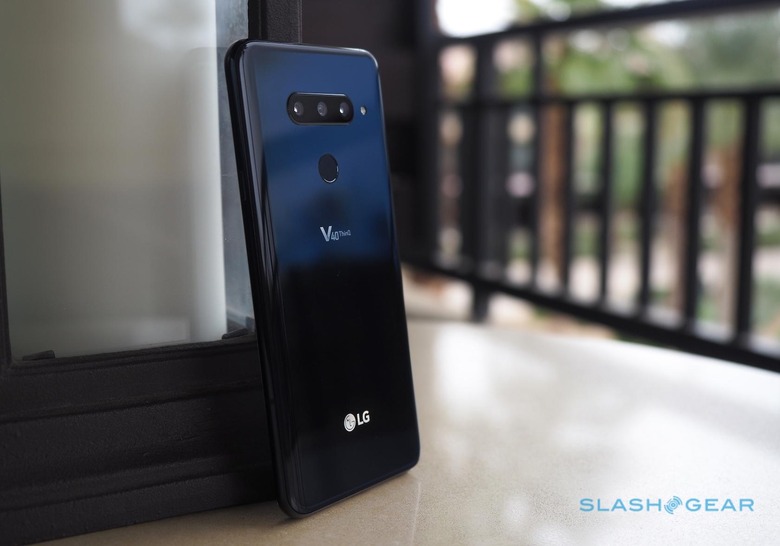 The wide-angle camera, meanwhile, is a 16-megapixel sensor, with an f/1.9 lens. It's actually slightly narrower in its field of view than the V30: 107-degrees, versus 120-degrees on last year's V-series flagship. You probably won't mind, though, because there's more flexibility on the V40.
That's because of its third sensor, which is a 2x telephoto lens. Its 12-megapixel, f/2.4 sensor has a 45-degree field of view, but gets you closer to your subject with none of the quality loss that you'd get with a digital zoom.
The other two cameras are on the front
That accounts for three of the LG V40 ThinQ's cameras. The remaining two are found on the front, in the notch cut-out of the 6.4-inch 3120 x 1440 OLED screen. There's a regular, 8-megapixel camera with f/1.9 optics and an 80-degree field of view, paired with a 12-megapixel camera that has f/2.2 optics and a 90-degree field of view.
It's the field of view which decides how many of your friends – or how much of the background – fits in the frame. Because it has two sensors, LG can do portrait mode, with background blur, with the front camera as well.
Angle overload?
With three rear cameras to choose between, it'd be easy to assume you'd get lost in too much choice. LG, though, has handled the extra sensor cleverly. Its camera app has been updated to give previews of what each sensor can see, at the same time.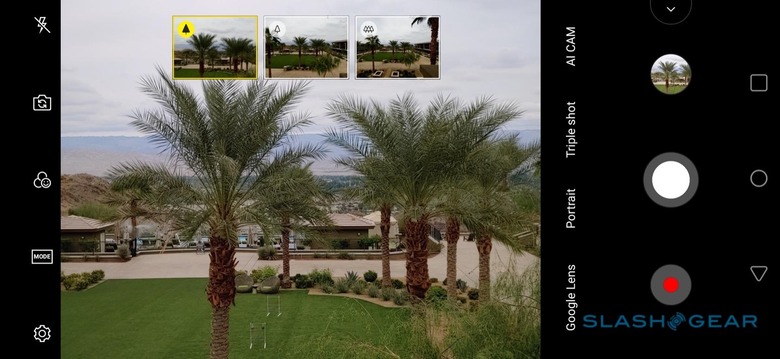 Along the top of the screen you get buttons for zoom, normal, and wide-angle. Tap them, and the main preview switches to the camera in question. Press and hold one of the buttons, though, and you get three small thumbnails overlaid on top of the main preview, with a live view from each sensor.
They're still fairly small – larger previews would be useful, frankly – but it's enough to see how each shot would end up being framed. It makes choosing between them more straightforward. Then, you make your final decision on camera and hit the shutter button.
The extras are interesting, but not essential
LG's other headline features with the V40 ThinQ's five cameras are a little less practical in real life. Triple Shot, for instance, combines all three sensors on the rear. A photo from each is taken in turn, and then the phone creates a brief video slideshow, complete with background music and customizable transitions.
It's an interesting idea, but the execution isn't perfect. For a start, the transitions can be spoiled because the three shots don't line up perfectly: you get the zoom effect between them, and then it jumps at the last minute. The videos themselves are fairly large in terms of file size, generated at 1080p resolution, and so sharing them on Twitter, Instagram, or other social networks quickly demands a fast connection.
Then there's Cine Shot mode. That allows you to create cinemagraphs, or "living photos," where part of the scene stays still while other parts move. You film a three second clip, then use your finger to mask out which parts you want to move, and the V40 ThinQ creates a short video. They can look good with the right subject, but it would be nice to have a GIF export option too.
Finally, there are the camera lighting effects, which feel pretty much lifted straight from Apple's recent iPhones – and with similarly mixed results. There are five settings to choose between – Natural, Studio, Contour, Stage, and Stage Mono – and we're yet to have acceptable results with the latter two. Often the edges just aren't captured correctly, leaving peoples' faces looking misshapen.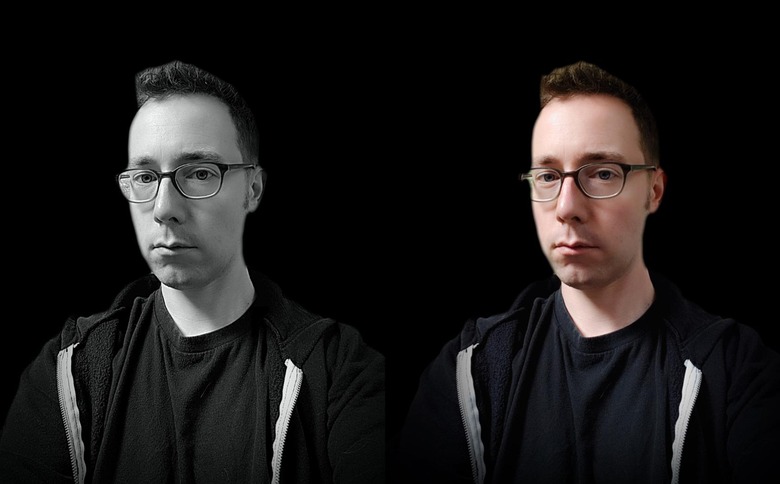 So are five cameras the future?
There's certainly such a thing as too much choice, but in LG's case the V40 ThinQ's array of camera options serves an interesting purpose. Having the flexibility of both zoom and ultra-wide framing can be incredibly useful, even if some of the computational photography tools LG offers are a little half-baked. We'll have more samples from the V40 ThinQ in our full review.