LG Stylus 2 Plus begins its global rollout in Taiwan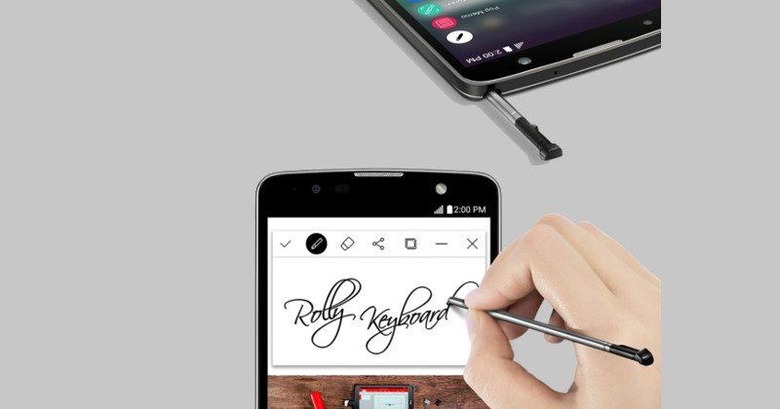 While stylus-empowered smartphones are more commonly associated with Samsung, this Korean manufacturer doesn't have the monopoly in that market. To remind consumers of that fact, its eternal rival LG has just announced the launch of its LG Stylus 2 Plus, which it first revealed back in February even before MWC 2016 started. But while Samsung's Galaxy Note line walks along the path of the high-end and sometimes experimental, the LG Stylus 2 Plus clearly has its sights set on delivering an affordable writing experience.
The LG Stylus 2 Plus might not wow if you insist on comparing it even with the Galaxy Note 4 from 2014, but it's in different category and in that category it very well looks decent. It does, in fact, improve on the features of its predecessors, like the LG G3 Stylus or the LG Stylo 2 or even the earlier LG Stylus 2.
The Stylus 2 Plus gets a more or less recent processor, a 1.4 GHz octa-core, which is most likely the Qualcomm Snapdragon 415. RAM can be 2 or 3 GB and storage 16 or 32 GB, depending on the region. The large 5.7-inch screen at least finally gets a well-deserved and long overdue Full HD resolution. The rear camera also either has a 13 or 16 megapixel sensor while the front one has 5 or 8 megapixels. Whichever the combination, there is an LED flash on both sides of the smartphone. The phablet carries a 3,000 mAh battery and also sports a fingerprint scanner on the back.
Specs aside, the LG Stylus 2 Plus' real differentiating factor is its stylus. As announced last February, this one utilizes a nano-coated tip that LG promises is more accurate than the rubbery tips of most capacitive styluses. It probably won't offer the pressure sensitivity desired by artists, but for scribbling notes or even making doodles, it will suffice. The smartphone comes with stylus-dedicated features like Quick Memo and Off Memo. There is also a Pen Keeper feature that alerts you if you accidentally left the stylus out of its silo. Given the design of this stylus, it is unlikely you'll insert it the wrong way and break your smartphone.
The LG Stylus 2 Plus comes in Titan, Gold, and Brown color options, with what looks like a texture, most likely plastic, back. Design-wise, the Stylus 2 Plus is pretty much typical of LG's latter smartphones, including the rear button controls. Rollout starts in Taiwan today, with Asia, South America, Europe, and North America to follow soon.