LG Smart Instaview Door-in-Door Fridge up close and personal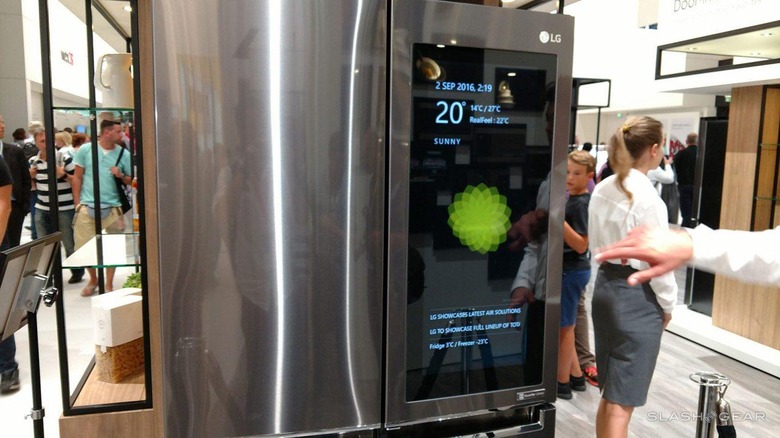 Let the battle of the smart refrigerators commence: LG has a new entry in the smart fridge space, introducing the world to its Instaview Door-in-Door Fridge at IFA 2016. Like the Instaview that came before, this latest iteration has a panel in the door that allows users to look inside without having to open the fridge up, but that panel has a lot more functionality this time around.
That's because LG has turned it into what is essentially a 21.5-inch tablet running Windows 10. This means you'll have all the functionality of a computer right there on your fridge – while it's hard to imagine doing something like playing a game while you're standing in your kitchen, that Windows 10 functionality offers up some quality-of-life improvements over your standard, non-computerized fridge. Maybe you'd check email or look up recipes while you're making dinner, perhaps?
One other thing the inclusion of Windows 10 means is support for Cortana. While the number of internet-related things you'll want to do on a fridge door are limited, the fact that Cortana and the voice commands that come along with her are featured is definitely a big bonus.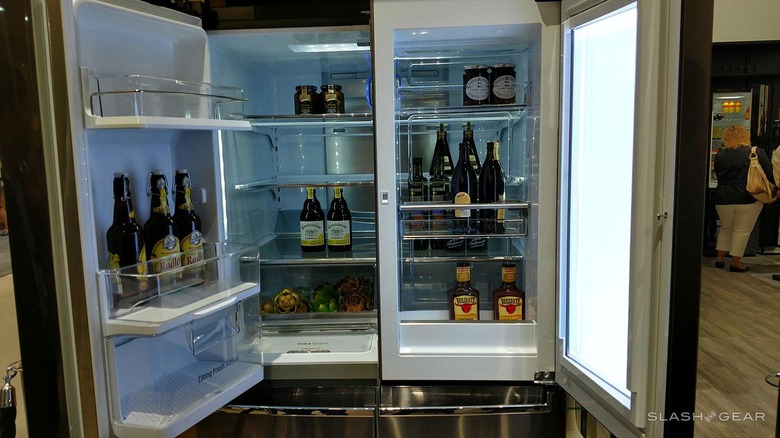 LG has built in functionality beyond Windows 10 as well, allowing users to dismiss the Windows 10 interface and bring up a translucent display that shows what's inside the fridge. On this screen, users can drag and drop a variety of icons. These include icons for each family member and icons that can keep track of expiration dates.
Got a gallon of milk that's going to run out of time in a few days? Pop an expiration icon on the display and then you can tell at a glance when it's time to buy more. Did Dad buy that piece of cheesecake specifically for him and no one else? He can plop his icon on the display, in front of the cheesecake as a constant reminder to the rest of his (presumably disappointed) family.
Of course, the Instaview Door-in-Door Fridge looks like what you'd expect a smart fridge to look like – sleek and shiny, with little to distract from the star of the show, the touchscreen display. As far as early looks go, this one definitely impressed, but of course all of the smart features in the world don't matter much if the price isn't right. Pricing is something that hasn't been announced yet, with LG likely just wanting to show off what it's achieved with the new Instaview, saving the more unpleasant money talks for later.
Just as well, a firm release date for the Instaview Door-in-Door Fridge hasn't been revealed either. We'll likely get more details shortly, and then we can determine if something like the Instaview Door-in-Door smart fridge is worth your consideration and cash.