Samsung Family Hub fridge finally available for purchase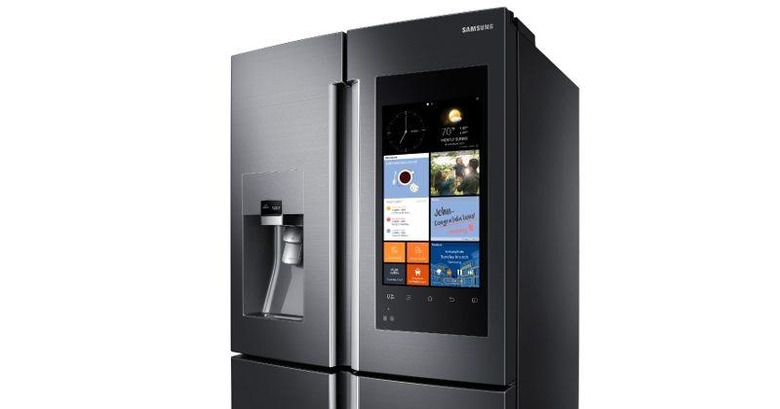 It might sound like a tablet, a cylinder, or even a touch-enabled table, but if you saw Samsung's big reveal at CES early this year, you probably already know that the Samsung Family Hub is, in fact, a glorified refrigerator with a gigantic touch screen. To some, it might have sounded too futuristic to be true, but the Korean manufacturer has just proven them wrong by making the Samsung Family Hub available in the market at long last. Now you won't have to worry about forgetting if you need to buy eggs or not, or about the kitchen being only about food.
The Samsung Family Hub, which might be easily mistaken for the Samsung Hub platform or app, is a hulking refrigerator with an equally hulking 21.5-inch portrait touch sensitivity LCD screen on one of its doors and three "smart" cameras inside. Cameras? What for, you ask? Those cameras take a snapshot of what's inside the fridge every time the door closes. That way, you can view, on your smartphone or on the door screen itself, the contents of the refrigerator any time. And yes, it only takes snapshots once the door closes, so you won't really be able to tell who's sneaking around for a midnight snack.
Of course, the LCD screen isn't just for showing what's inside. It's for showing, well, everything and anything you can throw at it. Aside from display photos and notes, like what most people do with their not so smart refrigerators, it can also display the weather and even a web page. Calendars can also help keep family members up to date on each other's schedules. But wait, there's more!
You can stream music from your smartphone to the fridge. Heck, you can even mirror what's on display on your Samsung Smart TV. And in case you're wondering, yes, the Samsung Family Hub does have built-in speakers, but you can still divert that to Bluetooth speakers of your choice.
So yes, Samsung has practically created a home entertainment system that happens to store food inside and keep them cold. It is designed to lure people away from the living room and into the kitchen, which could be a good way to entice kids to help in the kitchen. Of course, it's gonna cost you. A lot. The Samsung Family Hub Refrigerator, model RF28K9580SR, costs $5,799.99 for a Full Depth size, while a Counter Depth size goes as high as $5,999.99.