LG Smart Appliances Head To CES 2014 With LINE Chat Capability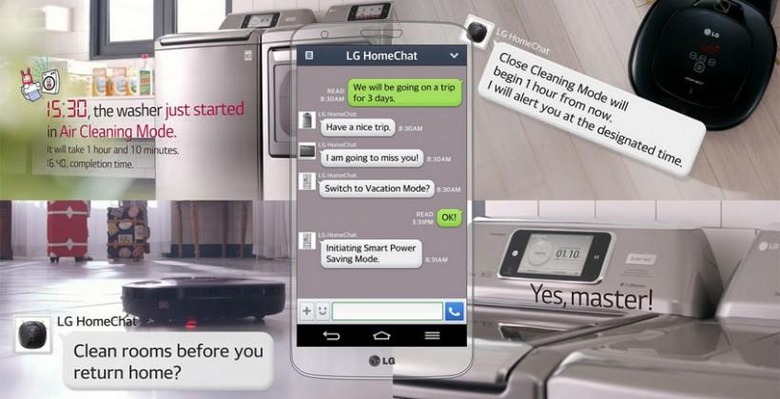 Over the last few years at CES in January, LG has been showing off its ever improving smart appliances. At CES 2013, LG showed off smart appliances that were able to interact with the user via WiFi networks. At CES 2014 next month LG will be rolling out new and improved smart appliances.
These new appliance have Natural Language Processing capability to allow owners to communicate, control, and monitor the appliances via mobile messenger application LINE and the LG HomeChat service. LG says that LINE already has 310 million users around the world and using that messenger means that many people will have no learning curve.
LINE is available for Android, iPhone, Windows Phone, BlackBerry, and Nokia Asha devices. It will also run on PC and Mac computers. The ability for the smart appliances to understand natural language means that the owner can message the appliances with "I'm going on vacation" and have the smart appliances respond with their own message.
The appliances will ask the owner "Should I convert to vacation mode?" If the owner says yes, all LG smart appliances in the home will convert to power saving modes and run vacation schedules for usage. The tech will also allow the user to receive real time status updates from their refrigerator no matter where they are using LINE. Multiple LG smart appliances will be on display at CES 2014 next month.
SOURCE: Newswire