LG to show off smart home appliances at CES 2013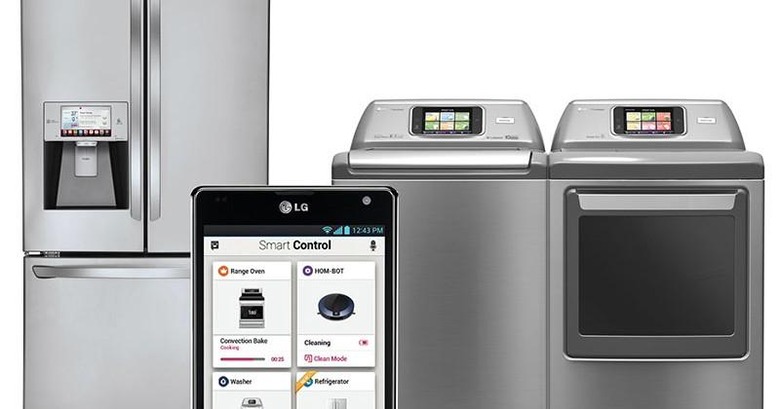 While LG may be showing off some new mobile devices at CES next week, the company will also be showing off some new home appliances. The company announced today that they'll be putting several new smart home appliances on display at CES 2013, including a new refrigerator, washing machine, robot vacuum, and oven.
The appliances can interact with users' smartphones using NFC or remote control over a home WiFi network. By simply touching smartphones to the NFC tag on the smart appliances, users can easily control the refrigerator, washing machine, robotic vacuum cleaner, or the range oven. Users can also give simple voice commands via their smartphones and remotely monitor appliances using LG's Smart Control.
Now, what exactly could you do with smart home appliances? LG says you could start a load of laundry while you're on your way home from work, tell your robotic cleaner to vacuum the floor, or bring up a list of food items that are currently in the fridge, as well as bring up a grocery shopping list for items that you need.
The LCD displays on the appliances allow users to access a slew of information. For instance, the oven's LCD screen can allow you to monitor the status of your oven, search for recipes, set cooking modes, and diagnose problems. Furthermore NFC allows you to quickly set your oven to any particular mode for a specific recipe. Nifty!