LG slashes curved OLED to drive display tech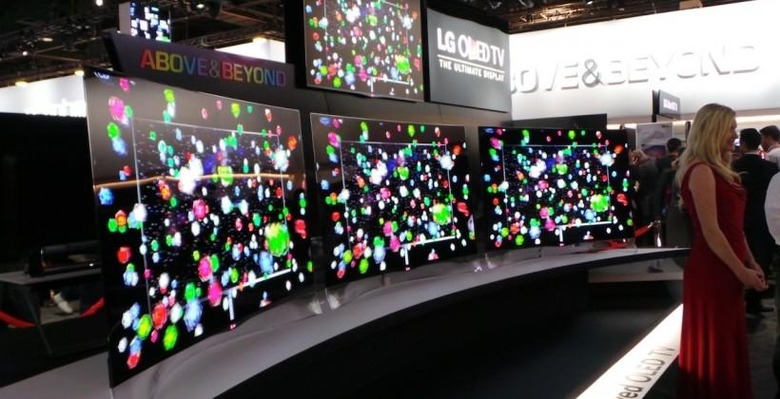 LG is aiming to give curved OLED TVs a serious push into the living room, slashing the price of its first set as it tries to "significantly grow" demand for OLED in 2014. The LG 55EA9800, a 55-inch curved OLED Full HD TV, was announced back at CES 2013 and went on sale in the US in April last year, though at the fairly off-putting price of $14,999.95. Now, less than a year later, LG has trimmed that down by more than half.
The new MRSP for the set, LG tells us, is $7,999.95. However, LG will also be offering an extra $1,000 off in the US, bringing the price under $7k. LG says the set will be available through the first half of this year.
LG and Samsung have been caught up in an OLED war over the past five years, though the expense of the technology and the complexities in producing large-scale panels using organic light-emitting diodes has made it more successful in phones and tablets than on TVs. LG pipped Samsung to the stores in actually selling a curved OLED set – which took advantage of a flexible backplane, unlike the usual flat glass used in an LCD – but neither company has been especially forthcoming with sales figures.
Analysts have suggested that, unsurprisingly, that's been a matter of price, especially given LCD TVs have become ever-cheaper even at large sizes as the panel industry battles reduced demand. The argument for OLED is that it supports brighter, richer colors, not to mention broader contrast ratios, LG says, while the curved form-factor makes the overall experience more immersive.
Back at CES 2014 last month, LG showed off a new curved OLED TV, this time measuring in at 77-inches and running at even higher resolution. Pricing and US availability have not yet been confirmed.
It remains to be seen if the price trimming actually does help drive adoption of OLED TVs, though in mid-2013 analysis firm IHS iSuppli was predicting that the flexible OLED market as a whole would rise to around $100m this year. That wouldn't just be from TVs, however, the analysts suggested, but other implementations of flexible screens, such as LG showed off with the G Flex smartphone recently.