LG's rollable TV is slick enough to silence any skeptics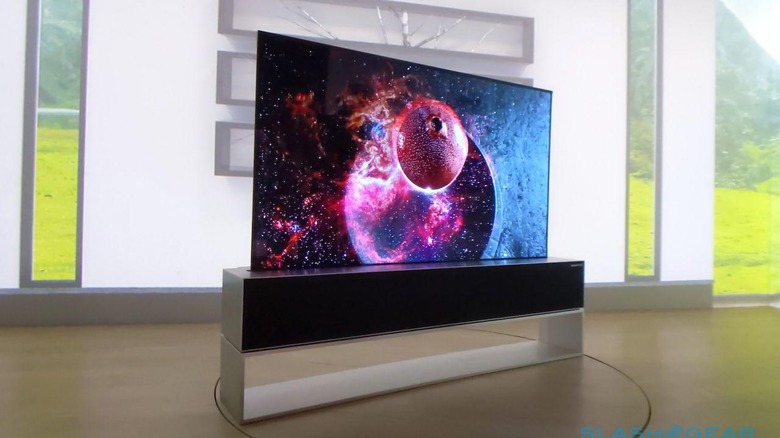 The LG rollable TV is going on sale in 2019, and while you might be skeptical about the practical benefits of flexible, you can't help but be wowed when you see the screen in person. Shown off in production form at CES 2019 this week, the LG Signature OLED TV R can be both as expansive as a flagship 65-inch set, but as discreet as a chunky soundbar.
We'll admit, we weren't sure production was ever really on the cards for the LG rollable OLED TV. Back at CES 2018 when the company showed it off in prototype form, it seemed more akin to a glitzy demonstration of the display-maker's manufacturing prowess more than an intention for actual sales.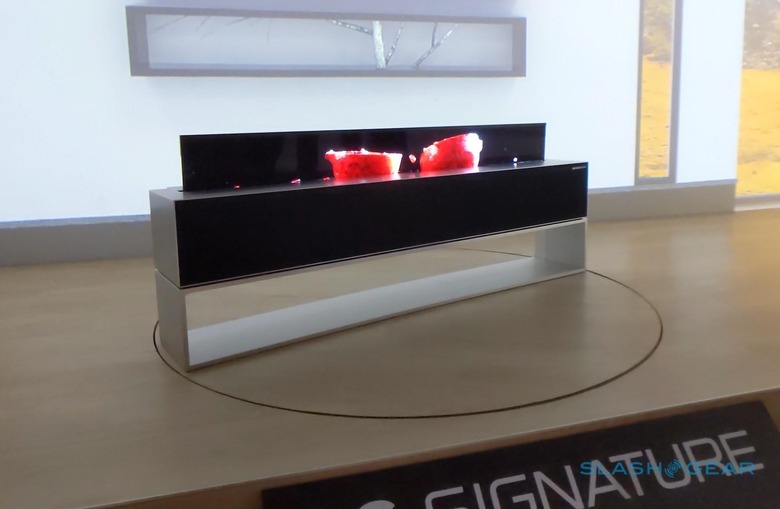 After all, the Consumer Electronics Show is notorious for eye-catching demos that rely on our fading memories to overlook the fact that they never actually reach store shelves. LG, though, seems committed to the rollable OLED. Indeed, it has been improving the idea significantly in the intervening twelve months.
The core premise is the same. The OLED panel itself supports 4K resolution, and runs the same webOS-based software as LG's other recent TVs. There are HDMI 2.1 ports on the back, and it'll arrive with support for both the Google Assistant and Amazon Alexa. Apple AirPlay 2 streaming will also be supported.
What sets the Signature OLED TV R apart from its siblings, of course, is the rolling mechanism. That takes about ten seconds to operate, the screen supported with a series of slats and two bi-folding brackets on the rear. It collapses down into a white, rectangular base.
It's that which has seen the biggest changes from the prototype rollable TV that LG demonstrated last year. Now, it has a new, sleeker design, and accommodates a 100 watt Dolby Atmos speaker too. Closed down, the whole thing looks like a minimalistic side table, albeit a short one.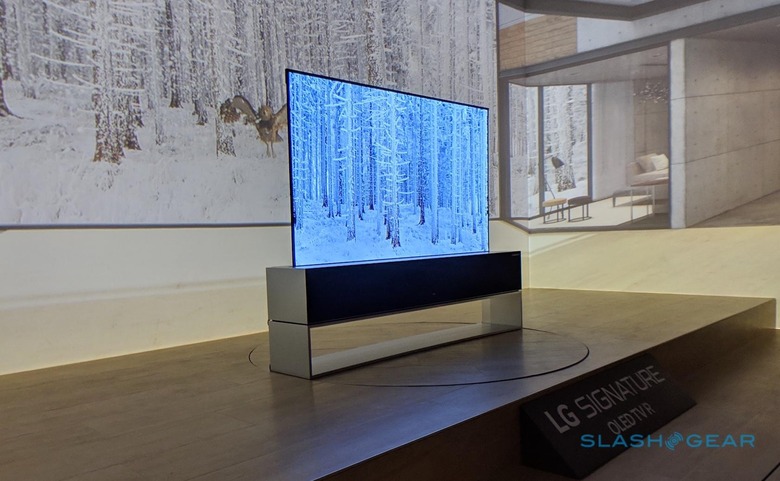 However there's another option, somewhere in-between fully open or fully closed. That's LG's Line Mode, where a small portion of the screen is left emerging from the base: enough to show now-playing music details, for instance, or responses from the various IoT integrations. In a sense it's the biggest smart display we've seen so far.
Certainly, you have to be of a specific mindset to see the particular value in the LG Signature OLED TV R. If your big-screen TV is as much a signifier of how you embrace the cutting-edge in gadgets, then being able to hide it away might be less important. If you've got a dedicated room for TV consumption, too, then LG's ability to roll the display away probably won't be as useful. And there's no denying that a motorized projection screen and a 4K projector can make a bigger picture, if you have the space for them.
Nonetheless it's hard not to fall in lust with what LG has made here. The lingering question is just how much this flagship rolling TV will cost when it arrives in stores in the spring of 2019. That, LG isn't saying yet, though we wouldn't be surprised at a $10k+ price tag given the premium even regular OLED still commands. That's a lot of money, but you get some mesmerizing cutting-edge technology in return, and a TV that's almost as entertaining when it's turning on and off as it is when you're just watching a movie.