LG rollable OLED TV at CES 2020 drops in from the ceiling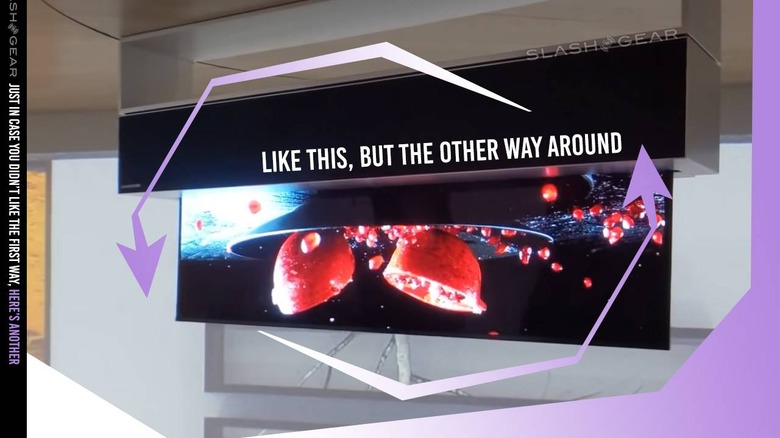 LG has a new 65-inch rollable OLED UHD TV to show for CES 2020, very similar to what they last showed in the USA at CES 2019. Per LG, this new television concept "can be installed naturally as part of the space and can only be used down when needed." This might remind you of a classroom from your childhood, where a projector screen would be pulled (manually or automatically) from an overhead roll. Now that roll can be the television itself – not just a white panel of material for reflecting projected light.
In December of 2019, LG won the Presidential Award at the Korea Technology Awards for their 65-inch rollable OLED. This was, as they described, the world's first 65-inch rollable OLED that has been developed and commercialized. If you take a peek at our 2019 coverage of the LG rollable OLED, you'll see the rolling action of the set as it existed in January of 2019. You can see that rolling action below, as well.
Here in 2020, LG has a very similar 65-inch rollable OLED – this time extending down from the ceiling rather than up from a base. NOTE: We'll post photos of this rollable display as soon as LG reveals it – or we get photos at CES 2020, either way!
LG also has a 12.8-inch rollable OLED panel for show this week made specifically for automotive purposes. They've indicated that this OLED panel can be utilized in a variety of spaces in the vehicle, where added potential for space is much appreciated.
A new LG 55-inch transparent OLED panel was revealed this week for potential use "not only in shops, but also in museums and galleries." This system is part of the greater "LG in-TOUCH" technology system, with fingertip touch control and the potential for active pen touch control.
LG revealed a 86-inch LCD display with in-TOUCH technology with the ability to work with four active pens at the same time. This massive board is made to be an electronic blackboard, where other applications with previous similar panels were used in vending machines and elevators. Stick around as we see these and more at CES 2020!