It appears that either LG is trying to tantalize us to death or their just giving South Korea all their next-level devices early because they've got love for the lovely region because just days after we saw our first look at real-life photos of the LG Optimus LTE, we get to see what's being called the LG Optimus EX. This is another dual-core device made by the two-letter manufacturer that'll feature a rather stark and industrial design with a speaker grill on the bottom and top of a flat display sporting what appears to be the most recent version of
Not just one whole heck of a lot is known about this device as of yet, but we DO know it's part nameL LG-SU880. This device is going to be released at first only on the Korean network SK Telecom and it'll be running on Android 2.3.x Gingerbread. This smartphone will be 9.5 millimeters at its thickest point and, again, it'll have a dual-core processor inside. We're to understand that there'll be a 1.2GHz dual-core processor inside though at the moment there's no confirmation on what make and model the processor will be. Qualcomm or Texas Instruments are most likely if you ask your humble narrator, with NVIDIA moving to Kal-El sooner than later, penta-core ahoy!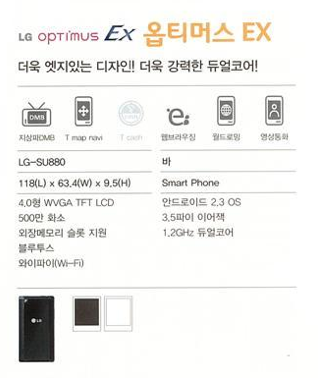 Meanwhile this LG Optimus EX will have Wi-fi connectedness over b/g/n, Bluetooth 3.0, and the whole casing will be coming out in a black variant and a white variant. The display will be a 4-inch WVGA TFT LCD and the entire device will be 118 x 63.4 x 9.5 mm. Standard loveliness. Also, in Korea only we must suppose, this device is DMB-capable. Television!