LG offers developers the keys to G5's modularity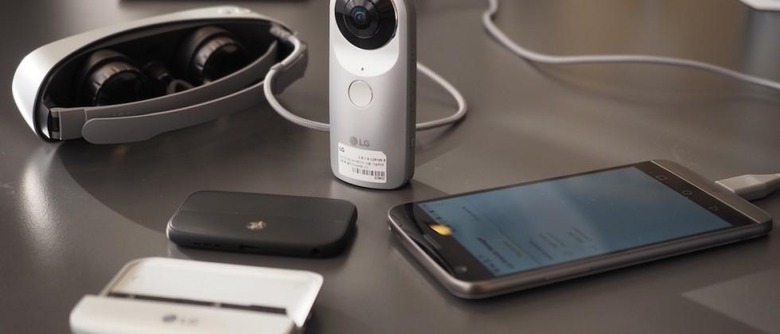 LG is opening up its modular G5 smartphone for third-party developers, allowing them to tap into not only the company's own add-on camera and other gadgets, but develop their own. The G5 distinguishes itself from the rest of the Android pack by virtue of its interchangeable accessories, which at launch include a battery-toting camera grip, and which generally slot into the lower portion of the handset.
Back when LG announced the phone at Mobile World Congress, it had five different official accessories. Some, like the camera grip and the B&O Hi-Fi DAC module, clip directly to the G5 using its proprietary connector on the base.
Others, though, like the VR 360 headset, 360 camera, and Rolling Bot robot ball, merely connect with the smartphone wirelessly.
Now, though, LG is throwing open the doors to third-party accessories as well as software that better integrates with the G5's more unusual features. As well as details on how to connect to the port with LG's hardware development kit (HDK), there'll be a software development kit (SDK) too.
That'll help with things like camera control apps for the 360 CAM and 360 VR viewer, and LG will be promoting Google's Open Spherical Camera API too.
"We believe that by giving developers the same tools that inspired us from LG G5's inception," said Dr. Ramchan Woo, Vice President of Smartphone Product Planning at LG Electronics, "we're going to see innovations ranging from toys to medical tools to things we haven't even thought of ourselves."
That could see the G5 turn into a tricorder of sorts, outfitted with task-specific accessories and sensors that might be too niche for a standalone gadget but have a small but demanding audience as a phone add-on.
LG will hold a developer event in San Francisco this week, on April 15, to introduce the platform. Meanwhile, a new LG Friends site will act as both a developer hub and an online store for the accessories they come up with.
What remains to be seen, however, is how much longevity the "Friends of LG" add-ons actually have. LG is yet to commit to using the G5's connector in its next flagship phone, or indeed on any other device; that might give some would-be buyers pause for thought.
MORE LG Friends