LG mobile CEO ditched as losses increase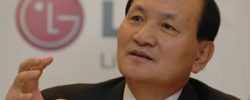 With LG's recently unveiled Optimus One and Optimus Chic smartphones as evidence, it hardly comes as a surprise that the Korean company has seen a significant shake-up at CEO level to deal with disappointing handset sales.  Outgoing chief-exec Nam Yong reportedly tendered his resignation so as to take responsibility for poor management; he'll be replaced by Koo Bon-joon, a family member of LG's original founders.
He's got some challenge ahead of him, too.  LG made a whopping 250,940 million Korean won loss in Q2 2010 (120,000 million of which was down to the mobile unit), versus a 775,146 million Korean won profit in the same period twelve months earlier, and has warned investors to expect similarly poor results in their next report.
Koo is expected to carry out a broad refresh of LG's mobile execs, in an attempt to bring in some new thinking and successfully take on the iPhone – which, as always, is named as the specter looming over the company's range – and the board is bullish about his potential.  They've also Windows Phone 7 to look forward to, being one of the companies expected to launch alongside the new Microsoft platform's initial debut.
[via Reuters]