LG target low-end with Optimus Chic and One Android phones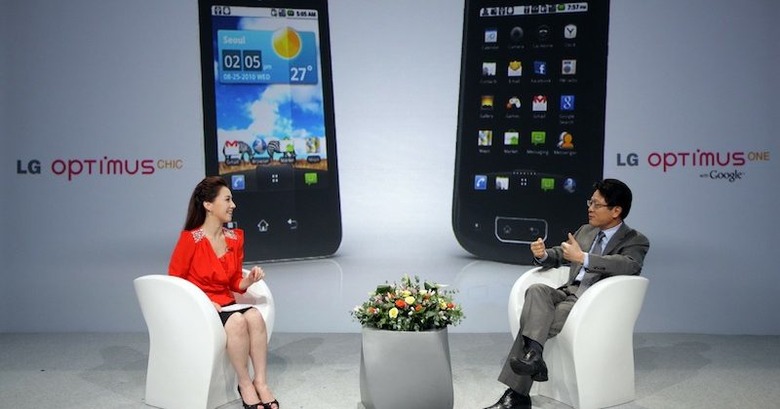 We can't say we're massively enthusiastic about LG's pair of new Optimus Android smartphones, the LG Optimus Chic and LG Optimus One.  Perhaps it's because the teaser image looked so much more tablety than either of the entry-level handsets actually are, or maybe it's the mediocre specifications: a 3.2-inch HVGA display on the Optimus One, for instance.
There's also a 3-megapixel camera, DLNA streaming support on the Optimus Chic, and LG's own custom UI on top of Android 2.2 Froyo.  No word on pricing at this stage, but the two devices will drop in Europe first – October for the Optimus One, November for the Optimus Chic – before broader EMEA and Asia-Pacific availability.
[via Android Community]
Press Release:
LG LAUNCHES NEW OPTIMUS SMARTPHONES WITH LATEST ANDROID PLATFORM FOR UNIVERSAL APPEAL

Download Photos (JPG) Download Text (DOC)

SEOUL, Sep. 14, 2010 — LG Electronics (LG) today launched LG Optimus One and LG Optimus Chic, two smartphones from the company's Optimus series of smart devices. Powered by Android 2.2 (Froyo) and optimized for Google Mobile Services, the handsets will deliver the ultimate smartphone experience while offering easier accessibility for the growing number of consumers looking to purchase their first smartphone.

LG Optimus One and LG Optimus Chic are among the earliest smartphones to launch with Android 2.2, Froyo, the latest version of the Android platform, which allows for two to three times faster and smoother internet browsing, web-page loading, application pop-ups and multi-tasking.

The devices also enable professionals to easily sync with Outlook Calendar for improved productivity, while offering portable Wi-Fi hotspots to easily share a single 3G connection. The devices are optimized for popular Google Mobile Services including Google Voice Search™, Google Voice Actions™, Google Goggles™, Google Shopper™ and Google Maps™ with Navigation, and also offer access to Android Market with more than 80,000 applications.

LG Optimus One and LG Optimus Chic are developed based on consumer insight that first-time smartphone users have strong needs for obtaining information and handy application services. As a result, these two devices focused on offering instant information search and versatile application packages including Google Mobile Service and even quality application advising functions.

"LG is offering the gateway into the smartphone world with the LG Optimus One and the LG Optimus Chic that offer the distinctive benefits of smartphones, in intuitive, approachable packages," said Skott Ahn, CEO and president of LG Mobile Communications Company. "LG has a vision of helping people access information fast and easily, no matter where they are. We believe the Optimus series will play a significant role in accomplishing our vision."

LG Optimus One: Building a Newer, Better Smartphone Experience

In creating the LG Optimus One "with Google™", a team of R&D experts at LG incorporated and optimized the device for the Froyo platform and Google Mobile Services. What transpired is a smartphone that blends superb design and with ease of use, making it the perfect entry point for prospective smartphone owners.

Featuring a fun, user-friendly user interface, LG Optimus One also includes the exclusive LG App Advisor, which recommends 10 highly rated applications every two weeks. The uniquely designed LG UI (user interface) and sleek new accessories such as carkit cradle offer users easier and more intuitive ways to enjoy all the benefits of the brand-new Froyo.

The phone also features a camera with face tracking and smile shot, a 3.2" wide HVGA screen and a long-lasting 1500mAh capacity battery.

LG Optimus Chic: Best Smartphone for Style-Conscious Buyers

LG Optimus Chic's, curved lines provide a solid grip and the two-color variants make the smartphone as stylish as the person carrying it. LG Optimus Chic's touch-sensitive buttons complete the device's sleek and minimalist look.

LG Optimus Chic also offers a unique on-screen phone feature which allows users to remotely control the device from their PCs. Plus, via LG Air Sync, it keeps users up-to-date with its ability to wirelessly sync contacts, photos and other vital information with computer and cloud database. Compatible with DLNA™ (Digital Living Network Alliance), multimedia content can easily be shared with other DLNA certified devices such as TVs, AV systems and laptop computers.

To announce the launch of LG Optimus One and LG Optimus Chic, LG hosted a unique interactive virtual news conference from Seoul. The video of the event can be viewed at both the LG Mobile Global Facebook Page (http://www.facebook.com/LGMobileHQ) LG Mobile Global YouTube Page (http://www.youtube.com/LGMobileHQ).

LG Optimus One will be available in over 90 countries via 120 partners. It will arrive in most of Europe in October followed by other EMEA and Asia-Pacific countries. LG Optimus Chic will be available in Europe starting in November with other markets in Asia-Pacific to follow soon after.