Getting its alphabet soup in order, LG unveiled a new K series of smartphones before and during CES 2016 early this month, starting off with the K10 and the K7. The K line's proposition was simple and familiar: a budget friendly selection of low to mid tier smartphones with LG's own brand of user experience. The K series, however, also made an emphasis on cameras and selfies, though only the K10 probably matches the bill. Now LG is unleashing to K smartphones, the K10 and the K4, to the global market. Strangely, the K7 is MIA.
The LG K10 represents the promise of the series. The 5.3-inch display goes only as far as 720p HD. The smartphones is powered by two different kinds of processors, depending on LTE or 3G model. On average, however, a 1.2 or 1.3 GHz quad-core processor runs the show. RAM ranges from 1 to 1.5 to 2 GB, again depending on the model, and storage is either 8 or 16 GB. The rear camera is either 13 or 8 megapixels while the front is either 8 or 5 megapixels.
With the K10, LG also boasts about its pebble design, a shape that it claims gives users a better grasp on the device. The smartphone also has a 2.5D Arc Glass screen which subtly curves at the edges and seamless merges with the bezel. On the back, there is an "intricately woven" design that might call to mind Samsung's failed "band aid" pattern on the Galaxy S5.
As for the LG K4, it is entry-level model for the K family. There is only one LTE model so only one set of specs as well. The 4.5-inch display has a resolution of FWVGA or 854×480. CPU maxes at 1.0 GHz on four cores and RAM is at 1 GB, with 8 GB of internal storage. The 5 megapixel rear camera might be passable, but the 2 megapixel front cam will barely be enough for selfies. Both smartphones have Android 5.1 running out of the box.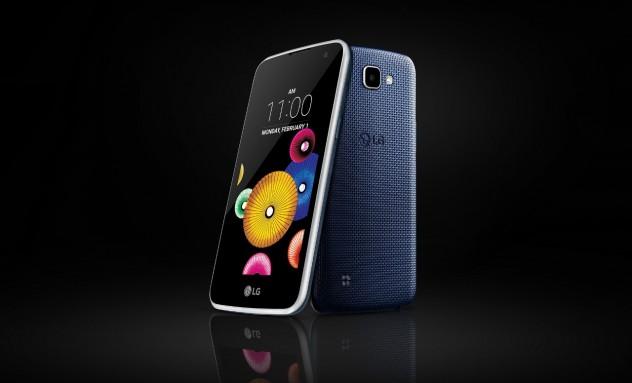 The LG K10 and K4 launches this week in Europe and CIS, while Latin America, the Middle East, and Asia will get theirs in the weeks to come. No word yet on any US availability nor any sign of the K7.