LG goofs with 8K iMac claim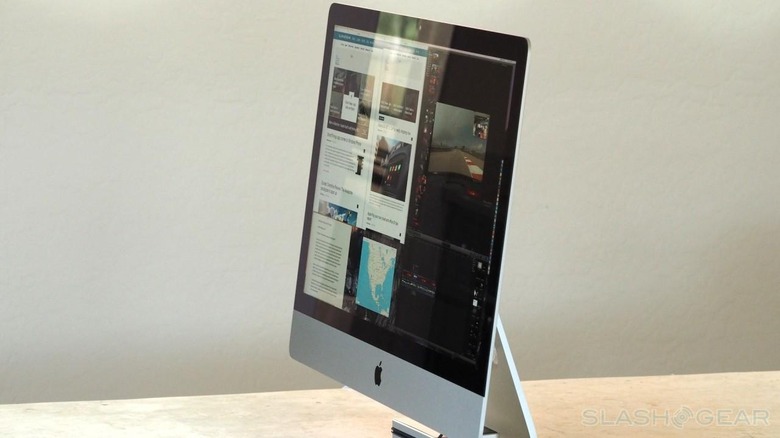 LG has potentially dropped itself in a tank-load of hot water, mistakenly putting words in Apple's mouth and claiming an 8K iMac launch has been confirmed for 2015. The goof comes as part of LG's pre-hyping for 8K UHD resolution – a whopping 7,680 x 4,320 – which it expects to succeed 4K resolution over the next few years, though so far only a single panel has been shown off publicly. So far, so good, but LG then goes on to assert that Apple has already committed to an iMac upgrade with an 8K panel sometime this year.
"Apple has also announced that they will release the 'iMac 8K' with a super-high resolution display later this year," LG's press release states.
Currently, the highest-resolution iMac on the market is the iMac with Retina 5K Display, launched last year. Its display clocks in at a hefty 5,120 x 2,880, higher in fact than 4K, but still roughly half the pixels of 8K.
LG's claim is either a straightforward error – since Apple has certainly not publicly committed to an 8K iMac – or, more damaging, the panel supplier mistakenly spilling the details of something Apple would've preferred to keep secret.
Meanwhile, even it it were true, it's unclear which panel Apple might actually use. So far, LG has only shown off a single 8K screen – measuring in at 98-inches, and as such not especially practical for an all-in-one desktop Mac – and, while the company says it has a "diverse range of screen sizes with super-high resolution displays such as 8K," right now there's no sign of squeezing 7,680 x 4,320 into the 27-inches of the current largest iMac.
It's not an insignificant challenge, either. Apple went to considerable lengths to design its 5K panel, forced to create a custom timings controller to handle all the extra pixels involved, as well as address issues like delivering sufficient backlighting for the densely-packed TFT.
Then of course there's the GPU requirement. Apple offers up to AMD's Radeon R9 M295X, though it's questionable whether that would be sufficient to handle twice the pixels.
So, while an even more detailed iMac might be appealing (and, most likely, insanely expensive: the current 5K iMac kicks off at $2,499 after all), we're chalking this up to an LG goof for the moment.
SOURCE LG