iMac with Retina 5K Display Review - Powerful Pixels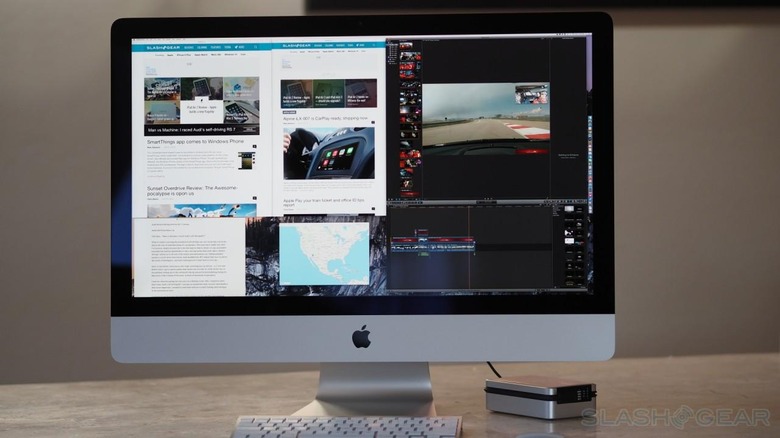 It takes a lot to stand out in tech these days, but the 2014 iMac with Retina 5K display manages it. Fronted by a frankly astonishing number of very, very pleasing pixels, it's the all-in-one that's already luring many away from the Mac Pro order page. While you can make a solid product – even a successful one – by cherry-picking parts off a supplier's shelf, sometimes it takes cooking up your own components if you want to lead the pack rather than just compete within it. In that vein, Apple tired of waiting for a 5K display and so created one itself, turning the now-familiar iMac design into something altogether more special.
Hardware and Design
The iMac is a beautiful all-in-one, and Apple hasn't changed that core formula for this latest model. A scant 5mm at its edges, bowing out to a chunkier midsection you only really see if you're looking at it side-on, it's still effectively unmatched by PC rivals for the quality of its materials, elegance of design, and careful construction.
Those dimensions and the visual sleight of hand does force all the ports to the back of the iMac, however. As before, there's an SD card slot, gigabit ethernet, four USB 3.0, and a combo headphones/microphone socket, but now the two Thunderbolt ports have been upgraded to Thunderbolt 2.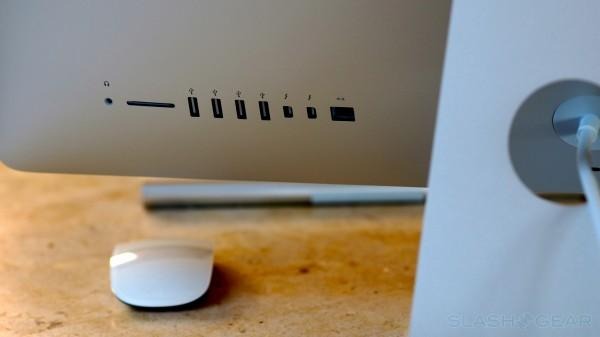 Actually plugging anything in requires some reaching around, then, though even at 27-inches the iMac is light enough on its minimalistic stand that turning it slightly on your desk isn't an issue. Similarly, while the power button is hidden away on the back too, another compromise for aesthetics, its gentle concave shape is easy enough to find with your fingertips.
Twin microphones and a FaceTime HD camera are above the screen, while the stereo speakers with their 20W each of amplification are in the bottom edge. Downward-firing, they've got a surprising amount of bass to them as long as the desktop underneath is clear.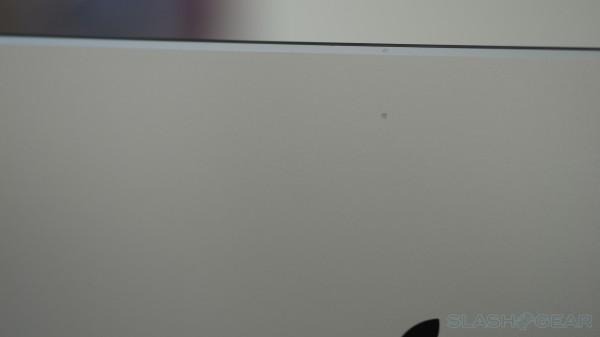 Just as with the non-Retina iMac, there's a version without the desk stand and with a VESA-compatible mount adapter on the back. That way you can even do away with the arching stand and have the new iMac floating on your wall, instead. Both continue the iMac's near-imperceptible nod to user-upgradability, with only the four bays for RAM sticks accessible via a small panel normally hidden by the stand.
Retina 5K Display
The sense of familiarity ends when you turn the new iMac on and find yourself faced with the most beautiful desktop you've probably ever seen on a computer.
I'd forgotten how incredible the switch from regular to Retina resolution was when I first saw it, but the 5K iMac is enough to take your breath away. Detail is pin-crisp, colors are beautifully natural. Whites are clean and tint-free, while the blacks are inky and show no signs of patchiness or mottling.
None of that comes easy. When you're trying to drive 14.7m pixels – 5K might not sound too big a difference, but 4K resolution has just 8.8m pixels, and Full HD a measly 2m – it turns out you can't just pick up the components to do so from off the shelf.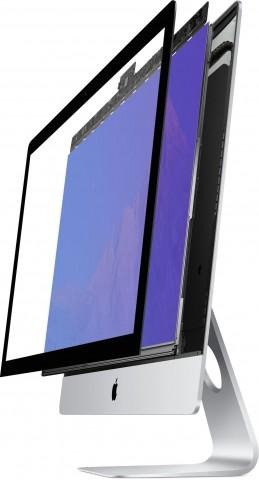 Instead, Apple had to create a few key parts from scratch. The timing controller (or TCON) is a good example, weaving together the signals from two DisplayPort 1.2 pipelines for up to 40 Gbps of bandwidth. Denser pixels means the backlighting needs to be more capable, too, and so Apple switched to new, higher-efficiency LEDs which not only mean no shortfall in light, but power consumption has in fact dropped by 30-percent.
The oxide TFT, one of the display layers, is similarly more frugal with electricity than in previous panels, and it's paired with things like a new compensation film for broader viewing angles with even less color inversion or loss of contrast.
Apple borrows a few tricks from its iPad playbook in order to make the iMac's Retina screen work, too, primarily "organic passivation" which helps avoid cross-talk from the densely packed pixels. Still, at 217 ppi it's less than the 264 ppi of the iPad Air 2, or the 220 ppi of the 15-inch MacBook Pro with Retina display.
That's because distance comes into it. The new iMac may be the least pixel dense of anything to bear Retina branding so-far, but since you normally sit further back from it than you might from your iPad or MacBook Pro, the end result is still the same: graphics so smooth, you can't make out the individual pixels making them up.
As on the MacBook Pro with Retina, you have a couple of options when it comes to effective resolution. You can run the iMac in its native resolution of 5120 x 2880, or you can opt for scaled mode, where windows and apps look the same size as they would on a non-Retina iMac, only far, far smoother.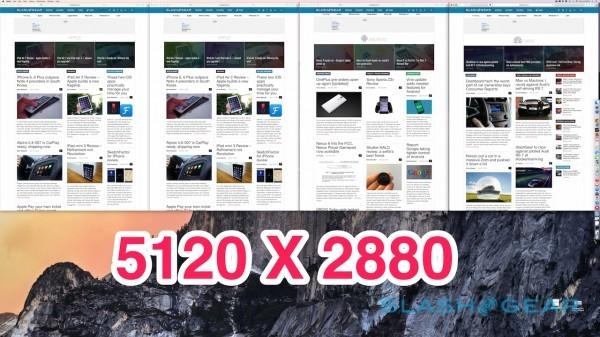 Much of the interface may end up tiny in native mode, but all those pixels do have some legitimate benefits if you're a certain type of user. Photo and graphics editing is streamlined considerably when your display is so high resolution that you're not constantly zooming in and out to see detail, for instance.
Where it really comes into its own is video editing. Opening up Final Cut Pro, I could not only see a preview window of 4K footage at its actual resolution, but I still had room for the app's various toolbars and controls. Nothing overlapping, or hovering in the way, or having to be dragged around in order to see different aspects of the video.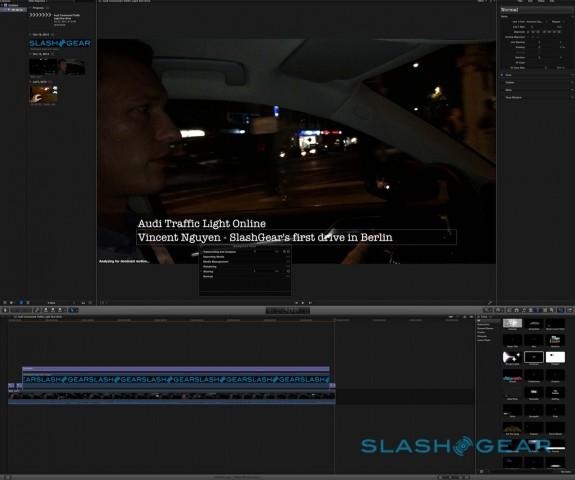 In short, in many ways the iMac Retina 5K display feels simply ahead of its time, but that does come with a few compromises along with the advantages.
Biggest is the absence of Target Display Mode, which on previous iMac models meant you could plug in a MacBook, Mac mini, or Mac Pro and use the iMac as a dumb display. Sadly, even though Thunderbolt 2 is a far broader pipe than its predecessor, it's still not fat enough to carry a 5K signal from another computer. That will presumably have to wait until Thunderbolt 3, and in the meantime there's no provision for upscaling lower-resolution external sources.
For the same reason, even if you could afford it, you can't plug a second 5K display into the Retina iMac and have two such screens working in tandem. It can drive up to a 3840 x 2160 external screen, but you'll only have one 5K panel.
Specifications and Performance
One place I'd expected to see a change in the new iMac was its processors, but Apple has stuck with the fourth-gen Intel Haswell chips found in the existing models. The entry-level model – and the one I've been testing – is a Core i5 quad-core running at 3.5GHz, though a 4.0GHz Core i7 quad-core is a $250 option.
8GB of memory is standard – you can step up to 16GB or 32GB for $200 or $600 more, respectively – and, happily, so is Apple's Fusion Drive storage. Pairing a chunk of flash memory for faster access to frequently-used apps and files, and a 1TB regular HDD for mass storage, it's a good balance of speed and capacity, and was one of my must-have upgrades on the non-Retina iMac.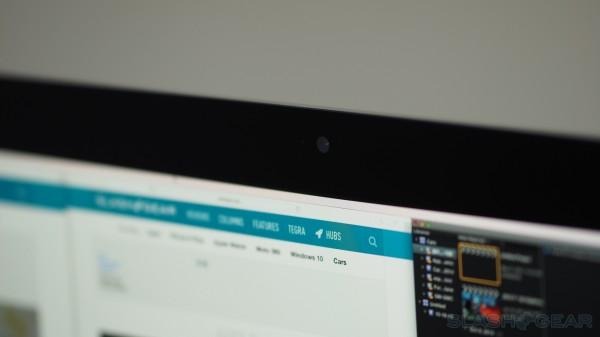 A 3TB Fusion Drive is a $150 option, or – for no change in the base price – you can opt for 256GB of flash storage. I've not been able to speed test that but, given how fast Apple's flash is in other Macs, I've a suspicion that true power users should probably tick that box and then sate any mass-storage needs they might have with a USB 3.0 or Thunderbolt external drive.
Ever since the first whispers around a Retina iMac, opinions have circulated around what GPU might be entrusted to push all those pixels. By default, the all-in-one gets AMD's Radeon M9 M290X with 2GB of GDDR5 memory to itself; a $250 upgrade takes you to the Radeon R9 M295X with twice the dedicated memory.
Like the other components, it's a mobile chip, and that's prompted a little consternation among some that it might not be up to the job of driving a 5120 x 2880 panel. Happily, for the most part those fears are unfounded.
Multi-tasking and video playback is handled with aplomb. In Final Cut Pro, adding graphical effects and seeing them applied in real-time was problem-free. Compared to a Mac Pro, however, the Retina iMac took a fair while longer to actually export those final video files (it was the only time I ever really heard the iMac's fan kick in, too, though it was still little more than a breathy whisper).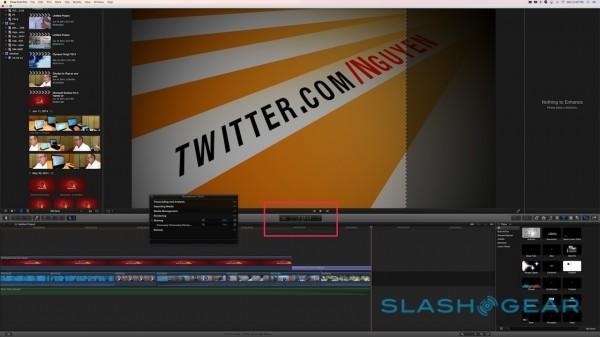 Stray outside of OS X Yosemite and Apple's own applications, however, and there's a sense that some software simply isn't ready for 5K resolution. In third-party browsers, for instance, I occasionally saw some scrolling stutter that wasn't there when using Safari.
Wrap-Up
There's no denying that there's a dearth of generally available content to suit the iMac's Retina resolution. The regular 27-inch version can handle 1080p, iTunes still doesn't have 4K content, and while Netflix is one of the few streaming services that does, you can't access those streams in the browser.
I can't help but feel that's missing the point, though. This iMac isn't about content consumption – or, at least, watching it is only a side-story – but creation. It's the computer for those making Ultra HD videos or insanely high-resolution photos and graphics; the content which will tip the scales in favor of Retina-style screens.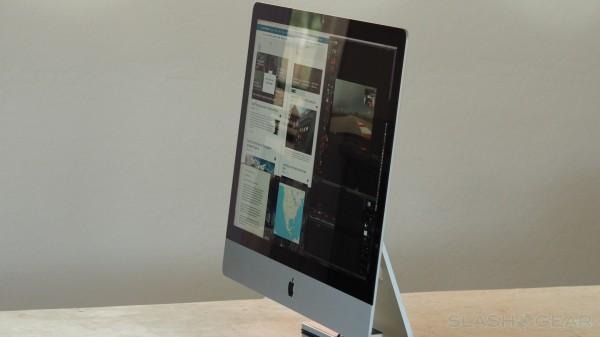 With its $2,499 starting price, the iMac with Retina 5K display is just $500 apart from the entry-level Mac Pro. Of the two, the Mac Pro is more powerful, but then again you also need to budget for a separate monitor: as Apple was keen to highlight when it announced its flagship iMac, there, you're effectively getting a pro-level display with a full computer thrown in too.
The new Retina iMac, then, slots neatly into a sweet-spot between the previous top-end iMac and the cheapest Mac Pro. Its screen is unparalleled, not only within Apple's line-up but among displays in general, and it's likely to stay that way for a while since a standalone Retina Thunderbolt Display seems some ways off. At the same time, it doesn't require quite the financial investment that equipping your desk with a Mac Pro demands.
In all, it's a combination of want and need that I've seen from Apple's products before. A subsection of users will have a legitimate need for Retina resolution; a whole lot more will simply find themselves lusting over it. Interwoven with that is the current exclusivity of 5K, and though rivals will undoubtedly come to compete with the specifications in time, the iMac with Retina 5K display's overall package of style, performance, and cachet make it as rewarding as it is groundbreaking.