Retina 5K iMac display has insane pixel count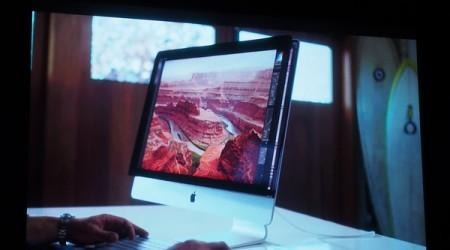 If you were thinking the iMac display was lacking, you might not be alone. Apple has taken the next step forward with their desktop machine, bringing in the "world's highest resolution display". Not only Retina, the new iMac is going to be Retina 5K. What does that mean, exactly? It's got seven times more pixels than your awesome HD TV. It's also only 5mm thin at the edge, and uses a lot less energy than the existing iMac. Less power and more pixels? Yes, please.
At 27-inches, the iMac Retina 5K has a 5120 x 2880 resolution, and has a whopping 14.7 million pixels. Yikes.
There's also a custom timing controller with four times the bandwidth. Apple says they had to custom make it, as one didn't exist that could handle what they wanted to push to you.
An oxide TFT charges those pixels fast, and an organic passivation cuts the pixel cross-talk. In plain speak, that means you're getting a super crisp display that produces amazing images, and responds ultra-quick.
A new LED backlight has 30% less energy use. Powerful, responsive, and less energy draw than ever. That's one awesome display, and you can even get it with an Intel Core i7 processor. All for $2,499, too. not bad, Apple.