LG GD880 Mini gets official: super-slim touchscreen phone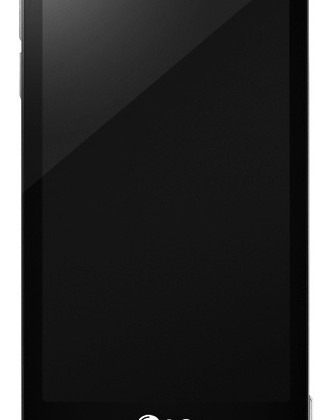 Remember the LG GD880 spotted yesterday?  The company have officially launched the slender touchscreen handset as the LG Mini, and according to the pre-MWC press release it's the smallest and slimmest full-touchscreen handset on the market today.  That's despite packing a 3.2-inch display, 5-megapixel camera with face-detection and HSDPA 7.2Mbps.
The GD880 also squeezes in WiFi and there's an A-GPS chip inside the aluminum casing too, but other than that LG aren't being especially forthcoming with their information.  Yesterday's leak suggested the touchscreen runs at 480 x 854 resolution, but we'll have to wait for a full spec sheet to know everything for certain.
What seems likely is that the LG Mini GD880 is running the company's own OS with their oft-frustrating S-Class UI on top.  Still, you do get easy uploads to various social networks, together with integration of Facebook and Twitter into a homescreen widget as well as the address book.
No word on pricing, but the LG Mini is apparently set to arrive in Europe come March 2010 before other markets.
Press Release:
Great Things Come In Small Packages With New Mini Phone From LG

Seoul (Korea Newswire) February 09, 2010 11:01 AM — LG Electronics (LG), a global leader and technology innovator in mobile communications, today announced its new LG GD880, or LG Mini, a new phone that accentuates its trendsetting design with a full complement of intelligent features.

LG Mini is the smallest and slimmest 3.2-inch full touchscreen phone on the market today, making it the perfect handset for people who want all the communication features that today's technology has to offer without the bulk and heft of a traditional fully-loaded handset.

"We developed the LG Mini in response to specific requests from actual consumers who were unhappy with current full touchscreen phones that are too bulky, too clunky and too expensive," said Dr. Skott Ahn, President and CEO of LG Electronics Mobile Communications Company. "The easily pocketable LG Mini delivers great looks at a reasonable price, along with the trendy features that people want."

Thanks to a slim, compact form factor made from the highest quality materials, the LG Mini easily slides in a shirt pocket or small handbag while still feeling reassuringly solid to the touch. Textured metal accents on the sides of the LG Mini add to the phone's eye-catching looks without detracting from its overall simplicity. On the front, a large 3.2 inch touchscreen with an aspect ration of 16:9 extends all the way to the edge of the phone, giving it a finish that is as smooth as ice. In addition, a button-free face keeps the LG Mini simple and sleek.

But the LG Mini has much more than just great looks. Besides a raft of staple features such as speedy web browsing and fast push email, the LG Mini also includes several unique aspects, including Social Network Connect, which makes keeping in touch with online friends even easier than on a desktop PC. Popular social networks such as Facebook and Twitter are instantly accessible through built-in applications and a Social Network Feed provides instant and automatic updates of friends and family members on the home screen. Updates also appear next to each contact in the Social Address Book.

What's more, the LG Mini boasts a 5.0 megapixel camera featuring advanced face detection which allows uploading of sharp, vivid pictures and videos wirelessly to multiple social networks in one simple step. The device also plays music and movies in several popular file formats and even includes an FM radio.

With HSDPA connectivity at 7.2 Mbps and Wi-Fi, the LG Mini can browse the internet at high speed and also provide real-time location information using A-GPS.

The LG Mini will be available in Europe starting in March, followed by other markets. Prices will vary country-to-country and will be announced separately in each market.