LG G3 teases final flagship design and laser focus camera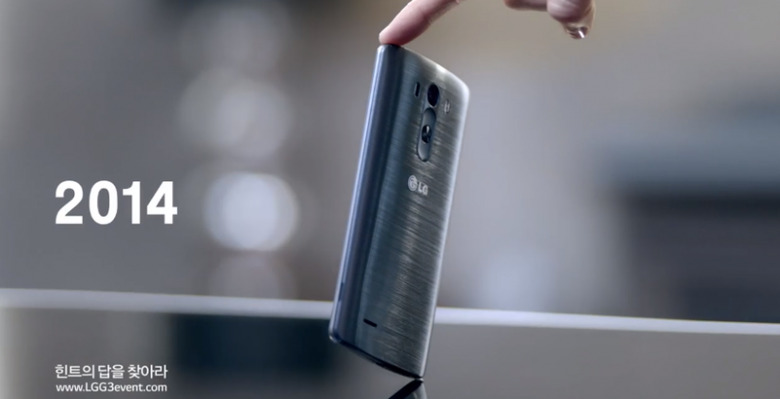 The LG G3 isn't due to make its official debut until next Tuesday, but LG can't help its pre-show teasing, including showing us the sleek design of the Android smartphone and name-checking its laser autofocus camera. Expected to be unveiled in London on May 27th, the G3 has today got a trio of new video clips that confirm its QHD 2560 x 1440 display among other things.
The display doesn't come as much of a surprise, given previous leaks, but should still be an impressive panel all the same. Full HD resolution is already fairly commonplace on high-end devices, and so QHD is likely to be the benchmark on Android phones for the next few months, at least until we start to see 4K displays show up.
LG G3 Design:
However, the videos also give a brief glimpse of the best official view of the G3 we've had so far. Although its brushed metal finish – the jury's still out on whether it's real metal or plastic, but we know what we're hoping for – has been spotted in various leaked shots before, LG has been less keen to show it to us until now.
That hasn't stopped LG from showing off its accessory ecosystem for the phone, though. Earlier this week, it revealed the G3 QuickCircle case, which will give a porthole-style glimpse of recent notifications and updates through a round window on the front.
LG G3 Display:
What we're left particularly curious about is the G3's camera. According to LG's teasing, it'll use a laser autofocus system that's faster than other such approaches, to take on the Phase-AF that Samsung uses in the Galaxy S5.
Exact details on the fundamentals of that haven't been shared, but in general laser focus systems use a single laser beam to pinpoint the subject even in low-light conditions. It can actually be used with a simple laser pointer and a regular camera, as long as you line up the two properly, but LG will be first to put it in a smartphone.
We'll know more on Tuesday, when SlashGear heads to London to find out all the details on the G3.
LG G3 Camera:
VIA Engadget
SOURCE LG