LG G3 details spilled in early pre-press event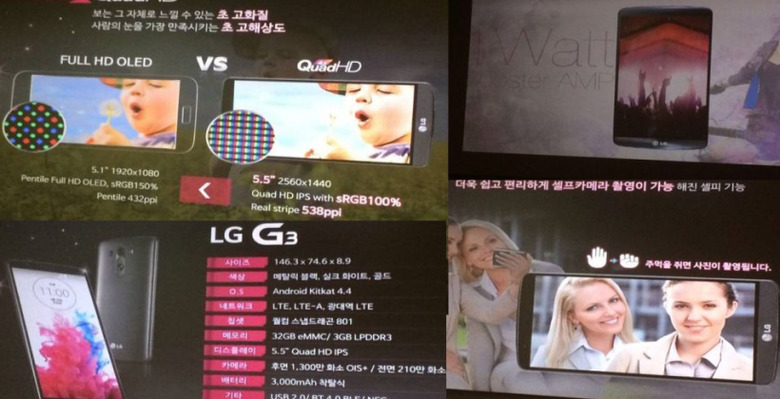 The LG G3 appears to have been leaked in full this week as a behind-the-scenes photo shoot has captured the entirety of an advertising campaign before LG can spill the beans itself. While LG does have an event scheduled for May 27th, they've not yet revealed (officially) much more than a press render of the back side of the device. Today we get the full gush.
The LG G3 will work with a body that's 146.3 x 74.6 x 8.9mm – standard for a smaller phone, but certainly tiny when considering this machine's 5.5-inch display. This device's 5.5-inch display will work with "Quad HD" IPS LCD technology, this bringing about 2560 x 1440 pixels – that's 538 PPI, or pixels per inch.
Also inside you'll find 32GB of built-in storage space as well as 3GB of RAM, ready to roll with a Qualcomm Snapdragon 805 (or 801, we've seen rumors of both) quad-core processor clocked at 2.5GHz. Inside we'll be seeing a microSD card slot able to work with 128GB of additional storage space, bringing you up to a cool 160GB of space if you're willing to pay the few extra bucks for the 3rd-party card.
This device is said to work with a 1 Watt booster AMP – this means louder music, and what we must assume will be higher-quality music while we're at it. Under the hood will be USB 2.0 capabilities, NFC, Bluetooth 4.0 LE, and a 3000mAh battery.
Both LTE and LTE-A will be supported internationally, and the LG G3 will launch with Android KitKat 4.4 right out of the box. Have a peek at our previous dropping back details article for more bits and pieces on the cameras, impressive as they are!
VIA: G for Games