LG G Pad 8.3 hands-on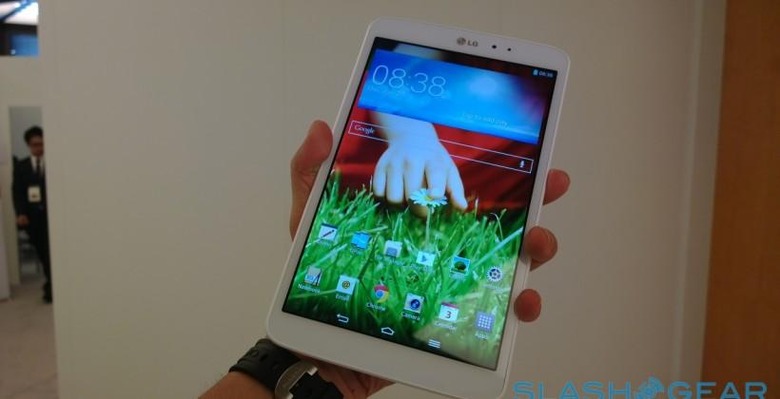 LG took a backseat in Android tablets for a while, but now the company is back with the LG G Pad 8.3, a higher-than-Full HD slate borrowing tech from the LG G2 smartphone. Having flirted with dual camera arrays and glasses-free 3D displays, LG has gone back to basics with the new G Pad, aiming for long battery life and great image quality. Announced last week, we grabbed some hands-on time at IFA 2013 today, so read on for our first impressions.
Many of the specifications are familiar from LG's smartphone line-up. Inside there's a 1.7GHz quadcore Qualcomm Snapdragon 600 processor paired with 2GB of LPDDR2 memory and 16GB of storage, together with WiFi and Bluetooth, while on the outside you get a front-facing 1.3-megapixel camera for video calls, and on the back a 5-megapixel camera.
It's the display that wows, however. We've seen 1920 x 1200 resolution before, on the Nexus 7 2013, and Google's tablet actually bests the LG in terms of pixel density (323ppi versus 273ppi), but LG's choice of panel is excellent.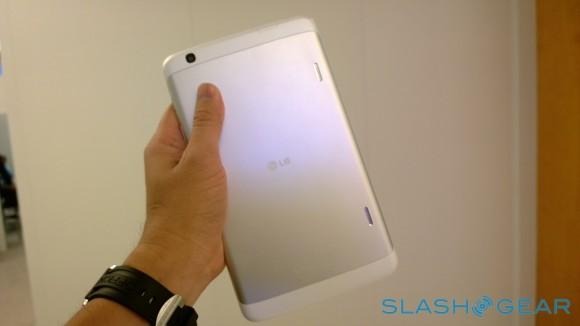 For the G Pad 8.3, LG opted for an LCD screen rather than OLED. Viewing angles are great, and colors are natural but still vivid. Video playback benefits from the slightly larger panel than the 7.02-inch Nexus 7, too, which could make a difference if you're aiming to watch video on flights.
LG G Pad 8.3 hands-on:
At 216.8 x 126.5 x 8.3mm and 338g, the G Pad 8.3 is slightly larger and heavier than the Nexus 7. However, narrow bezels as on the G2 smartphone keep the unnecessary bulk down, and in the hand the shape is much like a larger version of that phone. Unfortunately you don't get the rear controls as on the G2, which would've made even more sense for navigating through ebooks and such when holding a compact tablet single-handed. However, you do get a far more premium feeling body, with the G Pad aping the iPad mini with brushed aluminum that feels great.
You also get a sizable battery, a 4,600 mAh pack in fact, versus the 3,950 mAh of the latest Nexus 7. LG tells us that it should be good for around 300 hours of mixed usage, or alternatively 7-8 hours of solid video playback.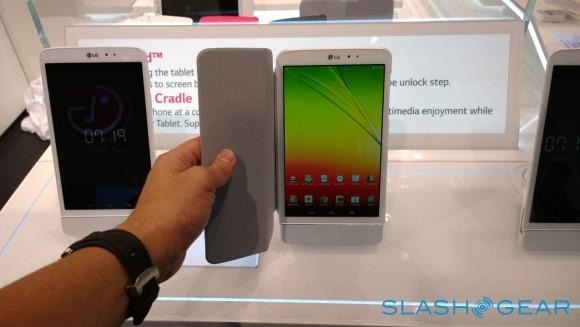 All in all, it's an impressive device, with the screen our favorite feature but the whole package highly usable. LG's added features aren't too intrusive, and some – like KnockON to wake the tablet by double-tapping the screen – are actually pretty useful. We also like the QuickPad cover, which can be opened to different degrees to unlock different features.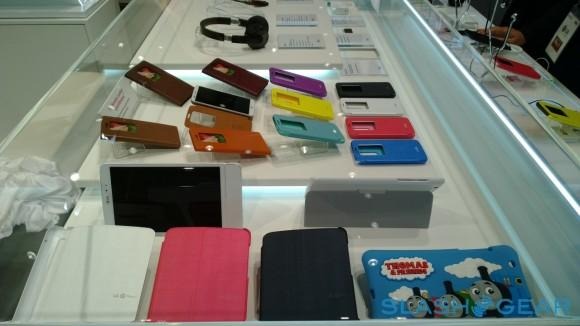 As for pricing, LG wouldn't give us exact figures but did say that the G Pad would be on par with other "premium" tablets. It'll arrive in the US, Europe, and Asia from Q4 2013, with specific availability to be confirmed closer to release.