LG G Flex 2 Review - Killer Curves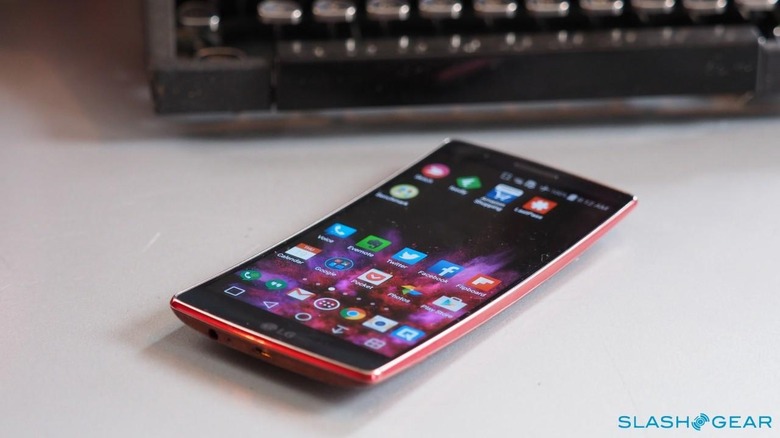 First you have to prove you're not a gimmick. Then it's just a matter of proving you're better. LG turned heads with the G Flex last year, an Android smartphone with a banana-like bend to it, only to be stung with criticism that its big idea was actually just too big for the hand. Now, 2015 brings a new curved flagship, the LG G Flex 2, distilling the best of the concept into something altogether more usable. As the SlashGear Smartphone of CES 2015 our expectations of the G Flex 2 were undoubtedly high, but does the reality live up to the promise?
The review phones LG has provided are for South Korean carrier SK Telecom, as US-spec devices are not currently available. LG requested the following disclaimer: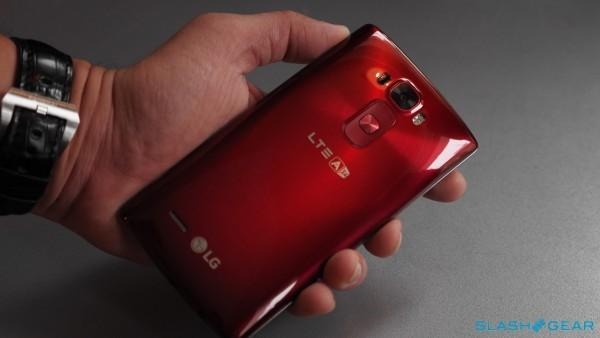 "The devices sampled are representative of final industrial design and user experience but are continuing to undergo additional optimizations to enhance benchmark performance. We expect our upcoming software releases to provide further improvements in this area. We remain confident that the G Flex 2 will deliver great experiences to our customers with a tremendous blend of multimedia, performance and industry-leading design."
Hardware and Design
Like many, we had two key criticisms of the first G Flex. First off, it was simply too big: its 6-inch display left it unwieldy and, despite LG's suggestions that the screen arc meant reaching the corners one-handed would be easier, in practice it was still a two-handed device.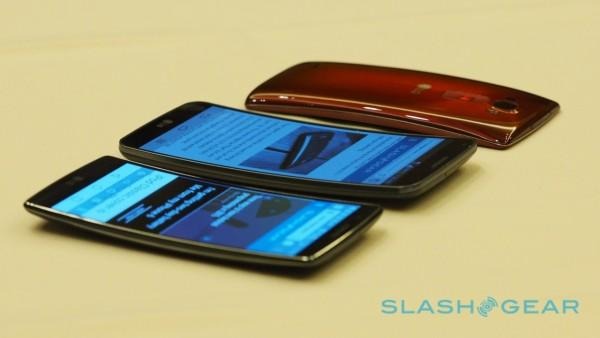 We'd have been more forgiving if the display itself had been market-leading, but in reality the resolution wasn't as impressive as the shape. LG had opted for a 720p screen, lacking in detail in comparison to the commonplace 1080p found on rival (albeit flat) handsets.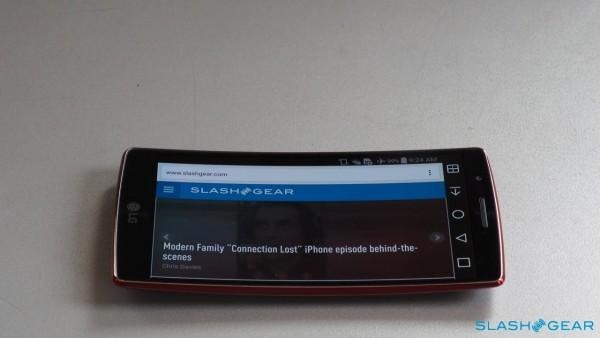 Thankfully, both of those issues are addressed with the G Flex 2. Now fronted with a 5.5-inch display, the new phone measures in at 149.1 x 75.3 x 7.1-9.4 mm, versus the 160.5 x 81.6 x 7.9-8.7 mm of the old model. It's easier to hold, easier to reach across the display, and feels less ridiculous held against your face for calls. The bezels are slimmer all around, too, which removes some of the visual heft.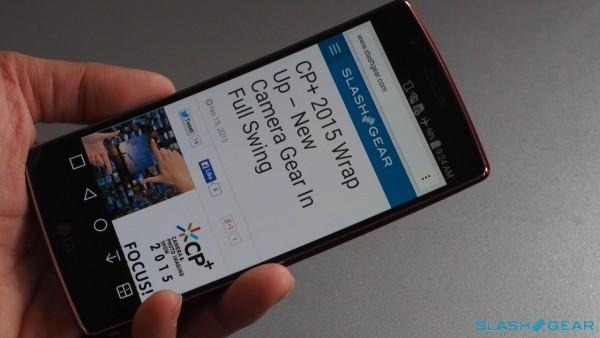 The display may be a little smaller, but it's higher resolution, stepping up to 1080p. Now, 1920 x 1080 isn't the highest out there for a flagship Android phone – LG's own G3 from 2014 comes in at 2560 x 1440, for instance – but at 403 ppi it's certainly detailed enough for all but the most discriminating of eyes.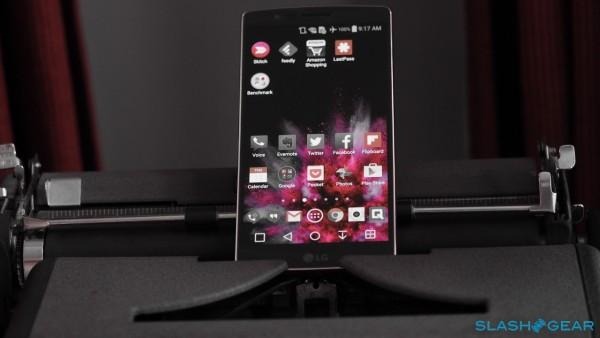 LG maintains that there's more than just gimmickry to its flexed P-OLED. Primarily you have to buy into the idea that a curved TV is more engrossing than its flat counterpart, and indeed the G Flex 2 has a 700mm radius curvature just like LG's 55-inch curved TVs. Whether you're sitting 3m away from the TV, or watching the phone from 30 cm away, the viewing experience will be more engrossing.
At least, that's the theory. I'm still not wholly convinced that my enjoyment of YouTube videos or maybe a movie downloaded through Google Play and watched with the G Flex 2 propped up on an airplane tray table are made more dramatic or engaging thanks to the curve, but it's a beautiful display all the same, with the rich blacks and vivid colors we've come to expect from OLED panels.
On top there's a sheet of Gorilla Glass 3, with which LG's engineers couldn't resist having an experiment. The result is Dura Guard Glass, a combination of chemical and heat treatment which LG says add up to 20-percent more resilience than Corning's best efforts alone.
The rough & tumble temperament doesn't stop there, either. LG's self-healing casing treatment has been upgraded since the original G Flex, too, still promising scratch recovery but now promising that mild grazes will disappear in as little as ten seconds.
It helps if you're not expecting miracles: put the G Flex 2 in a pocket with a few sharp keys and you're asking for trouble. Nonetheless, it shed very casual scuffs and scrapes with no issues, leaving LG's "Spin Hairline Pattern" – effectively a radial brushed-metal effect – unmarred.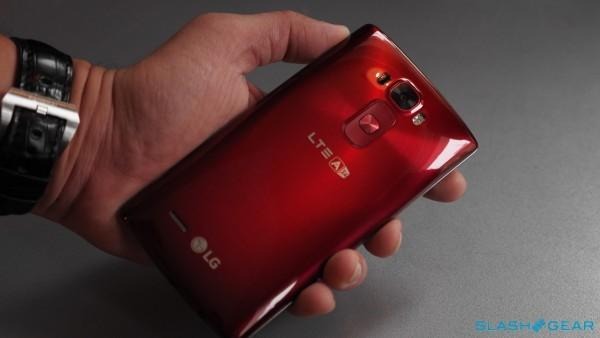 Inside, there have been some welcome changes too. Pride of place is occupied by Qualcomm's Snapdragon 810 with Adreno 430 graphics and either 2GB or 3GB of memory (geography depending). It's a 64-bit octacore chipset, optimized for Android Lollipop, and as we've already seen in our benchmarking of the processor, most of the time not lacking in power.
The Snapdragon 810 gives you Cat 6 LTE with 3xCA (channel aggregation) for faster downloads on networks that support it. There's also HSPA+, WiFi a/b/g/n/ac, Bluetooth 4.1 (with apt-X audio), NFC, and USB 2.0. Storage consists of either 16GB or 32GB of onboard capacity, along with a microSD slot.
Software and Performance
LG has gradually been dialing down the degree to which it modifies core Android, and though there are certainly some changes to iconography and such, happily Lollipop 5.0.1 is in many ways closer to what Google intended than with earlier devices. What has been tweaked generally works to the G Flex 2's benefit, too.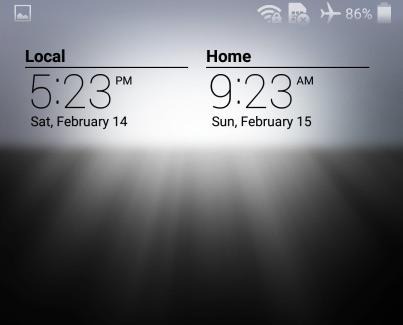 Glance View, for instance, gives a "peak" at the most recent notifications without leaving the display partially powered-on all the time. Sliding a finger or thumb down the upper curve of the display pulls open a glowing pane with the latest icons and alerts, along with date and time. It's convenient enough to do with a reaching thumb, and useful if you've just snagged the phone out of your pocket and want to discretely check what you've missed.
Then there's Smart Notice, which promises to work as a "personal assistant" based on how you use your phone and where you are. Frankly, in the face of true digital assistants like Google Now or Siri, LG's weather and missed call reminders feel underwhelming, and the company's much-vaunted "natural language" delivery doesn't really add much.
Better are the security convenience features. Knock Code – which allows you to set an unlock pattern of taps rather than a PIN – can now be split across four quadrants of the display, increasing the number of potential sequences considerably. It's a great balance of security and convenience, since you don't have to look down at the screen to see where the buttons on a numeric keypad is. Lollipop, meanwhile, adds Smart Lock, which can bypass the code depending on whether you're at home or at work.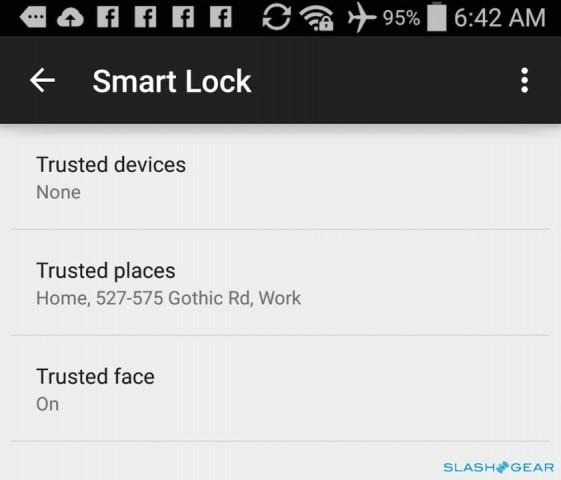 Otherwise, the Lollipop experience is hidden to no small degree by the sheer amount of software SK Telecom adds itself. Many can't be removed, and Korean language menus and keyboards are the default at several points. It's hard to know what changes LG may make between Korean devices and their US counterparts.
For that reason, the performance of the phone needs to be taken with a serious disclaimer hanging overhead, not least LG's assurance that tweaks and finessing are still underway. I didn't have problems with heat, or indeed the smoothness that Android and apps ran most of the time, though occasionally there would be hiccups that seemed inexplicable when looking at overall load. In short, the Snapdragon 810 certainly seems capable, but we'll need to come back for a closer look when LG has its final firmware ready.
Camera
The G Flex 2 gets the same camera rig as found in the LG G3, and that's no bad thing. On the back, there's a 13-megapixel camera with laser auto-focus, OIS+ optical image stabilization, and a dual-LED flash. Turn the phone around, meanwhile, and a 2.1-megapixel, f/2.4 camera is up-front for selfies.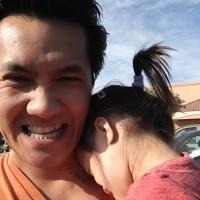 As we found on the G3, the addition of lasers to the system doesn't just give LG the opportunity to make Dr. Evil jokes. Instead, it's used as a high-speed rangefinder, with the promise of better low-light performance where traditional autofocus systems more commonly struggle.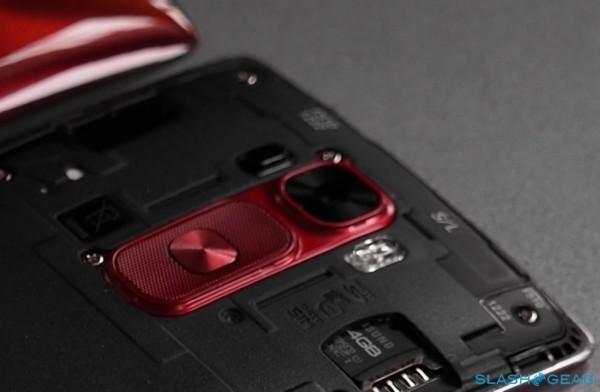 In fact, side by side with the G3 and the G Flex 2 is meant to be a little faster. It's not something you could really see day-to-day, but no matter what the numbers might be, I had no complaints with the near-instantaneous focus lock. Even shooting in pitch dark, once the flash had kicked into action I found the lasers had done what they were meant to.
The resulting images are as solid as those from the G3, with exposure and contrast well balanced, while colors skew more toward realistic than over-saturated. An HDR mode helps even more when the lighting conditions are playing against you.

Rear facing camera
These video clips were shot in 4K resolution but processed down to 1080.
For video, meanwhile, there's up to 4K support, though as on the G3 clips are limited to five minutes in length. Expect to crunch through your internal storage in short order, too, as the file sizes are not-inconsiderable; investing in a capacious microSD seems like a good plan.
LG couldn't resist a few software mods in its camera app, and like the rest of the smartphone industry at the moment, it's obsessed with selfies. Hold up your hand, palm-out, and then clench a fist and you'll trigger a three-second timer: LG calls it Gesture Shot, and while it debuted on the G3, for the G Flex 2 it can now spot you from up to 1.5m away. Bring the phone closer to your face, meanwhile, and it'll automatically show you the photo you just took.
Sample videos
Battery and Phone
If there's a sacrifice to stomach for the smaller size, it's in battery capacity. The G Flex 2 drops 500 mAh from its predecessor, packing a curved 3,000 mAh Li-Ion pack that, like before, is non-user-removable. Peel off the back cover and you find the SIM and microSD slots, but the battery is screwed into place.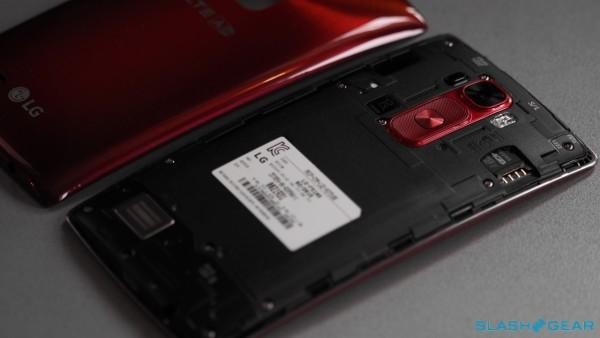 You may not be able to swap it, but you should be able to charge it more rapidly. LG's phone supports Fast Charge which – with the right charger, usefully included in the box rather than sold separately as we've seen with some manufacturers – shaves recharging times by almost a third. A 50-percent charge can be squeezed inside in around 40 minutes, and happily the wall-wart itself isn't too huge to travel with conveniently.
In practice, considering the smaller battery, runtimes were strongly dependent on what tasks the G Flex 2 was facing. OLED screens may be lower in the power demands than LCD, but a 5.5-inch panel still takes its toll. I saw a full day of casual use, but since this particular phone hasn't been tailored to suit local networks, I'll leave more comprehensive testing until US devices land.
It's almost unusual to use a phone as, well, a phone these days, but if you do still stick to the old ways, LG says the G Flex 2's shape has a usable benefit. In fact, there's a claimed 3 dB improvement in how much volume the microphone supposedly picks up when you're holding the phone against your face, better than the original G Flex – it was longer, so its microphone was further down toward your chin – and a whopping 40-percent improvement over a flag phone with the same display size.
Call quality is something we'll return to when we have a US-spec device, though an AT&T SIM got the Flex 2 up and running. Certainly sufficient to suggest that LG's argument is more than just PR fluff, anyway: callers reported being able to hear us clearly, while the G Flex 2's earpiece proved loud though lacked finesse.
Wrap-Up
When you're using a non-localized device, there are always provisos to be taken into consideration. In the case of the LG G Flex 2, we still have several outstanding questions: how the combination of Snapdragon 810 and US-spec software will play together is probably the biggest. I'm also curious to see how much restraint – or lack of – US carriers demonstrate when it comes to bloatware.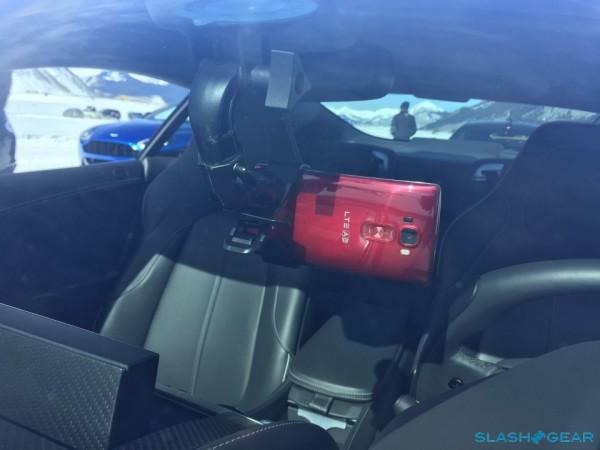 Nonetheless, when it comes to addressing the two biggest issues we had with the original G Flex, you can't argue that LG has risen to the challenge. In the hand, the G Flex 2 feels reasonably sized rather than unwieldy, and the curve finally starts living up to some of its promise as an ergonomic boon to one-handed use.
Meanwhile, though I'm still not convinced that – as with curved TVs – a flexed screen is a must-have for entertainment, there's at least no compromise on resolution this time around.
With final firmware still pending, the jury is still out on how solid an all-round package the G Flex 2 might be. Already, though, I've seen enough to convince me that curved phones aren't a gimmick any longer. If the price is right when US carriers weigh in over the coming weeks, and you can resist the charms of whatever Samsung and HTC have in store with the Galaxy S6 and One M9, that leaves the G Flex 2 a distinctive device well worth keeping on the shortlist.