LG enV Touch XV11000 sold early, stars in live gallery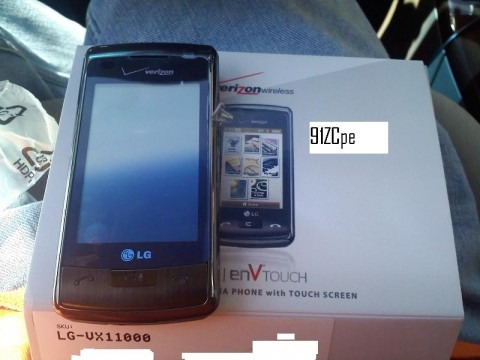 It's not supposed to reach Verizon Wireless stores until June 5th, but that hasn't stopped buyers persuading the carrier's reps to sell them the LG enV Touch XV11000 a little early.  HowardForums member 91ZCpe managed it, and shot some hands-on photos of the twin-display QWERTY clamshell.
Replacing the 18 month old LG Voyager, the enV Touch has two 3-inch WVGA resolution displays; on the outside there's a touchscreen, while crack the phone open and there's another, landscape-orientation display plus a QWERTY keyboard.  The enV Touch also has a 3.2-megapixel autofocus camera with Schneider Kreuznach optics and flash, EVDO Rev.A for high-speed connectivity, Bluetooth and will happily gobble up 16GB microSD cards.
As for the software, that gets a full HTML browser, threaded messaging, a document viewer and access to Verizon's VCast multimedia services.  Prices are expected to be $149.99 (after a $70 rebate) with a two-year contract, $219.99 (same rebate) with a one-year contract, and $409.99 if you buy it outright.
[via phoneArena]