LG adds Napster and Deezer to Smart TVs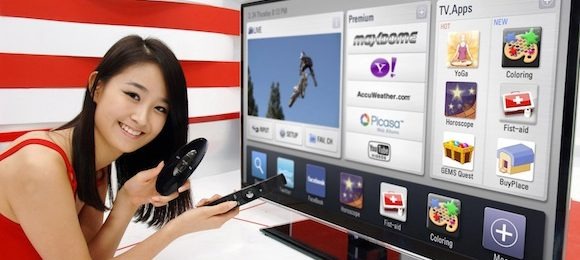 LG has given its smart TV line-up a squirt of extra streaming content, adding Napster, Eurosport, Deezer, and other premium services to its 2012 models. The new entertainment options – some of which will require a subscription to access, though LG is laying on some free trials – will be landing over the coming weeks, while new UK buyers will also get a free chunk of movie download credit.
Napster is already a familiar sight from phones and tablets, but the new app for LG smart TV will bring the same 17m title catalog and playlists to your living room. That app will hit sometime in December, LG says; it'll be accompanied by the similarly subscription-based Deezer.
Midway through the month, meanwhile, Eurosport Player will be added to LG's smart TV app range. That, also subscription based, will offer live Eurosport channel events, such as the Tour de France and Australian Open. LG had already been offering the BBC Sport App.
Meanwhile, to try to boost adoption of the on-demand Acetrax Movie service, new LG smart TV buyers in the UK will get £50 of credit to use; it's worth noting that Samsung is also offering a similar promotion if you've got your heart set on an ES9000. You'll have to buy the LG set by December 24 to qualify, however; Samsung's promo runs until the end of 2013.