Samsung UN75ES9000 75-Inch Review (1080p 240Hz 3D Slim LED HDTV)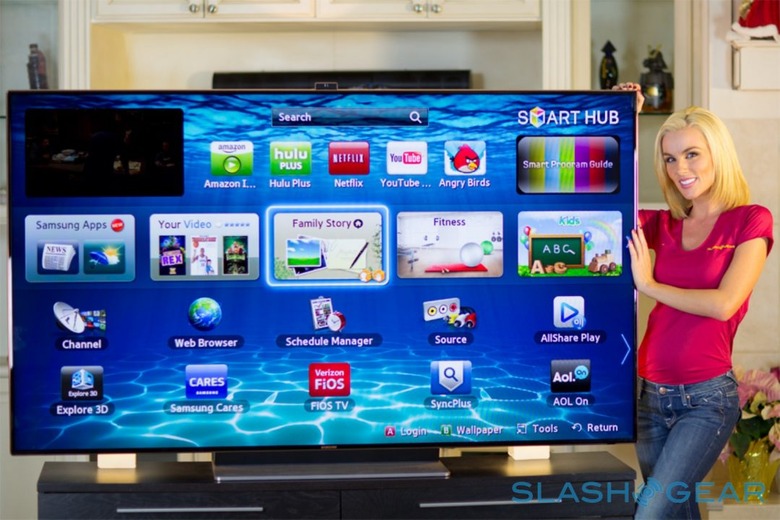 Samsung has an impressive track record with big-screen LED TVs, and the current 75-inch flagship UN75ES9000 aims to maintain that legacy. Packaging the smart TV functionality from the ES8000 with a few of the picture processing features best loved from 2011's D8000, all in a slim, rose gold frame, the ES9000 promises plenty; then again, so it should with a $10,000 price tag. With a mile-long spec sheet there's plenty going on, so keep reading for the SlashGear review.
Design and Hardware
Samsung has been gradually paring back the design of its sets over the past generations, with particular success when it comes to the bezel. For the ES9000, that's a slim, curved border with a rose gold tinted finish, just 0.31-inches thick. The only distractions are the (retractable) webcam on the top edge, and a simple, narrow stand underneath. That can, obviously, be detached and the TV wall-mounted; at 1.4-inches deep (12.9-inches on the stand) it's impressively thin.
Despite the dimensions, Samsung manages to fit in a fair amount of hardware. There are two 15W speakers, downward-firing, and integrated WiFi for hooking up the ES9000 to the internet wire-free. Other connections include three HDMI ports, three USB 2.0 ports, an ethernet port, component and composite inputs, a digital audio output (optical), a 3.5mm analog audio output, a DVI audio input, aerial port, and a serial port for Samsung's EX-LINK inter-device communication (with it, and the right accessories, you can have the TV trigger a motorized wall-mount or other add-ons).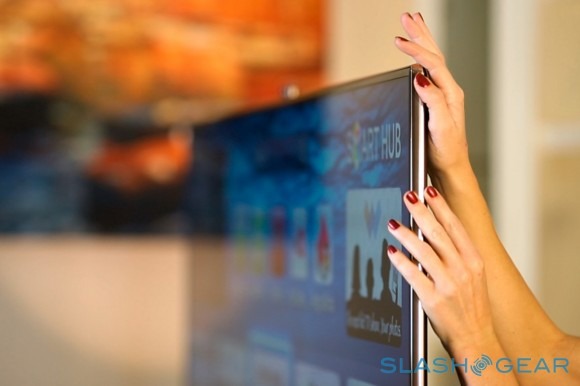 Samsung includes four pairs of 3D glasses in the box along with its Smart Touch Remote, which has a trackpad for navigation and also works as a remote microphone for voice control. There's a standard remote in the box too, along with an IR blaster which allows for third-party A/V kit to be controlled via the Samsung's remote. A Smart View app for Android phones and tablets turns them into remotes too. You don't get the wireless keyboard (VG-KBD1500) which the TV is compatible with, however; that's a $100 add-on, and as well as full QWERTY includes a trackpad and works, via Bluetooth, with Samsung's recent Android phones and tablets.
There's also support for Samsung's Evolution Kit, due sometime in 2013. TV development may run at a slower pace than, say, for smartphones, but it's still frustrating to think that today's flagship TV will be superseded at some point in the not-too-distant future. The Evolution Kit will go some way to addressing that, a slot-in module that will update the ES9000 with a new, faster processor than the current dual-core, more content support, extra smart TV features, and other enhancements.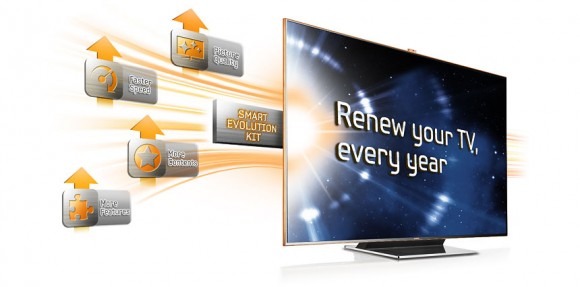 Samsung isn't saying exactly what the Evolution Kit will comprise of – after all, it's hard to tell what will be standard on new flagships next year – nor how much it will cost, but it's a reassurance that other manufacturers don't offer. Obviously it can't upgrade the ES9000's display to 4K, but we're happy to see TV companies thinking beyond the very first out-of-box experience.
Picture Technology
The ES9000 isn't short on picture technology: Samsung has basically packed everything it can into the TV's slender chassis. The Full HD display offers, according to Samsung, 30-percent more sharpness and a matching improvement in black levels, as well as being 60-percent brighter. That's thanks to a cavalcade of processing technology, including the Micro Dimming Ultimate technology we saw on the ES8000 (SlashGear review), and the Precision Black Local Dimming and Cinema Black features (known as "Smart LED" in the settings) which we haven't seen since 2011's D8000 flagship.
All that dimming tech dynamically adjusts the backlighting on the ES9000 so as to improve contrast. For instance, the TV automatically identifies the black letterboxing bars above and below movies, and lowers the backlight behind those sections. It also monitors the rest of the picture, split into zones, and adjusts the backlighting according to what's on-screen at any one time. The ES9000 uses edge-lit active dimming, where clever use of LEDs around the sides of the display can selectively adjust the backlighting of different portions across it; it's a more compact system than full-array active dimming, which is relatively rare on TVs today.
Finally, there's active 3D: put on one of the four pairs of bundled 3D glasses, and as long as you've got 3D content to watch, you can view it in 1080p. The ES9000 supports 2D to 3D upscaling, just like the rest of Samsung's 3D TV range.
Smart TV
Whether it's the occasional Netflix movie of full-on cord cutting, shifting TV watching from the traditional cable connection to streaming media is gaining momentum, and the ES9000 is ready for much of it out of the box. Samsung's smart TV interface is a familiar sight by now, and though the option-packed menus can be a little intimidating initially, the flexibility Samsung offers more than makes up for it.
Netflix, YouTube, Hulu Plus, and Vimeo apps are all preloaded (some services require a subscription, of course) meaning no need for a separate set-top box for streaming. There are also Facebook and Twitter apps, along with a Skype client which supports voice and video calls, thanks to the pop-up webcam.
Other apps give access to music streaming services like Pandora and MOG Music, or to news content like ESPN ScoreCenter and USA Today. There's a full browser for those sources yet to jump on the Samsung smart TV bandwagon, though it's obviously going to be easier to use if you've got the optional keyboard; still, we had good results using voice recognition as long as background noise was minimal (and the URL was a straightforward word). You can save lists of approved sites to limit which your kids can access.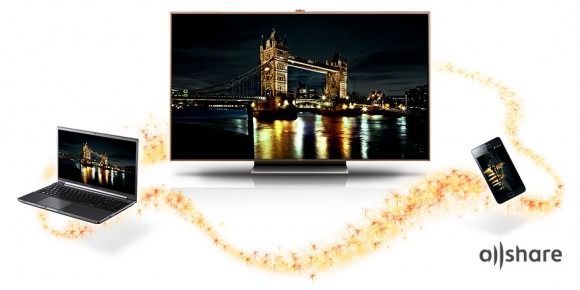 Those with Samsung phones and tablets can not only use the free app to turn their mobile device into a remote, but stream content directly to the ES9000 using AllShare Play. We were able to quickly push playback of a video from a Samsung Galaxy S III to the TV when both were connected to the same WiFi network, with no problems streaming 1080p Full HD clips. Content can also be loaded from a USB drive (max 2TB, in FAT16/32 or NTFS format) attached to one of the ES9000's ports. We'd love to see a communal playlists system added, since this would be a great party media hub; even if your friends don't have Samsung devices, the ES9000 supports generic DLNA for streaming.
Voice control isn't the only navigation option. The camera on the top of the ES9000 can track gestures, like previous high-end Samsung smart TVs, first learning to recognize the slow movements of an outstretched palm side to side, and then allowing you to swipe around the UI, "grab" icons and controls to activate them, and point to letters on an onscreen keyboard. It's not quite Kinect, but it works neatly with casual games like Angry Birds, and handled differentiating between multiple viewers (only one of which was controlling at any one time) well.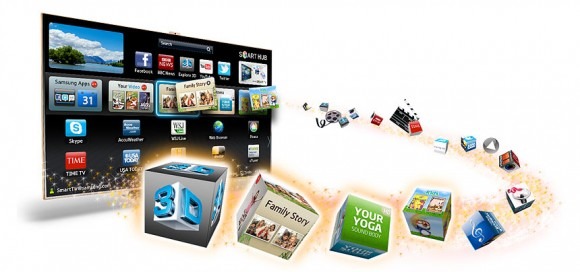 Samsung Signature Services is a new addition to Samsung's smart TVs this year, with a curated area of games, edutainment, and age-appropriate TV shows for kids, along with an integrated rewards system that lets them build up an album of stickers for doing chores and taking part of learning games. The Fitness section offers the services of a virtual personal trainer, meanwhile: tell the ES9000 your fitness goals and it pieces together an exercise plan, showing video tutorials of each stage, and tracking progress with individual user reports. The TV can even use its camera to show you interacting with your virtual personal trainer, so that you know you're doing the exercises correctly.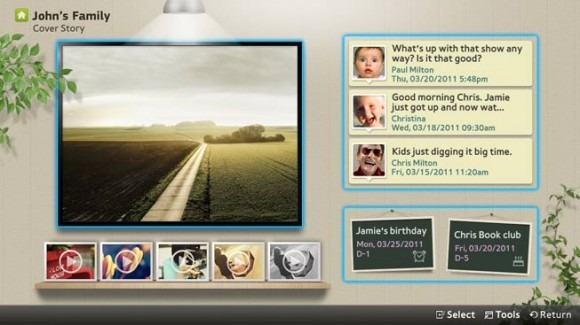 Finally, Family Story turns the TV into a digital pinboard. Pulling in schedules, photos, and messages from smartphones and tablets running the free Family Story app, it supports reminders and alarms for doctors appointments and birthdays, in addition to messaging while simultaneously watching a TV show. Samsung uses the cloud to synchronize the photos and video you've taken on your phone or tablet with your Smart TV, as well as helping you access them while you're out and about.
Performance
Ten grand is a significant amount to spend on a TV, and even with the UN75ES9000's street price edging under the $9,000 mark, you need to be a serious home entertainment junkie to consider buying any set of this size and value. The recommendation is to have it professionally calibrated to suit your room, since without that you're not getting the very best of what the TV has to offer.
That would be a real shame, too, since the ES9000 is capable of some incredible pictures. Beautifully vivid colors and crisp details are what first grab you, but it's the boosted black levels that are a particular gain. Samsung's Cinema Black and Smart LED technology does an excellent job of making sure dark areas really are dark – blacks are black, not murky grey – while low-light content, such as moody films like "The Dark Knight Rises", don't lose all their detail in the process. Color accuracy is also slightly improved over the ES8000, with less of the slight blue tint that can make some content looker cooler than expected.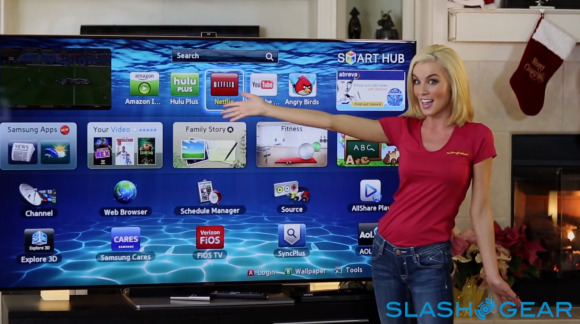 Viewing angles are another success story, both sufficiently broad to accommodate a widely spread audience across the room, but also supporting a good vertical range so that whether you're standing or sitting you'll see the same thing. It holds true for 3D content as well, and we saw minimal crosstalk. The ES9000's brightness levels mean 3D viewing is almost as bright as 2D, and there's no mangling of the colors either.
Finally, there's the surprisingly effective speaker system. We've grown used to mediocre audio from integrated TV speakers, but whether it's the extra space the ES9000's 75-inch panel allows, or the speakers themselves, the big Samsung does a great job. Midrange audio doesn't sound weedy, and the high-end is piping and clear rather than shrill. Even the bass end does okay, though as always a standalone subwoofer makes a world of difference for getting immersed in a movie. It's hard to imagine an ES9000 buyer not pairing the TV with a surround sound system, but its onboard audio is certainly good enough for those times you don't want to turn it all on.
Wrap-up
Samsung has been carving a niche for itself in the high-end TV market for some years now, and the UN75ES9000 follows in the well-esteemed footsteps of the D8000 and ES8000 before it. Smart TV features, clever add-ons like the fitness apps, Skype support, and browser, and media streaming all work well, but they're sensibly built on the solid grounding of great picture quality. Whether you're viewing in 2D or 3D, the ES9000 looks fantastic.
The specter on the horizon is 4K, though we're still several years out from mainstream content providers supporting that resolution. In the meantime, the combination of excellent display quality today and the Expansion Kit for adding upgraded features tomorrow mean it's hard to miss 4K. The ES9000 does great things with the content we'll have for the foreseeable future. Throw in support for digital streaming, a panel which handles fast-paced console gaming very well, the convenience of internet browsing and casual gaming built-in, and a range of control options to suit most ages, and the UN75ES9000 makes an excellent case for its place at the pinnacle of Samsung's range. Visit Samsung Smart TV for more details.