LG 55EM9600 55-inch OLED TV hands-on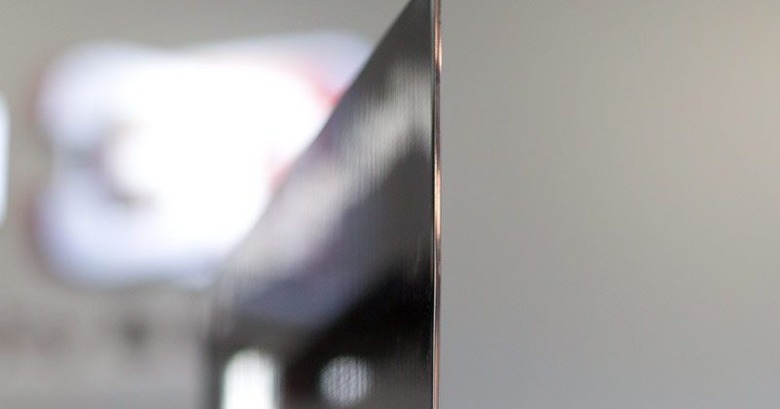 When it comes to TVs this year, there's only two that float to the top: the dueling 55-inch OLED models from Samsung and LG. We've already spent some quality time with the Samsung "Super OLED" television, and we made the trek to LG's booth today to check out their version. Like Samsung, LG's 55EM9600 was out of reach of the prying public, but we took a good long look at the new display for your consideration.
The television has the amazing color reproduction and almost perfect black of organic light-emitting diode, a size that's much more likely to be found in the common living room. (Look for even bigger units next year, in the 70-80 inch range.) Motion is impressively fluid thanks to OLED's pixel-specific activation.
Physically, the television is absolutely beautiful. At less then 4 millimeters thick, with a bezel that's practically invisible, this is the kind of fantasy technology that you see floating around science fiction movies. At just 16 pounds, it's also incredibly portable and small. On a physical scale, LG wins this fight hands-down.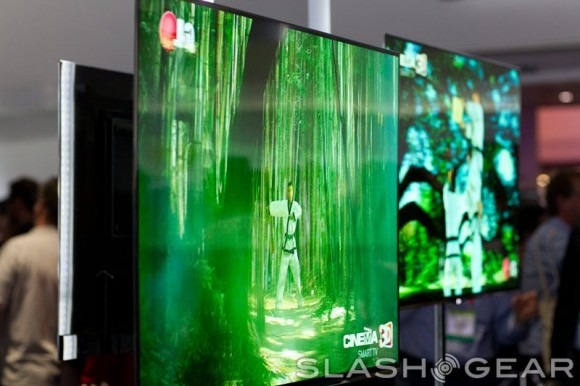 So which wins? I have to give this one to Samsung. The LG model is stunning, but Samsung's 55-inch Super OLED absolutely blew me away. Either is better than anything currently on the market, but Samsung's is the clear winner on picture quality – and that's what counts in the TV world. The LG may still win on availability, though: while neither company gave any price expectations, LG expects to ship the 55EM9600 in the third quarter, while Samsung is still mute on a release expectation.