LG 29V940 Cine View AIO hides a TV tuner inside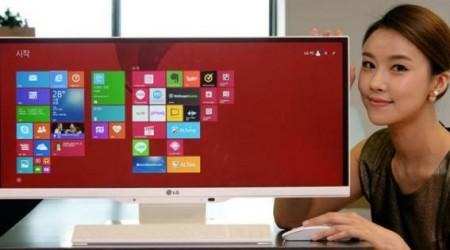 Your widescreen monitor may not look so wide once you've seen LG's latest screen. Boasting of the seldomly used, as far as computer monitors go, 21:9 ratio, this latest Cine View All in One computer has enough room not just for your regular computing needs but also for some TV viewing on the sides, almost literally.
The 21:9 aspect ratio isn't exactly new or strange, as it is commonly used for widescreen TVs to show videos made in that same widescreen ratio without the need to display distracting black borders. However, that ratio isn't so common with computer monitors but LG has been actively pushing this "ultra widescreen" design for quite some time. Last year, it actually showed off several such displays, including one Cine View all-in-one computer.
The 29V940 is its latest model to sport a complete computer inside and it is quite a powerful one. It boasts of a fourth gen Intel Core i5, sadly not an i7, with 8 GB of RAM, with support for data storage up to 1 TB in size. But while the device can definitely stand alone as a computer, its real purpose in life is to let you watch TV on it as well. Thanks to picture by picture or PBP technology, users will be able to watch TV shows while still using the computer as normal. It also helps that this 29-inch screen has a resolution of 2560x1080.
LG hasn't announced when this Cine View will go on sale, but it has revealed three configurations and their corresponding price tags. The Core i5 model will cost 2.24 million KRW ($2,175), while the Core i3 costs 1.94 million KRW ($1,883). There is also a variant that has an unspecified Pentium processor costing only 1.45 millon KRW ($1,400).
SOURCE: LG