LG 105UB9 Curved Ultra HD TV sets records, will be shown at CES 2014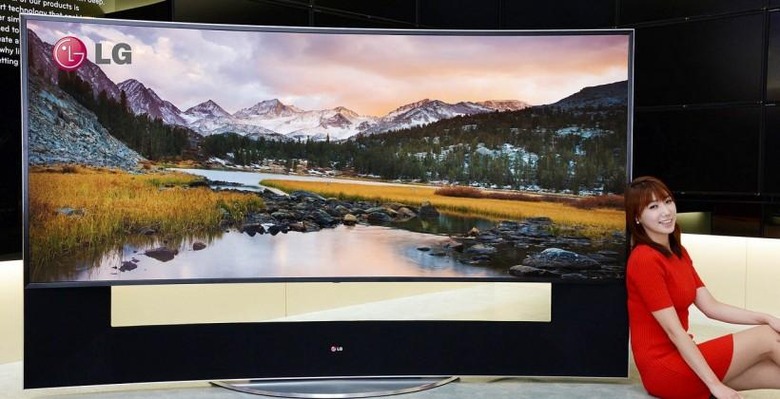 Whilst gearing up for CES 2014, LG has announced that it will be showing off its first curved Ultra HD television, something that is being hailed as the first ever curved 4K TV with a 21:9 aspect ratio. This follows recent announcements by LG that includes its all-in-one running Chrome OS, as well as some new UltraWide monitors that will also be debuted at the upcoming tech event.
The 105UB9, as its model name suggests, measures in at a huge 105-inches, which is measured diagonally and, given the wide 21:9 aspect ratio, makes for a very long television. The size makes this the biggest curved TV in the world, in addition to being the first curved 4K with such a wide aspect ratio and the first Ultra HD curved model LG has made.
Building upon this, the Ultra HD set features a resolution of 5120 x 2160 pixels (11 million pixel). The 105UB9 required collaboration between LG Display and LG Electronics, with the company saying that "a number of issues" resulted from such a massive curved display. The two divisions worked together to solve these problems, with TFT in particular being a solution despite the OLED staple commonly found with curved displays.
Senior Vice President and head of LG Display's TV Business Unit Yong-kee Hwang said: "LG Display has kept its dominant position in the display market with innovative and differentiated technologies. With a resolution of 11 million pixels, the 105-inch curved LCD panel is proof of our continued leadership in the next generation display market, offering exceptional world-class value to our customers."
SOURCE: LG Newsroom