Lexus RC F performance coupe distills LFA for mainstream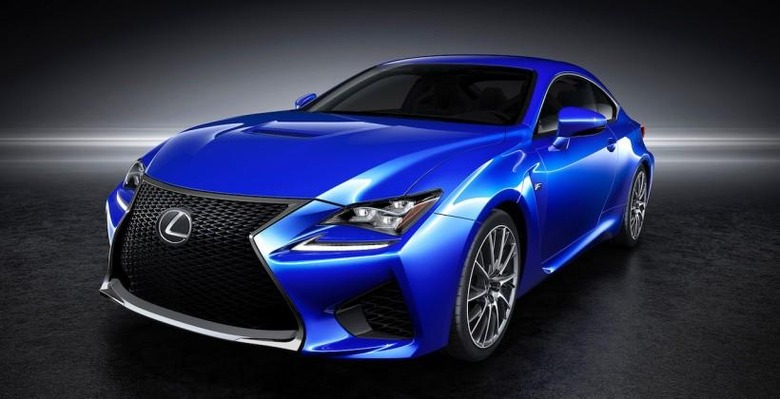 Lexus has taken the wraps off of the 2015 Lexus RC F, the F SPORT version of the new coupe with more than 450 HP from a 5.0L 32-valve V8 engine. Freshly unveiled at NAIAS 2014 today, the RC F is the performance iteration of the Lexus RC coupe first announced back in November, with a more aggressive spindle grill up-front – including F-mesh patterning – a new hood design with extra cooling, an integrated spoiler akin to that of the LFA, and an optional carbon fiber roof and other aero details.
Lexus is yet to confirm exact performance specs for the new sports car, though it's being ambitious with its predictions. The RC F is likely to develop more than 383 lb-ft of torque and have a faster 0-60mph time than the IS F – which does it in 4.6s – and a top speed electronically limited to 168 mph. Despite the higher power, though, Lexus also says the new coupe will deliver better fuel economy than the IS F.
That's partly down to the new Torque Vectoring Differential (TVD), a first for Lexus, which offers three different modes. Standard balances performance and stability, while Slalom leans toward steering response, and Track aims for more predictable stability, particularly through the corners.
The RC F has front and rear coil-spring independent suspension, gas-filled shocks, and ball-jointed stabilizers, while weight stays low with 19-inch lightweight forged aluminum wheels. The engine, meanwhile, can automatically switch between the more economical Atkinson cycle for higher cruising speeds, and the Otto cycle for higher RPM.
Power to the rear-wheels is via an eight-speed Sports Direct Shift transmission, and there's a new vertical G-sensor that improves vehicle stability, Lexus claims.
Inside, there's a new set of combination meters – including a switchable tacho, speedo, torque vectoring monitor, G-force meter, and more – borrowing cues from the LFA as well as, Lexus says, aircraft cockpits. The wheel has been switched out for one with a thicker grip and elliptical cross-section, while the paddle position has been modified for easier use. As for the seats, they have new, higher backs for better support.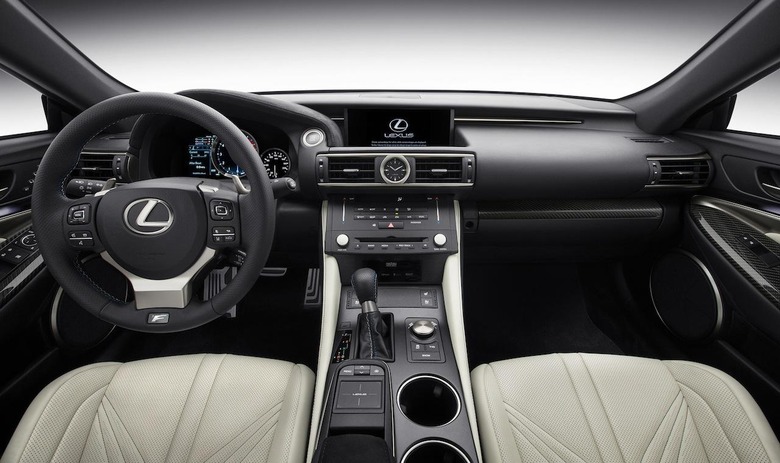 Lexus hasn't confirmed pricing or a specific release date for the RC F, but it will hit forecourts sometime later in 2014.