Levi's Google Jacquard "smart" denim jacket finally got a release date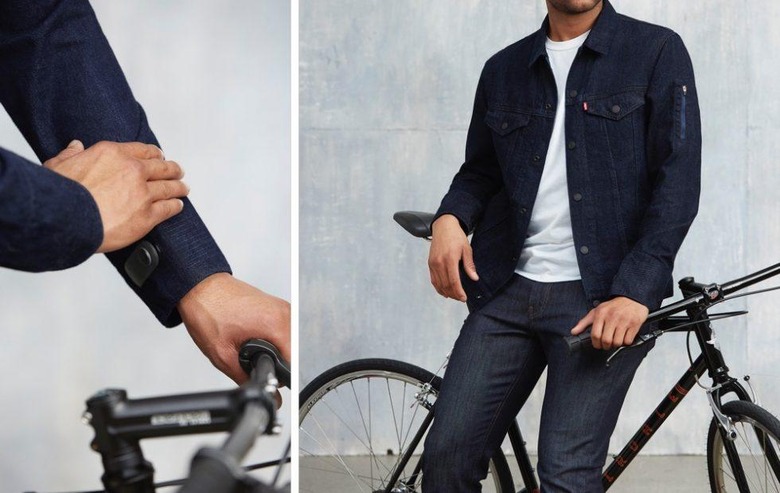 For years a denim jacket has been a wardrobe staple; now, Levi's and Google wants to make it smarter. Revealed last year, the Levi's Commuter Trucker Jacket with Jacquard is finally getting its release, ostensibly a lightweight blue denim jacket from the jeans company, but one with a surprise up its sleeve. Or, more accurately, embedded in its sleeve.
That's where Google Jacquard comes in, the handiwork of Google's ATAP (Advanced Technology and Projects Group). It's built around touch-sensitive threads that can be woven into other fabrics, and then used to track gestures. In the case of the Commuter Trucker Jacket, that initially means things like music control.
Integrated into the left cuff is an array of those special Jacquard threads. They link up to a "snap tag" which contains the radio components and battery, and which attaches onto the sleeve so that it can link with your Android or iOS device. It's designed to be removable so that you can wash the jacket if needed.
According to Google, the jacket can be washed up to ten times as long as the snap tag is removed, though "your experience may vary by usage and wash conditions." It can also be tumble-dried on low heat, again just so long as the snap tag is detached, though Google would prefer that owners air-dry it. It can't be dry-cleaned, and you shouldn't iron the part with the Jacquard threads.

As for what those threads can do, that's all controlled via the companion app. You'll be able to set gestures for things like swipes in two different directions – Google refers to them as "brush in" and "brush out" – as well as a double-tap. For instance, you could have them pause or play music, or skip to the next or previous track in your playlist, or alternatively have Google Maps read out your next direction or ETA.
As well as the radios and battery, meanwhile, the snap tag also delivers haptic feedback. That way, you get a slight buzz to the wrist when a new call or text comes in. There's also an LED notification light.
The Levi's Commuter Trucker Jacket with Jacquard goes on sale this Wednesday in select stores. As of next week, it'll go on sale through Levi's online store and in select Levi's stores. It's priced at $350.