Lenovo's Ultra-Skinny LaVie Z Are Here To Fight Apple's MacBook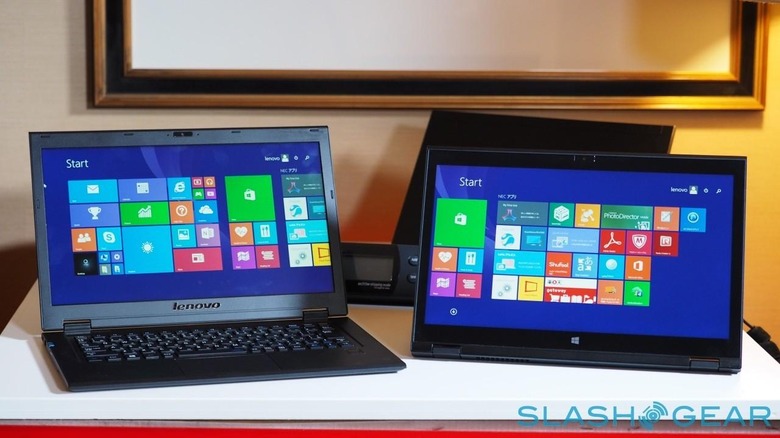 Apple may have got its indecently-skinny MacBook to market first, but Lenovo is counting on a one-two punch to give it the edge with its LaVie Z notebooks, freshly on sale. Announced back at CES 2015 in January, the pair of ultrabooks each pack a 13.3-inch multitouch display – the LaVie Z 360 is a convertible, with a 360-degree rotating hinge to twist it into a tablet – and a fifth-gen Intel Core i7 processor, for a hefty nine hour battery life while tipping the scales at as little as 1.87 pounds.
The Lenovo LaVie Z is the lightest model, just 0.7-inches thick too, despite accommodating two USB 3.0 ports, an HDMI output, SD card reader, and a combo headphone/mic jack.
As for the Lenovo LaVie Z 360, it's a little heavier at 2.04 pounds, but still 0.7-inches thick and with the same ports.
For those keeping score, that makes the non-convertible LaVie Z lighter than Apple's MacBook – which is 2.03 pounds – but the OS X notebook does still have the edge in thickness, the 12-inch ultraportable just 0.52-inches at its thickest.
Of course, the decision between the two may well come down to which operating system pushes your buttons. Right now, for the Lenovo that means Windows 8.1 – though Windows 10 will be a free upgrade once it's released by Microsoft – running on a Core i7-5500U 2.4GHz processor.
Each has 8GB of RAM, a 256 GB SSD, and a 2560 x 1440 display as standard, along with WiFi and Bluetooth, and Intel HD Graphics 5500.
They're fairly high specs, and the prices are high accordingly. The LaVie Z is available to order now at $1,499, while the LaVie Z 360 is $1,699; back in January, Lenovo also confirmed there would be Core i5 versions with 4GB of RAM, priced at $1,299 and $1,499 respectively, and we expect they'll filter into the company's store in due course.
MORE Lenovo LaVie Z / LaVie Z 360