Lenovo's Glass rival just hit the patent office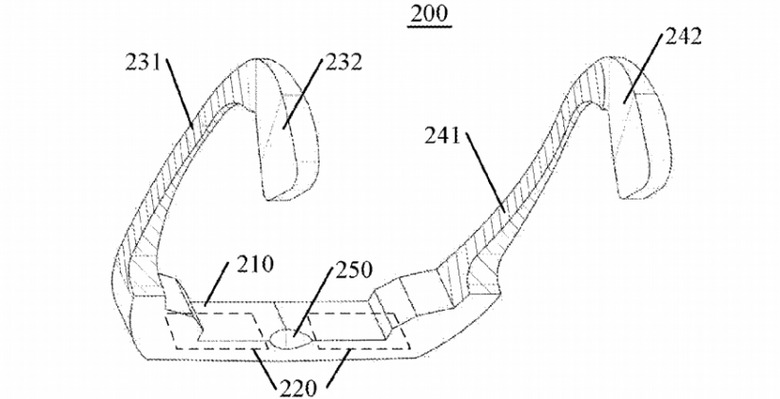 Lenovo has been working on its own Glass-style wearable, patenting a head-mounted display with twin transparent screens that could capture audio and video. Billed somewhat vaguely as an "Electronic device and sound capturing method" the unnamed wearable uses bond-conduction to record audio and what look to be a set of Lumus displays to give feedback to the user, allowing for true augmented reality rather than just the floating notifications Google's Glass offers.
Bone conduction for audio isn't new on wearables; in fact, Glass itself uses a bone conduction speaker for more discrete notifications. As Google implemented it, a vibrating pad makes contact with the bone structure behind the wearer's ear, sending sound directly into the inner-ear.
In Lenovo's case, however, the technology is being flipped around to capture audio rather than create it. For instance, the company's patent filing suggests, while a movie was being played on the integrated displays, the bond conduction microphone could react to playback commands from the viewer.
Lenovo is tinkering with different points of contact, such as behind the ears as per Glass, or with a tongue-like protrusion that makes contact between the forehead and the bridge of the eyewear. Both including the processing power in-device, like Glass, or in a remote box – either a tethered smartphone or a dedicated controller as per Epson's Moverio BT-200 we reviewed this week – are being explored.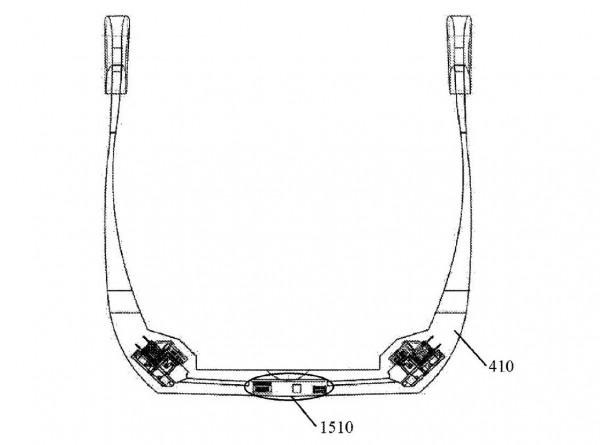 The patent document is also interesting because, while not mentioned by name, it appears to be using eyepiece technology from Lumus. Better known for supplying head-up display components for fighter-jet pilots, Lumus has also been pushing its consumer-focused products, with a DK-40 reference design for its interpretation of digital eyewear shown off earlier in the year.
Lenovo's diagrams show the distinctively angled Lumus OE-31 eyepieces we played with back in early 2012. They had a 640 x 360 resolution at the time, though the DK-40 – based on the same technology – had stepped that up to VGA.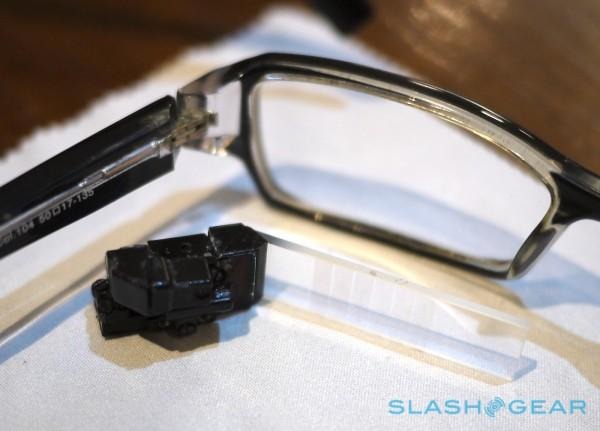 "Regardless if a company is using our technology or a competitive technology, we will not comment on any of their efforts unless they have officially announced a product," Ari Grobman, director of business development at Lumus, told SlashGear today.
The filing by Lenovo doesn't make much of what such a wearable could be used for, beyond watching video, listening to audio, and holding video calls, but it's certainly not beyond the realms of imagination to picture a full head-mounted computer (which, ironically, Lenovo-acquired IBM was visualizing all the way back in 2000, as the following commercial shows).
With Lenovo acquiring Motorola there would be a clear path to developing a production model with a recognizable mobility brand, though it's unclear what platform the headset would end up running. Of course, patents also get filed all the time with no intention of spawning a real device, but with wearable technologies billed as the next big market beyond smartphones and tablets, it's hard to imagine Lenovo letting the grass grow under itself.
VIA TechCrunch
SOURCE USPTO