Epson Moverio BT-200 Review: Smashing Glass
Google didn't invent wearable technology, it just made it contentious. Glass' play for the mass-market isn't going smoothly, but Google isn't the only company pushing head-mounted displays. Epson's Moverio BT-200 may have been dismissed by many as another "me too" Glass clone when it was unveiled at CES earlier this year, but in many ways it's the true augmented reality headset we'd hoped Google's might be, and all it took was pretending to be a drone pilot, an engineer, and a space explorer to figure that out. Read on for the full SlashGear review.
Concept and Hardware
This isn't Epson's first attempt at augmented reality eyewear. Before the BT-200 came the BT-100, back in 2012, a set of binocular digital glasses that put a small display in each lens. Epson never said exactly how many of the original eyewear it sold – though the lead of the project told me that all of the stock was sold – but it's clear that this new version learns significantly from those early lessons.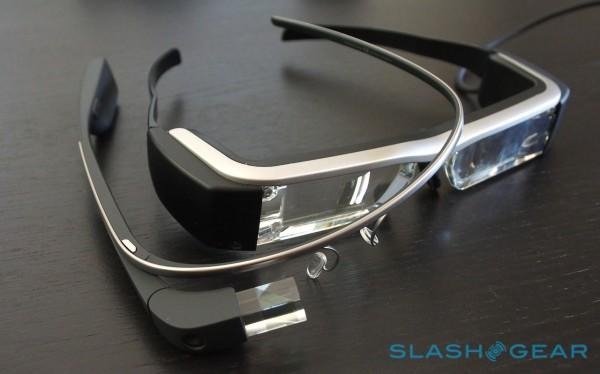 The most important thing to remember is that not all digital glasses are created equal: in fact, there are several different approaches, each with their strengths and weaknesses. Probably the best known is Google Glass, which actually isn't augmented reality (AR) at all. True AR blends or intermingles the digital with the real-world, whereas Glass is more like a notifications pane floating in your peripheral vision. Useful at times, certainly, but not what Epson is doing.
On the other extreme is something like Facebook-owned Oculus Rift or Sony's Project Morpheus for the PlayStation 4. They're virtual reality (VR), not augmented reality: they block out the real-world view in total preference of the digital version. That makes for immersive gaming, but isn't much use out in public, since you'd probably end up walking into traffic.
Epson's approach takes a middle ground between the two. Unlike Glass, the digital perspective is right in the middle of your field of view; unlike Oculus Rift, it's translucent, so you can see what's around you "through" it. In theory, it means real and virtual objects can effectively interact, at least from the perspective of the user.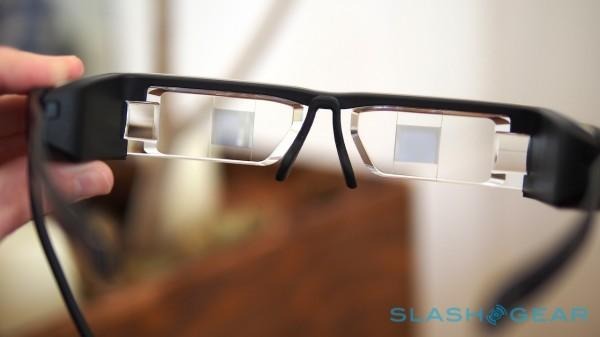 The Moverio comes in two main parts, the glasses and the tethered control box which also houses the battery. The eyewear itself is 88g with an adjustable rubber nose-piece and a broad but narrow construction: like a set of wide half-rim spectacles. LCD projectors on each side cast a 960 x 540 picture into the middle of each plastic lens, creating an approximately 23-degree field of view.
Epson says it's the rough equivalent of looking at a 40-inch display that's 2.5 meters away from you. Embedded in one of the sides is a camera, though it's only VGA resolution, and as you can see from the sample below, still photos are gritty and underwhelming. Epson positions it more as a gateway to augmented reality and object recognition than a photography tool, unlike Google Glass.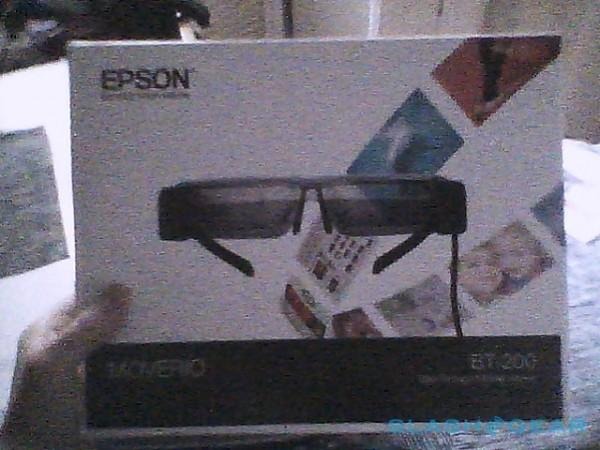 Tethered on the other end of the cable is the control box, roughly the size of a smartphone and containing a TI OMAP 4460 1.2GHz dualcore processor with 1GB of memory, 8GB of storage, and a microSD slot for up to 32GB cards. Where a phone would have a touchscreen, however, the Epson has a trackpad, above the familiar Menu, Home, and Back buttons for Android. In-line in the cable is a small box with a shirt-clip and a standard 3.5mm headphone socket.
Both box and headset have a compass, gyroscope, and accelerometer; the controller also gets GPS, while there's a microphone in the headset too. Connectivity includes WiFi b/g/n, Bluetooth 3.0, and a microUSB port. Volume and power controls are on the side of the box.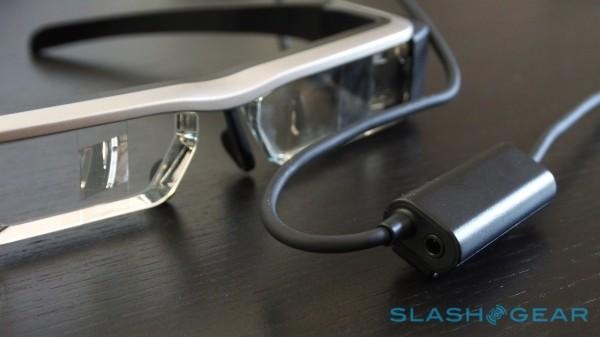 Comfort and Usability
Twin lenses mean the Moverio BT-200's are bigger than Glass, but they're still less cumbersome than Oculus Rift or Project Morpheus. I could wear them comfortably over my regular glasses – I didn't look exactly the most stylish person around, but it wasn't unduly cumbersome.
Epson eventually plans to offer clip-in prescription lenses, though as standard you just get a sunglasses shield that snaps onto the front. The cable running between eyewear and control box can be cumbersome and takes a little positioning to find a way to snake it down without unbalancing the glasses, but once I found that sweet-spot I had no problems.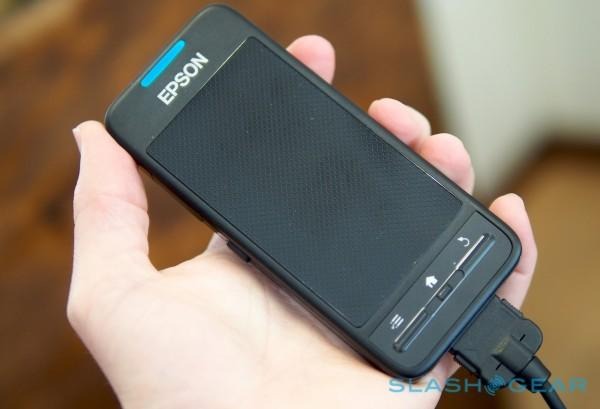 In use, perhaps the best way to describe the Moverio experience is like looking at the ghost of a landscape-orientation tablet held out in front of you. Running Android 4.0.4 means the UI is just the same as an Ice Cream Sandwich slate, only you navigate by swiping your finger across the textured trackpad and moving an on-screen cursor.
It takes some getting used-to at first (and it's incredibly difficult to photograph), though after a while stroking and tapping on the control box is pretty straightforward. The trackpad supports multitouch gestures like pinch-zoom, but I found that trickier to do while using the controller single-handed. Text entry is a case of hunt-and-peck on the on-screen keyboard, and Epson hasn't done anything special to customize the interface for wearable use unlike, say, Glass' bespoke UI.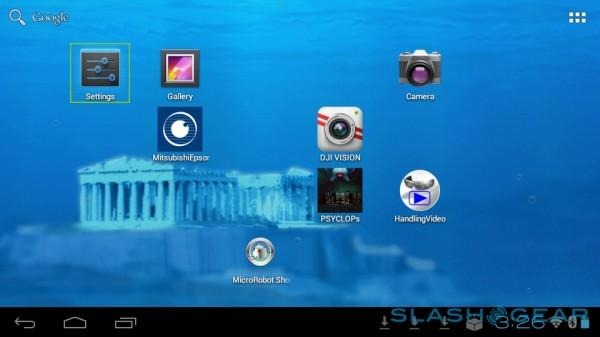 I expected sunlight visibility to be poor, but actually the BT-200's hold up pretty well in daylight: more so if you snap on the sunshades. Look up at direct light and they do get washed out, however. It's also worth noting that if your primary goal is watching video (including 3D footage, such as is provided from YouTube among other sites) then ambient light can be distracting, not to mention what's going on in the periphery around the digital content.
Out of the box there's support for MP4 (MPEG4+AAC/Dolby Digital Plus) and MPEG2 (H.264+AAC/Dolby Digital Plus) video, and with the right HDMI adapter you can also play the content back on an external display. Unfortunately there's no video input for discretely watching video from external sources.
Epson suggests the BT-200's will run for up to six hours on a full charge. That's with the displays active, playing video, and at 25-percent brightness; in reality, you can switch the eyepieces on and off with a brisk double-rap on the side. In practice, with mixed use and varying brightness settings to suit different indoor and outdoor conditions, I got between 4-6 hours of active use. It's clear that exactly how long the Moverios will run is highly use-case dependent, though it would be easy to add an external battery pack to the control box in your pocket.
So what are they for (and are they any good)?
Google positioned Glass as an everyday digital appendage: a wearable assistant bringing the most contextually-relevant of the internet to your eyeline. Epson, however, has been more conservative in its suggested use-cases.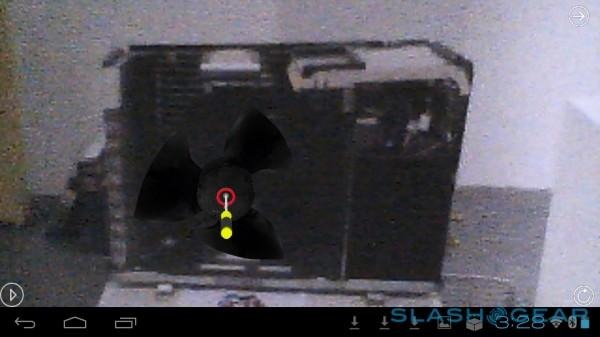 Enterprise customers are a key target audience for the BT-200 experience, Epson being of the opinion that they'll be less concerned about the geeky aesthetics than they are the core functionality and what improvements in workforce productivity those functions can deliver.
So, one of the apps already developed uses the camera for object-recognition, spotting industrial equipment and then overlaying maintenance instructions. The BT-200's can identify an air-conditioner and then direct the wearer as to what they should unscrew first, for instance. More challenging repairs could see a remote senior technician share the view and give their own instructions.
Another app is intended for store workers restocking shelves, and can recognize the layout of products and flag up items that are displayed in the wrong place or that need restocking. Similarly, another app helps warehouse employees to find products in the swiftest order; it's not difficult to see a company such as, say, Amazon outfitting its thousands of product-pickers with a Moverio each, guiding them around the aisles while keeping their hands free.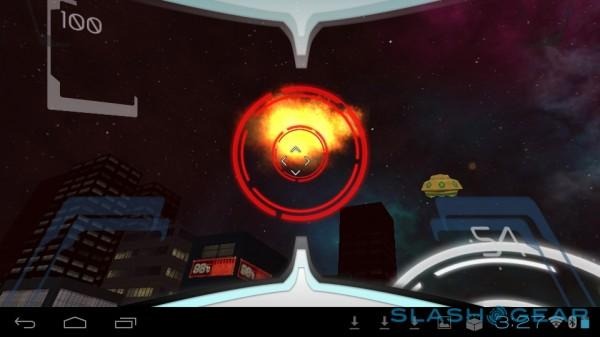 That's not to say there are no applications that are more entertaining. Since this is regular Android you can run most applications that a phone would manage (assuming you get them from Epson's own Moverio APPS Market, side-load them, or use a third-party app store; as the BT-200 isn't Google certified, it lacks the Google Play store): the specifications aren't exactly cutting-edge, but they're sufficient for basic games. Whether the trackpad is the most ergonomic way of playing them depends on the title.
Better, then, to have games which are purposefully designed for AR play. Psyclops and Sky Temple, handiwork of developer Sean McCracken, are examples of that: moving your head or even stepping around the room you're in translates to movement in-game, exploring obstacle courses or firing at alien spaceships that drop down around you from the ceiling.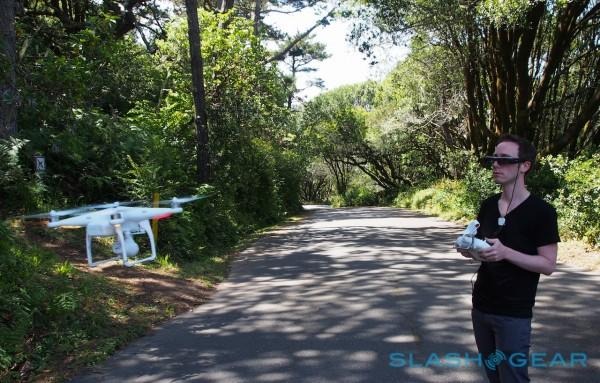 More fun still was pairing the BT-200 headset with a drone, in this case the camera-equipped DJI Phantom Vision 2. DJI's Android app is intended to be paired with an Android phone or tablet, to which a live feed of what the drone itself can see is piped. However, by running it on the Epson wearable instead, you can both look at the drone in the sky and simultaneously monitor its camera feed, without having to look up and down.
That's the theory, at least; it would take a more proficient pilot than I am to do so with a great degree of confidence. For a start, while in theory the two views are integrated, in practice your focus still needs to shift between them. Each time there's a little mental readjustment required, particularly if the drone isn't facing the same way as you yourself are. Factor in the few moments of lag involved in beaming Full HD video from drone to controller to Moverio over different wireless links, and you can probably see why I was more than a little cautious about relying solely on the headset.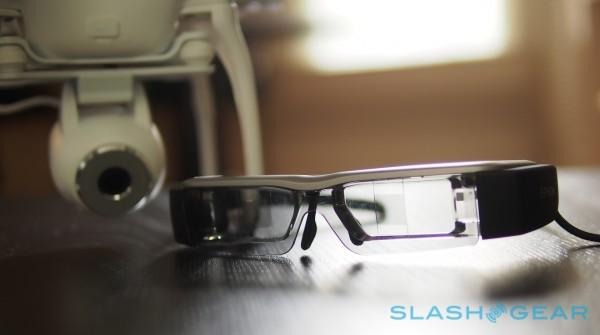 It's not to say it wasn't interesting, though, or that it didn't leave me imagining new ways of using the Moverio system. Curious whether it could become a mobile office – in the same way that wearable startup Meta, which actually uses the BT-100 hardware for its developer devices, envisages high-spec eyewear projecting huge virtual displays for productivity across every wall around you – I tried managing my email and messaging through the Epson, for instance, even as I was sat at my desk.
The experience was promising but simultaneously flawed. Notifications designed for a phone or tablet are less visible on a wearable device; while browsing my email inbox and reading mail was straightforward, replying could be frustrating. Feasibly you could connect up a Bluetooth keyboard or – with an adapter – a USB keyboard, but it's not ideal.
Wrap-Up
To say the wearable market is in a fledgling state would be an understatement. Glass' impact has arguably been more in stoking controversy over issue of privacy and gadget-saturation than encouraging the public at large to embrace body-worn devices, undermined by the fact that the ever-present camera which Google has positioned as the "killer feature" is the same thing that leaves so many mistrustful in the first place.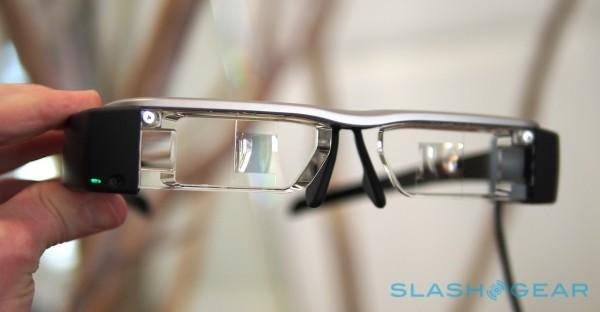 The Moverio BT-200 may not be as self-contained as Glass, as polished, or even as (comparatively) discrete, but in some ways it feels like the more successful wearable. Epson is embracing third-party developers, where Google is insisting on restrictive guidelines, and the difference between true augmented reality and what gadgets like Glass offer is night and day.
Or, at least, it will be once the possibilities start to get explored in earnest. Epson is sensibly bypassing the public to begin with and focusing on the verticals that have fewer fashion qualms, broader budgets, and specific use-cases.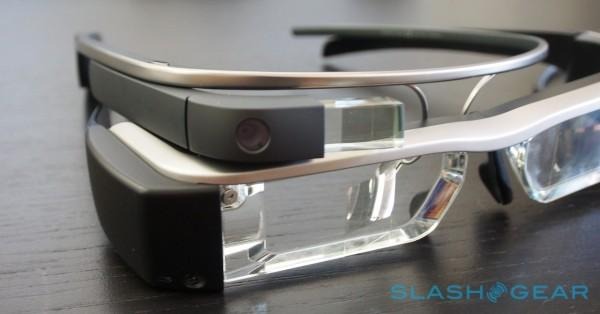 Nonetheless, stump up $699.99 of your own – a fraction of what Glass Explorer membership costs – and you can get a head-start yourself, either as a developer, or as a drone-flying, virtual office dwelling consumer. It'll be awkward at times, or maybe even frustrating, but I can't help feeling that Epson's strategy for wearable tech seems a lot more straightforward and likely to succeed, in the short-term at least, than Google's bombastic approach.