Lenovo Yoga Tablet 2 with Windows 13" model expands lineup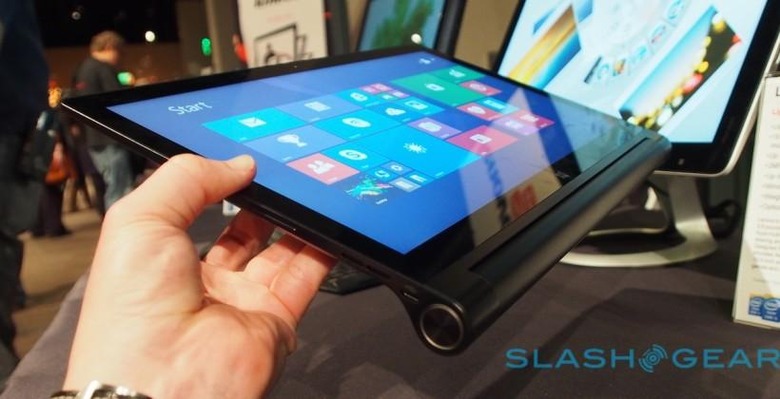 Earlier this month we went hands-on with Lenovo's new Yoga Tablet 2 with Windows (and Android), which was revealed in both 8-inch and 10-inch iterations. The maker has expanded upon this, introducing another slate into the lineup: the Yoga Tablet 2 with Windows 13-inch model (not to be confused with the Yoga 2 13). As you'd expect, the big change with the newest model is its larger Quad HD display, which complements the already excellent features otherwise present in the product lineup.
The newest model features a 13.3-inch ISP display with a resolution of 2560 x 1440 pixels, which is joined by an Intel Atom Z3745 1.86GHz processor, 4GB of RAM, and 64GB of internal storage, which can be doubled using a microSD card with the same capacity. As with the other models, the newest Yoga Tablet 2 convertible can be toggled between four modes, including the new "Hang" mode.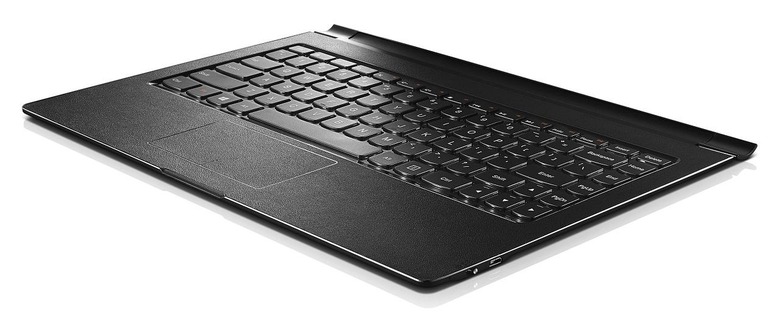 The model — which will be available in Ebony Black — offers a solid array of ports, including micro HDMI and USB ports, a 3.5mm audio jack, and the aforementioned microSD card slot. There's dual-band 802.11 a/b/g/n WiFi, Bluetooth 4.0, a 1.6-megapixel front-facing webcam, and dual large-chamber speakers joined by a JBL subwoofer, as well.
Users will get a month of Microsoft Office 365 to complement the Windows 8.1 installation, as well as Intel Burst to maximize both wake-from-sleep times and battery life (15 hours of run time on a charge). The Yoga Tablet 2 with Windows 13-inch will be available some time next month starting at $699.99 USD.
Update: We've had a chance to test out the new tablet, and as you'd expect it's very similar to what we've seen from similar Lenovo models of the same form-factor. It's notably slim for a Windows slate, while the curved section fits nicely into the hand for ereading purposes. Meanwhile, the hinge design is particularly neat: sturdy enough to keep the Yoga 2 Tablet propped up, but not bulky at the same time. Being able to hang the slate from a hook or peg could be useful if you're following recipe instructions in the kitchen, or a repairs guide in the garage.
As for the keyboard, while you'll understandably get less key-travel than some of Lenovo's other 'boards, it's nonetheless very comfortable to type on, not to mention well spaced. The magnetic hinge does a decent job of keeping it attached, though we did notice a little lateral shuffling when it was closed up. Not enough to leave the screen exposed in a bag, though, and it's worth noting that this is non-final hardware.