Remember Lenovo's Yoga 2 Pro? The company has rolled out a similar model, the Yoga 2 13, featuring the same multi-mode design and similar specs. Aimed at the more casual user, the Yoga 2 13 rests on the foundation set by its higher-res sibling, but does it hold up to the Yoga device standards we've come to expect? Read our full review to find out.
Hardware
If first impressions are everything, the Yoga 2 13 makes an excellent one. Bearing a design that is distinct from the traditional Thinkpad style but with underpinnings that any brand fan will recognize, the machine is several things: solid but slim, with a large trackpad, shallow keyboard, and crisp, bright display. Lenovo was spot-on with the latest Yoga's design, and any issues you find with it in that regard will come down to personal preferences.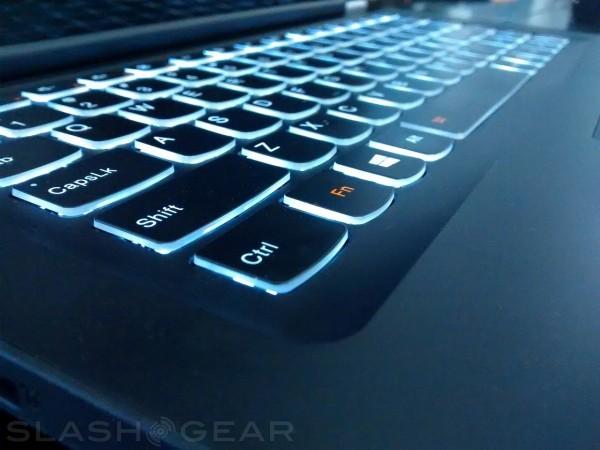 The keyboard, you'll notice from the images, isn't quite the same as the well-known Thinkpad offering (it is a Yoga, after all). The keys are a bit flatter and more shallow, though they type just as well as their larger, rounder counterparts. The design looks more modern than what you'll find on the, for example, Thinkpad 10's keyboard dock, and — as demonstrated in the image above — the backlight manifests well even in relatively bright settings; the light is even and bright, and serves as a solid aid in using the device. This is as opposed to the Thinkpad X1 Carbon, which bears a backlight that, unfortunately, seems so deeply embedded in the machine that its aid in casual use is rather minimal.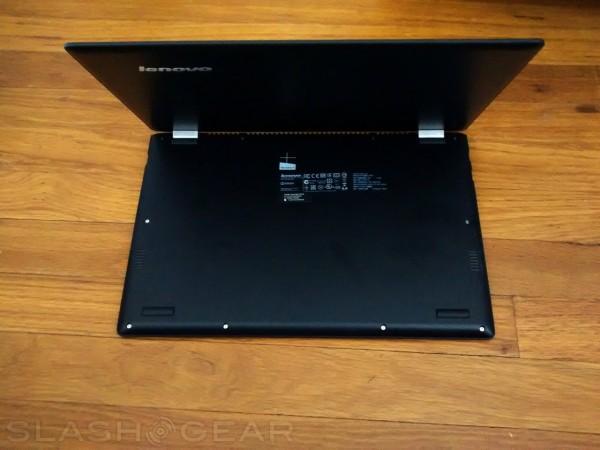 As with other Yoga laptops, the Yoga 2 13 is flexible, able to assume different positions tailored for different types of use. The Stand Mode, featured above, is handy when watching movies or performing touch-centric activities like drawing, for example, while the other modes — Tent, Tablet, and Laptop — are likewise beneficial. Obviously, when the laptop is folded into tablet mode, it makes for a thick tablet, though it isn't too unwieldy to use.
As far as specs go, the Yoga 2 13 features an Intel Core i5-4200U 1.6GHz processor, as well as 4GB of DDR3L memory and a 500GB SSD. The display is a 13.3-inch Full HD 1080p IPS offering with wide viewing angles and a 16:9 aspect ratio. There's Intel HD Graphics, as well as Intel Wireless-N 7260 and integrated stereo speakers with Dolby Home Theater v4 support.
Users get a modest one USB 2.0 port and one USB 3.0 port, as well as a standard 3.5mm combo audio jack, a 2-in-1 card reader that supports SD and MMC, and a micro HDMI-out port. The laptop, as a whole, measures in at 13 x 8.71 x 0.68-inches, and weighs 3.65lbs.
Software
The Yoga 2 13 includes an "app area" for seeing recommended apps that are applicable to each type of mode, as well as four included apps, each that works alongside a specific mode.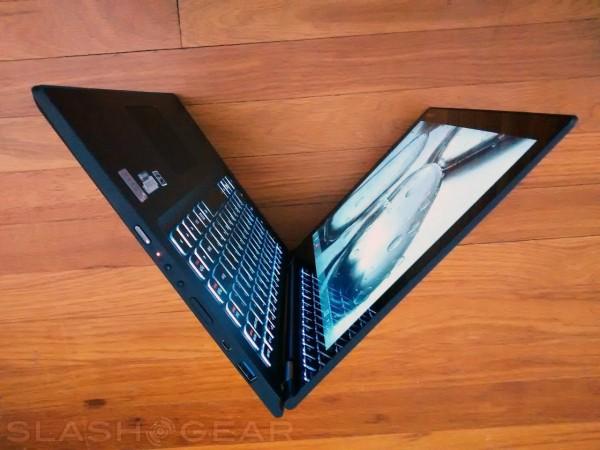 The Phone Companion app works with Laptop Mode for connecting the system to your smartphone, while Camera Man works in Stand Mode for taking and sharing pictures. For those in Tent Mode, there's Chef, a recipe app for use in the kitchen; and rounding it out is Photo Touch in Tablet Mode for editing and touching up images.
Performance
For what it is, Lenovo's Yoga 2 13 proved solid in the performance department, with the exception of browsing — the machine consistently hesitated and briefly hung while loading new tabs and some Web pages, an issue that didn't appear elsewhere when using the device.
There were no issues with multi-tasking, playing media, or firing up apps, and it handled Windows 8.1 without a hitch. The Geekbench 3 benchmarks are solid; you can compare them to past laptops we've reviewed, including similar machines from Lenovo.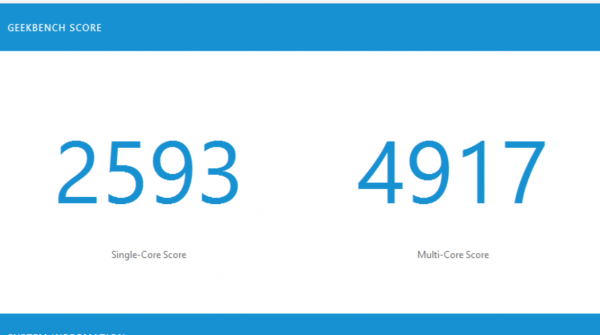 As far as battery life goes, Lenovo says users will get up to 8 hours of run time with the laptop, and we found that to be pretty accurate, with how the machine is used obviously influencing how long you'll be able to use the laptop between charges.
Conclusion
The Lenovo Yoga 2 13 feels like a big laptop, and not in a bad way — despite some issues with having to readjust how you type (the right shift key is small) and some snafus with the trackpad (there were some sensitivity issues), the laptop is a solid machine, and is particularly handy because of its various modes, allowing users to prop it up in the best position for any given moment. While it doesn't feel quite as svelte and powerful as some of the other recent machines we've reviewed from Lenovo, the design is very appealing, and the machine holds up well in general usage.