Lenovo ThinkPad X1 Carbon Review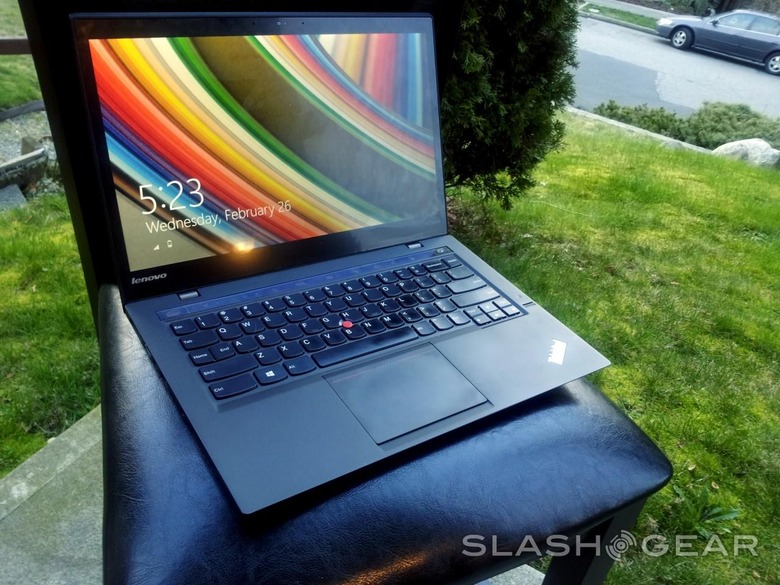 Lenovo has rolled out a variety of business-chic ThinkPad laptops over the past few months, as well as the wonderfully flexible Yoga 2 Pro. We've reviewed several of the company's devices in recent times, including the T440s, the X240, and the ThinkPad Yoga. While they're all fine machines, none of them live up to the sheer beauty and svelte thin profile that is the ThinkPad X1 Carbon. With this laptop comes an ultra-thin profile that tapers into an edge so thin, one is tempted to think it can slice bread, a high 2560 x 1440 resolution display that is aptly described as eye-candy, and the iconic ThinkPad design.
Despite all its slim beauty and trimmings, however, one can't help but wonder how it holds up to its chunkier siblings — if, at the end of it all, users are left with a lightweight notebook that proves to be an unfavorable trade-off in performance. Read our full SlashGear review to find out.
Hardware
Kicking it all off is a look at the X1 Carbon's hardware, which is both distinctly Lenovo, distinctly ThinkPad, and surprisingly thin. The same not-quite-black color used on the company's other recent laptops adorns the X1, and with it comes the same familiar keyboard users have been enjoying in the model since before Lenovo took it over.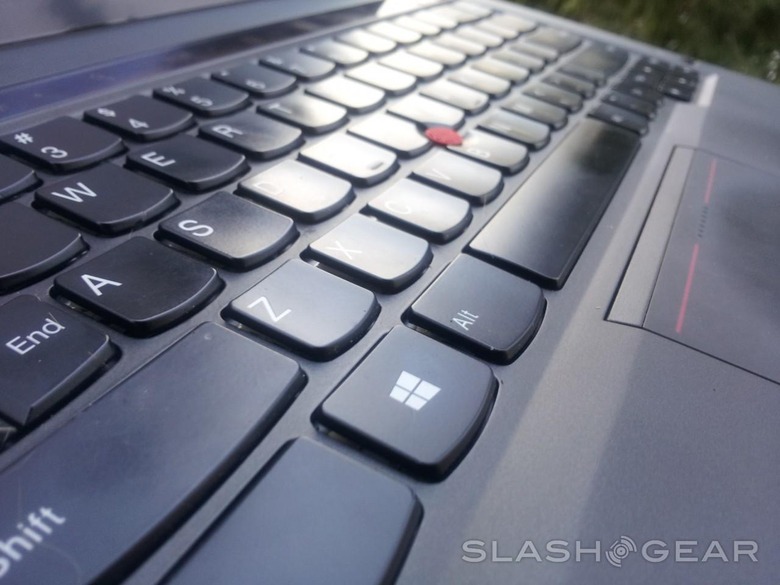 The design itself is very business-chic, and for those who felt Lenovo's other recent ultrabooks were a bit too chunky for that designation, no such squabble over definition applies in this case. All ports are located along the right and left edges, where there are a couple USB 3.0 options, a full-size HDMI, headphone jack, and MiniDP, as well as a vent along the right side. The ports prove to be enough for the average user, but there's a lack of Ethernet for obvious reasons — Lenovo includes an adapter that works well for those who prefer wired Internet.
The X1 Carbon is available with a 14-inch display in two different configurations: HD+ 1600x900, and WQHD 2560x1440, the latter of which being the version we got our hands on. This particular display is a 300nit IPS offering with 10-point multi-touch, and it is beautiful to behold, with very accurate colors and contrast, excellent viewing angles, and a high level of brightness. The lower resolution model has 260nit brightness rather than 300nit.

The X1 has Intel Haswell under the hood, with Core i5 1.9GHz and Core i7 2.10GHz offerings being available. Graphics come by way of Intel HD Graphics 4400. Rounding it all out is a 1.3MP 720p webcam above the display, a backlit keyboard, 5-row panel on the keyboard alongside the familiar trackpoint, and Dolby Home Theater v4 (speakers are on the tapered portion of the underside, which helps prevent muffling despite being located on the bottom of the system).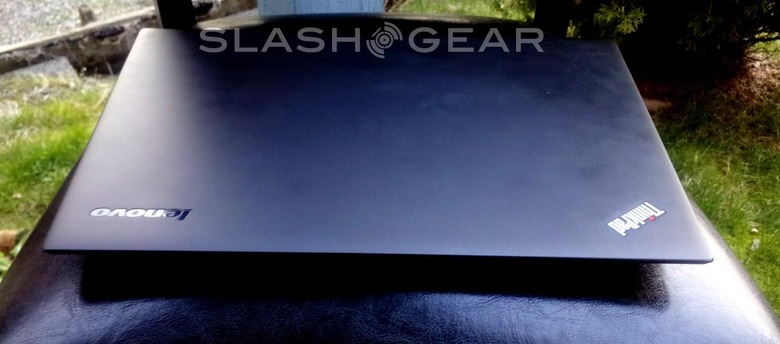 Judging by how thin the laptop is from pictures can be difficult, so here is an image of it being held for size reference — the machine is thin overall, but especially svelte along the front edge, where it tapers into a rounded near-razor edge. This makes for a laptop that is very light and easy to move around with a single hand despite the generous screen size.
The weight is 2.83lbs, which puts it in the category of laptops that won't strain your back on those long business trips. The dimensions depend on which model of the X1 you selected: the WQHD Touch measures in at a tad wider and thicker than the HD+ model, though only by fractions of an inch, which means you aren't likely to notice with average use.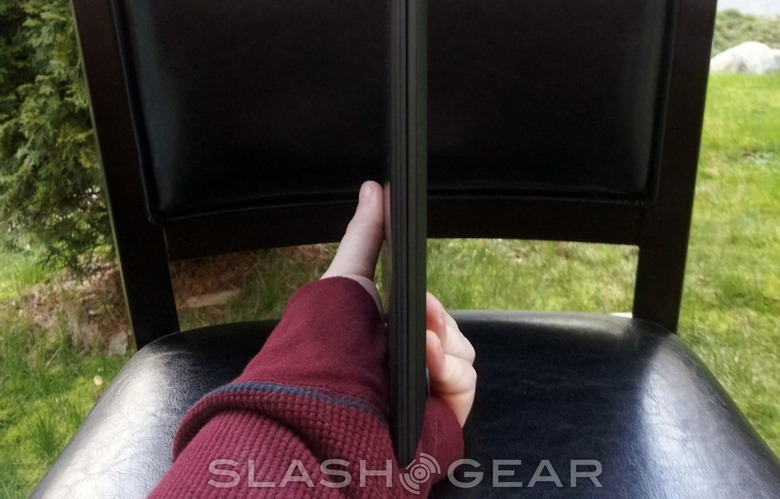 Performance
When using the X1 Carbon, it feels very snappy and runs well — there has been no system bogging or performance issues to note for general use. To see how its benchmarks compare to similar laptops, we fired up Geekbench, which we've used to test many laptops in the past. You can see its score below:

The benchmark scores are about what was expected, and focusing on Lenovo's other recent laptops, the X1 Carbon scored just a touch under the new ThinkPad T440s' score of 1599/3296. Neither the X1 or the T440s managed to live up to the nimble little X240, however, which had scored 2387/4567. So, while the X1 Carbon performs well, it shouldn't be at the top of the list for those who want a machine that runs like a powerhouse.
Battery
The battery life is a different matter. Officially, the Carbon's battery is said to last up to 8.6 hours, a time we never managed to hit, though with the right toggling of settings we got close. We've run the laptop through several charge cycles at this point, each with different levels of usage taking place, and on average the run time on a charge is somewhat disappointing. It is possible to milk a solid five or six hours out of the laptop by adjusting screen brightness, using it under Energy Saver, and other standard conservative efforts that aren't taken so far as to be annoying. When using it the way I generally work, however — screen brightness all the way up, Pandora playing in the background, and a lot of browsing, etc. — the run time is far more modest, and can drop down around the 4 hour mark depending on system load and what all you're up to.

The battery life, at times, can feel almost unacceptable for a laptop of this nature, as if the battery is aged or the system is chugging away at something intensive. After having the low battery life warning pop up a few times after what felt like a surprisingly short duration, the thin size seemed less appealing when the reality of needing to stay relatively near an outlet became apparent (relative to the battery life of other recent Haswell laptops) — essentially, while the laptop is light enough to truck around town comfortably, the battery life is not adequate enough to keep you on the go for very long if you're doing anything intensive. As such, the X1 Carbon feels like the kind of laptop you'd want to mostly use in the office and for short stints at the coffee shop, and that can negate the benefits of a thin body for some users, though not all will feel that way. Of course, the rapid charge technology helps make up for this with a fast charge time.
Conclusion
As with Lenovo's other recent ThinkPad releases, there are a lot of things to like about the ThinkPad X1 Carbon: it is very thin and light, yet has the appeal of a classic ThinkPad all the way down to the red keyboard trackpoint. The display is phenomenal, and will satisfy digital artists, graphic designers, photographers, or anyone with a hearty appreciation for a high-quality display. Despite its thin size, the X1 Carbon has all the ports most users will need in a laptop, with the exception of Ethernet, though as there is an adapter for that, as mentioned.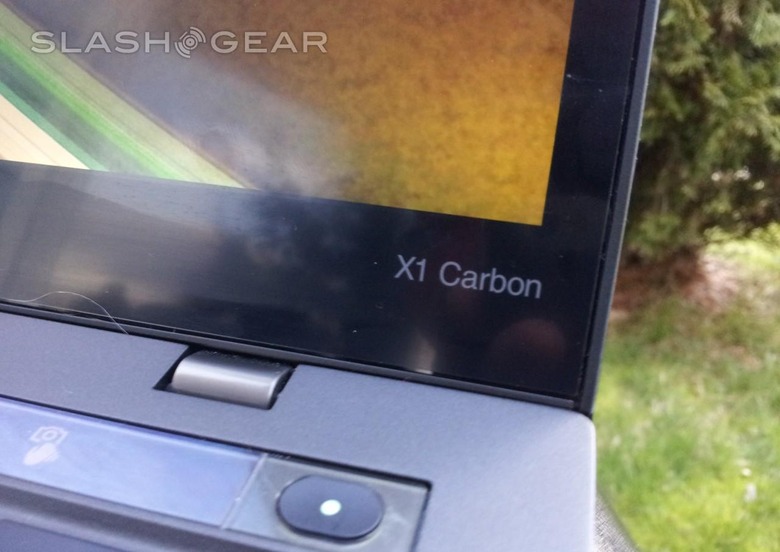 The battery life remains the laptop's Achilles heel, and is the only reason one might want to think twice going with Lenovo's svelte offering. If a long run time sans power cord is necessary for your job or comfort of mind, the newly released X240 or ThinkPad T440s would be a much better option, though they come with their own trade-offs: a heftier body and lower-res displays. This isn't to say that any one of these laptops are better than the others; on the contrary, it is just that when it comes down to it, depending on your needs, you won't likely have your cake and eat it too. Sacrifice will be necessary in some area, and if you're okay with that area being battery life, the X1 Carbon is a satisfactory option in every other way.