Is it a laptop, a tablet, or something else entirely? Lenovo's Yoga 2 Pro is an interesting mix of form factors, hardware, and operating system, that much we know. The screen, which folds a full 360-degrees around the back of the device, is the attention grabber, but is there more to it than that? We put the Yoga 2 through its paces to find out.
Hardware
What you find when you open the box is a sleek, modern build that is lighter than it looks. The Yoga 2 has clean lines, and a noticeable rubbery grip around the edges. That touch is not to gain style points; it's for stability when the Yoga 2 is in various stages of use. You'll also notice the hinges, which are a bit utilitarian, but hold up well under the twists and turns we put the Yoga 2 Pro through. Bright, chrome Lenovo branding sits noticeably on the outside of the lid, while the familiar compliment of ports and buttons (dual USB, HDMI, card reader, power, volume) adorn the sides.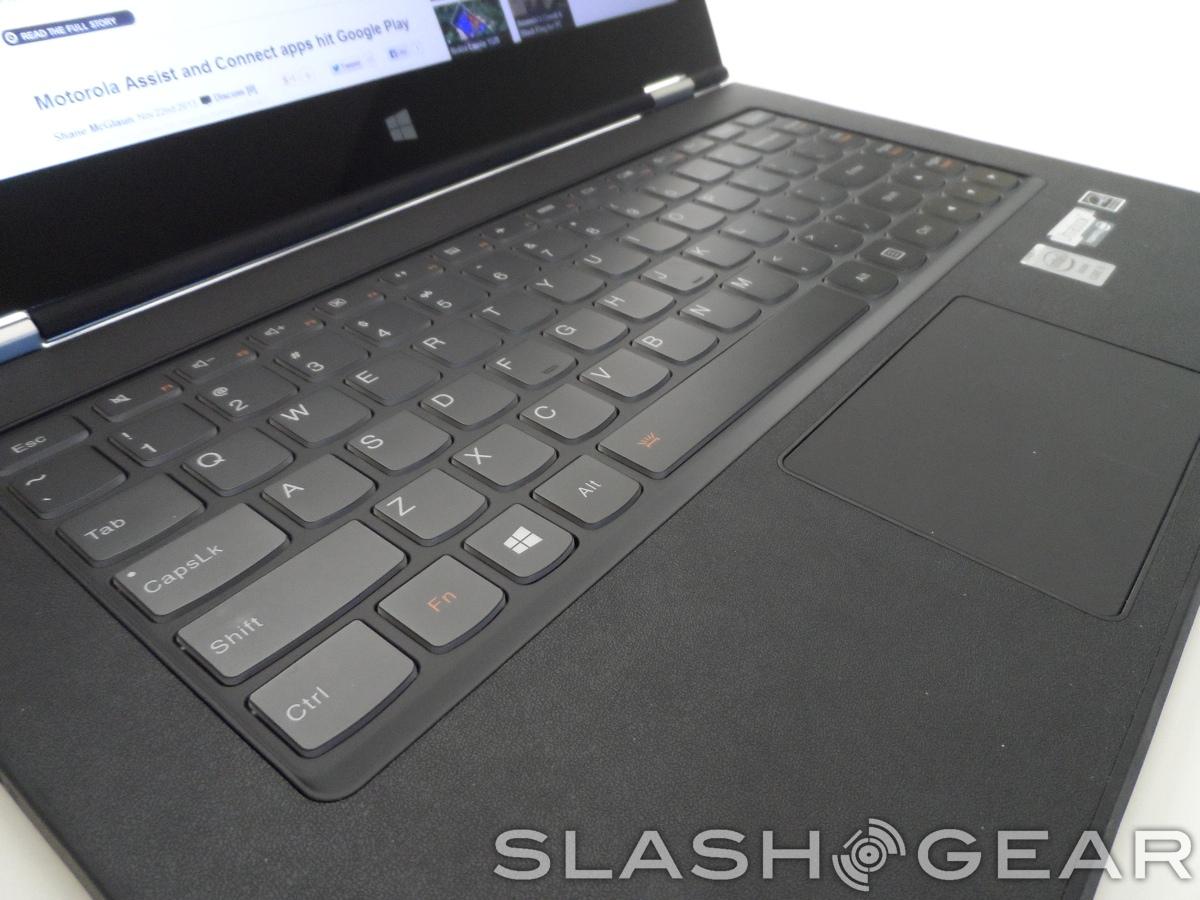 The Yoga 2 Pro runs the latest in Intel Haswell technology, the 4200U to be specific. It's snappy, and holds its own under strain. As GeekBench testing shows, the Yoga 2 Pro scored a mediocre 5569, well shy of our Macbook Pro Retina with a score of 8183. The dualcore Core i5 processor clocks in at 1.6GHz, offering plenty of hustle for day-to-day tasks, and 4GB RAM is a healthy amount, though an upgrade should be considered for beefier tasks.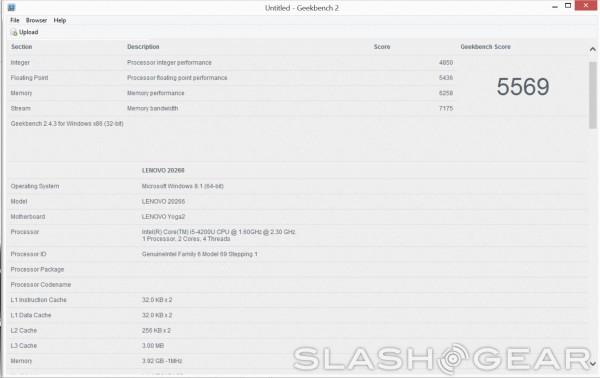 Open the Yoga 2 Pro up, and you're met with another interesting style consideration: the area around the keyboard and trackpad keep the rubberized material we found on the outer edges of the device. A bit odd, this is another choice Lenovo made to make the tablet a bit more useful when not in Laptop mode. The keyboard and trackpad are clean and modern, but we wish they were bigger. The keyboard is terribly small, with the right shift key particularly hard to find. The keyboard is backlit, and has good key travel, but it's not quite what we'd like for a laptop.
The trackpad is quite small as well. It's glassy and smooth, making it easy for fingers to glide over, but the limited real estate is once again bothersome, especially when the native trackpad gestures for Windows get in the way. Unlike other touchscreen Ultrabooks, we found ourselves reaching for the screen out of necessity, not want.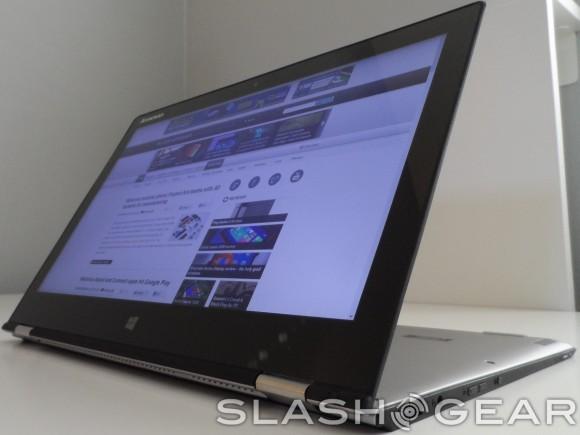 Screen
The 13.3-inch screen is bright, and appears much larger than it is. The touchscreen capabilities are responsive, and a big step up from the first wave of Windows touchscreen Ultrabooks. The only issue we have is the native 3200 x 1800 resolution, which compacts most things to unreadable proportions. You'll probably feel at ease with a 2048 x 1152 resolution instead, which at least makes text readable and scales webpages properly. When outside of the native resolution, though, things do start to appear grainy.
The color reproduction is also off, with bright yellows looking more like mustard. We see the native resolution being great for photographers and raw image editing, but poor color reproduction makes it hard to recommend the Yoga 2 Pro in that regard. It's also frustrating to use another device like a dedicated tablet, only to find that things look very different. Again, prominent Lenovo branding sits on the top left of the screen glass, distracting us from the task at hand.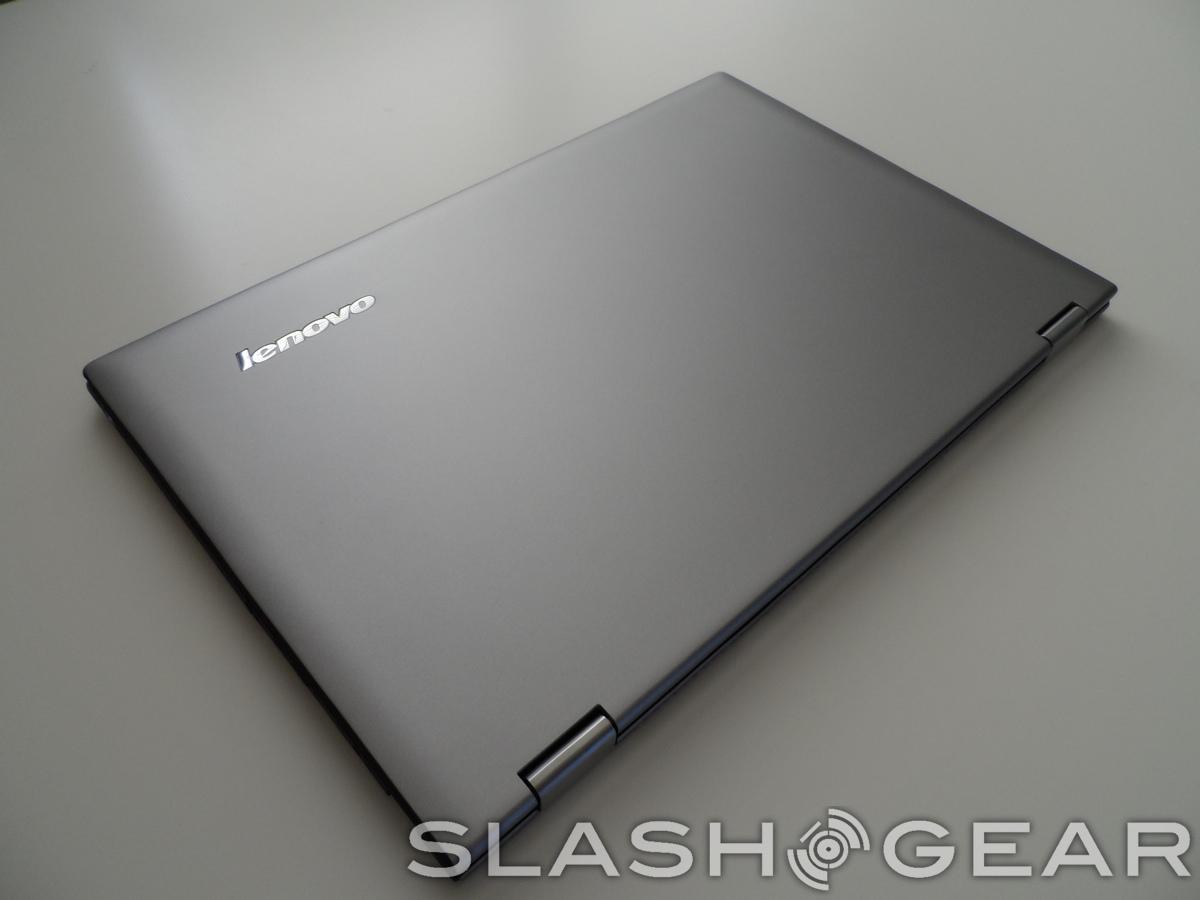 Utility
The Yoga 2 Pro is a device which can be more than the sum of its parts, and does so admirably, with four modes to brag of: Laptop, Stand, Tent, and Tablet. Laptop you're of course familiar with, while Tent allows you to bend the screen about 270-degrees back, but set the device on a table or other surface on its ear. Stand mode puts the keyboard face down with the screen looking at you, almost in an anti-laptop stance. Tablet is pretty easy to figure out, as the screen goes all the way around back, leaving you with a 13-inch tablet in your hands. Happily, you can adjust the Yoga 2 Pro to fit any angle, or position it totally flat!
Save for Laptop mode, all others disable the physical keyboard. They also make use of the rubberized material, which the Yoga 2 Pro uses for stability when not in Laptop mode. We naturally used the device in Laptop mode more frequently than any other, and the rubberized feel doesn't sit well with us in that scenario. It's not easy to move a hand around on, almost begging you to stay put. The finish is comfortable for resting a hand on, and a nice break from the metal or hard plastic on other devices in that regard, but if you slide your hand across it or pivot (which happens a bit more than you think), it becomes bothersome.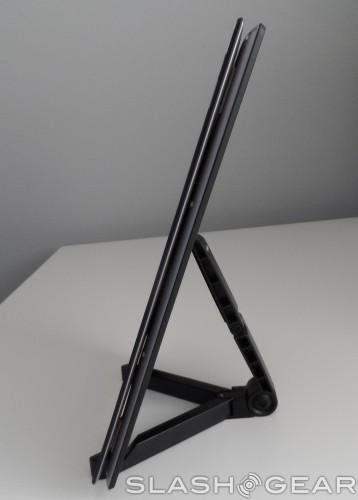 When in tablet mode, the Yoga 2 Pro's two sides just don't match up well, leaving an odd gap between the screen and other half of the device. It makes you feel as if you're holding two devices together, and isn't comfortable in the hand for longer than a few minutes. If it were more, say, Chromebook Pixel-ish in design, those sides would sit flush together when in Tablet mode, and we'd find a utopic marriage of two halves. There is also the matter of the keyboard hitting your fingers around back, but the rubberized texture we lament in Laptop mode really shines here. This is where the argument for the Yoga 2 Pro becomes polarizing: it does everything well, but nothing great — almost a solution to a problem that doesn't exist.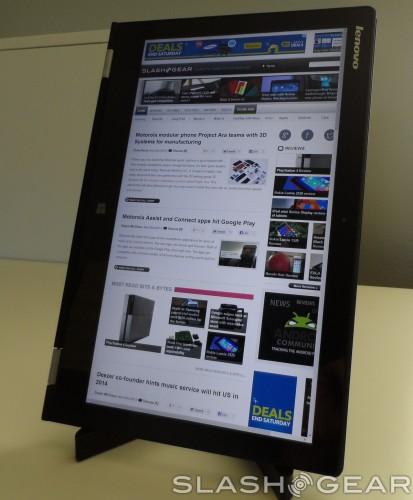 Software
Windows 8.1 is a nice upgrade for the love-it-or-hate-it Windows 8, and the Yoga 2 Pro is the embodiment of that software. With Windows 8 — and moving forward — Microsoft wants an operating system that can span devices. Be it tablet, phone, or desktop, Microsoft wants you to have a smooth experience. Lenovo's Yoga 2 Pro gives you that cross platform experience without having to pick up extra devices, which is uniquely clever.
Therein lies the problem, though. Windows is still great for laptops, but what do you want from a tablet? The Windows App ecosystem is still lagging behind contemporary ecosystems, with Android and iOS staking claim — and dominance — to the mobile device landscape. It's also worth considering that you may not want a 13-inch tablet, or one as bulky as the Yoga 2 Pro is in Tablet mode.
One touch we did enjoy with this device was Lenovo's interaction with our mobile device via their Yoga Phone Companion app. Much like Motorola has done with their Moto X and Chrome, Lenovo is offering the ability to make calls on the Yoga via your smartphone, as well as receive and respond to SMS. We also played videos stored on our Android device, wirelessly. You can have up to two devices connected, which makes sharing much easier.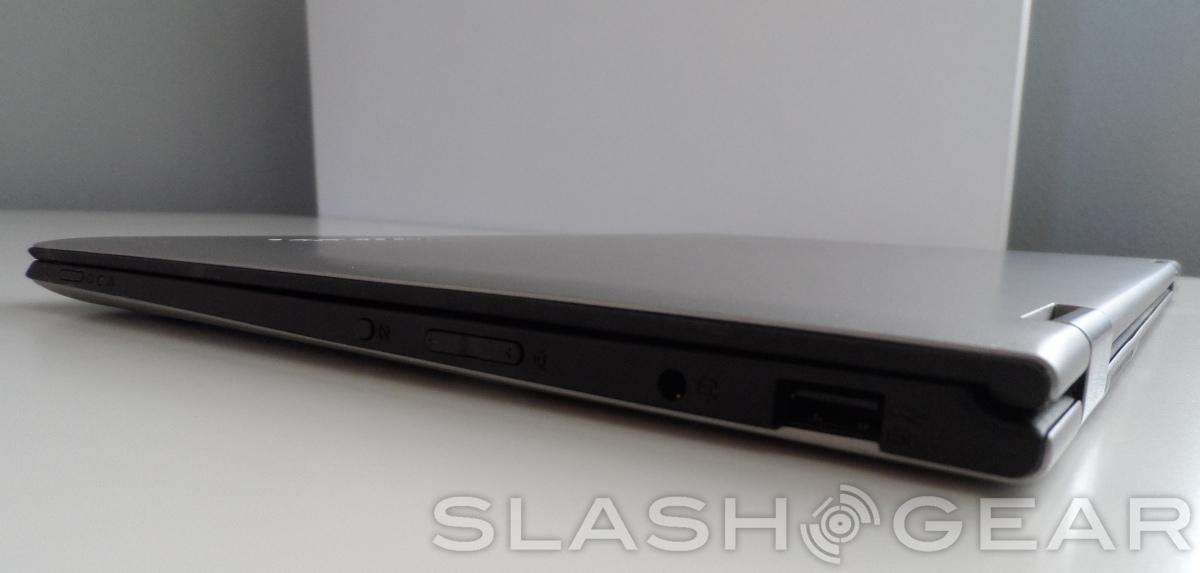 Wrap-Up
For the enterprise customer, the Yoga 2 Pro might be a great fit. Impromptu presentations become easier as the device flips into Tent orientation. Stand mode makes it easier to use while on a plane or train (or on the couch), and you'll still enjoy all that Windows has to offer in any position you can bend it into. For the consumer, it's an interesting niche device, but one that makes a few too many compromises for our liking.
We found a lot of cool use-case scenarios where the varying form factors the Yoga 2 Pro offers came in handy, but not enough. Day-to-day, most of us will use a device like this in Laptop mode, and the rubberized feel around the keyboard is distracting. So are some of the oddly shaped keys, and painfully small trackpad. Overall, it's a strong device that sits on the fence about what it wants to be, and that's unfortunate.
The Yoga 2 Pro is a very nice laptop, but the design choices make it frustrating to use in that regard. It's a bulky tablet with a dense screen resolution, but doesn't scale properly and has odd color reproduction. The touchscreen is snappy, but we're not sold on Windows as a mobile platform just yet. Overall, it's a good device, but not one that's going to win top honors in any category. It makes a strong showing, but just doesn't astonish.