ThinkPad Yoga 14, YOGA Tablet 2 In Windows And Android Revealed In Detail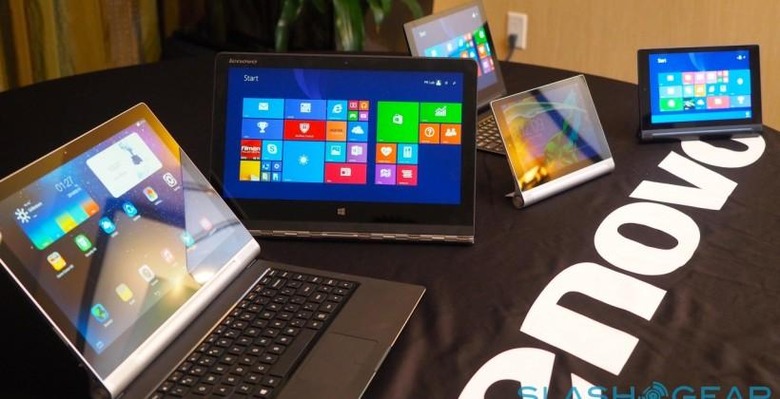 In addition to getting some hands-on time with Lenovo's YOGA 3 Pro and YOGA Tablet 2 Pro today, we're having a peek at the rest of their Fall lineup of high-powered devices. Three more mobile machines come to light this week, each of them with "YOGA" in their name. The ThinkPad Yoga 14 will be the most traditional of the bunch, while Lenovo brings both the YOGA Tablet 2 with Android and the YOGA Tablet 2 with Windows to the party, the whole lot prepared for the USA imminently.
First up is the ThinkPad YOGA 14, a business laptop with dual hinges that allow for 360-degree rotation and positioning into the four familiar modes: Tent, Laptop, Tablet, and Stand. Durability comes via a magnesium alloy frame, and the size itself is quite svelte, with a thickness of only .82-inches.
The machine features a 14-inch Full HD 1080p display with 10 point multi-touch and 300 nits brightness. Under the hood lies a fourth-gen Intel Core i5 processor, 8GB of RAM, and a 1TB HDD as well as a 1GB SSD cache. Connectivity include Bluetooth, WiFi 4.0, WLAN, HDMI output, a total of three USB ports, and a combo audio jack.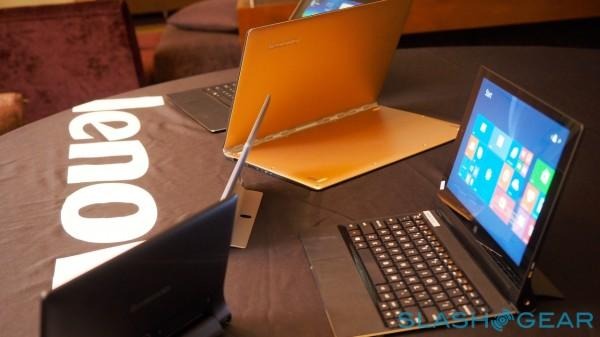 Joining this new ThinkPad is the YOGA Tablet 2, which will be available as both Windows and Android models. Both are similar, being available as 8-inch and 10-inch models with a 1920 x 1200 resolution and wide viewing angles. Both slates also feature an Intel Atom Z3745 1.86GHz processor and 2GB of RAM; the Android version has 16GB of internal storage and the Windows version has 32GB.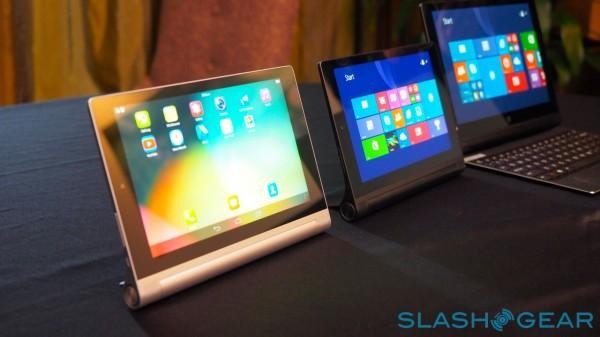 The obvious difference between the two models is the operating systems they run: the Windows version runs Windows 8.1, and the Android version runs Android 4.4 KitKat.
Above you'll see some photos of the YOGA Tablet 2 in its Windows edition. Below you'll see the Android iteration.
The Android version of the YOGA Tablet 2 is available as of today, with the 8-inch model being priced at $249.99 USD and the 10-inch model being priced at $299.99 USD. The Windows version is a bit different, with the 10-inch model being priced at $399.99 USD with availability set for later this month; the smaller 8-inch Windows model will be available in November at $299.99 USD.