Lenovo Yoga Book C930 hands-on: Dual E Ink and LCD delight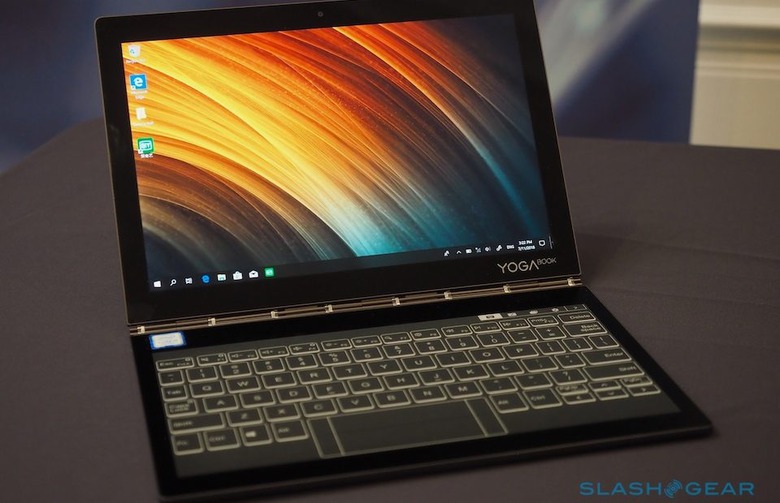 A good idea can turn into a great one if you stick with it, and happily Lenovo has done just that with the new Yoga Book C930. Building on the innovative but flawed idea of the original Yoga Book in 2016, this second-generation model addresses the most common complaints, throwing in a second, E Ink display, upgrading the processor, and generally making for a much more flexible – and thus useful – ultraportable.
Like the original Yoga Book, the Yoga Book C930 has twin displays joined with a 360-degree hinge. The first-generation model used a touch-sensitive, backlit "Halo Keyboard," however, which illuminated for typing but disappeared for using the ultraportable as a sketchpad. As Lenovo previewed earlier this year, the Yoga Book C930, in contrast, has an E Ink display on its lower half.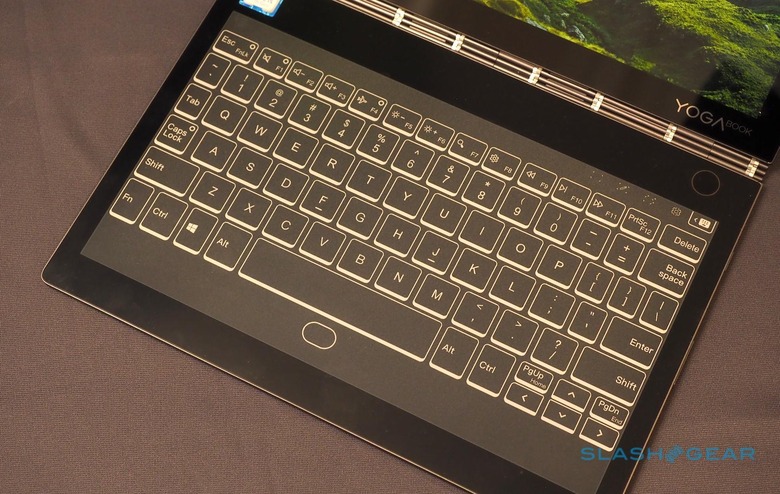 It's an infinitely more flexible arrangement than before, as a result. The upper panel is a 10.8-inch 2560 x 1600 LCD IPS touchscreen, while the lower panel is a 10.8-inch 1920 x 1080 e-paper touchscreen. Lenovo can not only change keyboard layouts on the fly – switching between languages, for example, or showing special characters – but it can dynamically adjust the 'board depending on what you're doing.
So, normally the trackpad is hidden, maximizing space for the QWERTY layout and spacebar. Tap the virtual trackpad nub, however, and a trackpad enlarges. It means that both the keys and the trackpad can be larger than either on the previous Yoga Book, which couldn't dynamically adjust its keyboard layout.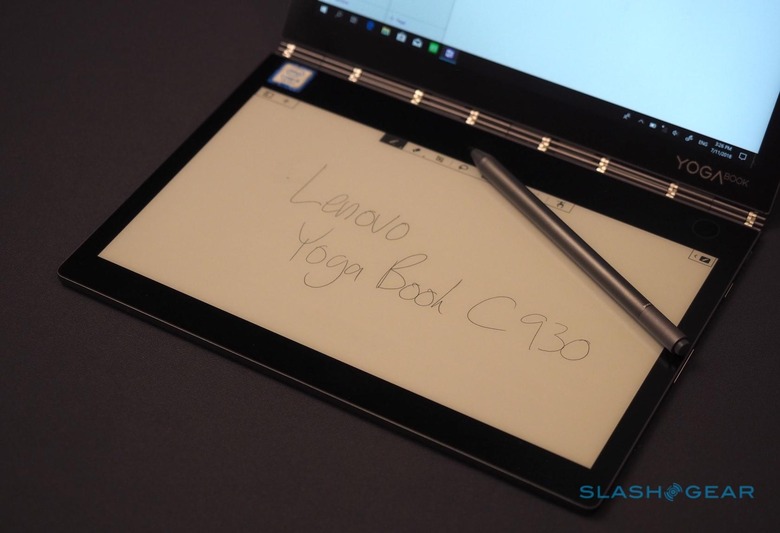 Of course, there's more you can do with an E Ink screen in general. Fold the Yoga Book C930 around and you can use it as an ereader, getting the eye-friendly and lengthy battery advantages e-paper offers there. Whip out the active stylus, meanwhile, and you can handwrite on the e-paper too.
Lenovo uses a Wacom Active Pen with Bluetooth, that supports 4,096 levels of pressure recognition along with tilt. It has buttons on the side and the top, and the AAAA battery is good for 400 days of typical use. Sadly there's no silo to store it, though it will cling magnetically to the side of the Yoga Book C930, and unlike the old model you can now use the pen on the LCD screen, too.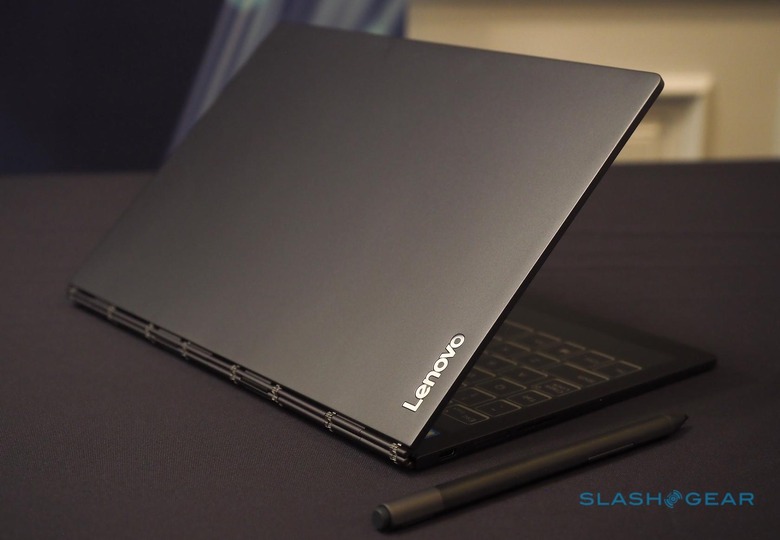 If all meant that Lenovo could do away with the cumbersome paper notepad accessory it included with the first Yoga Book. That required you to magnetically attach it to the lower half of the notebook, then swap out the regular stylus tip for an ink nib for sketching and taking handwritten notes. It was an awkward process, and so now you sketch directly onto the E Ink screen instead.
Even when you're just typing, there have been improvements. Touch-typing on a completely flat surface was always one of the ergonomic annoyances of the original Yoga Book, and clearly the new Yoga Book C930 doesn't add another dimension there. However, new haptic feedback – along with the virtual keys visually changing as you tap them, and optionally making a sound, too – makes a huge difference. I probably wouldn't want to write a complete novel on it, but it's a whole lot more pleasant an experience than it was before.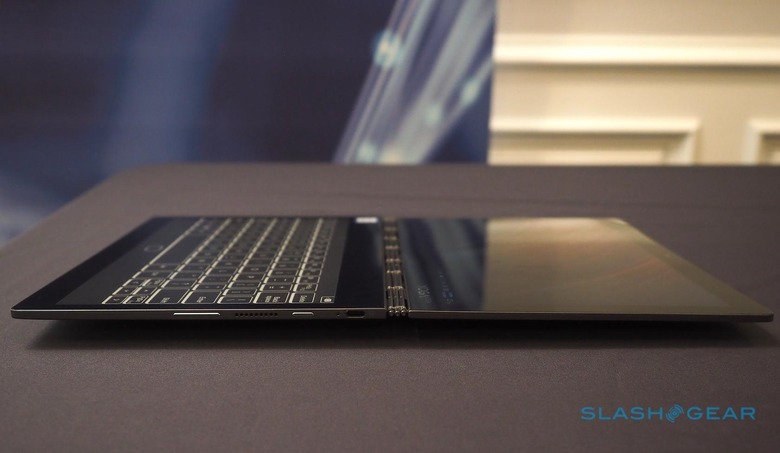 Lenovo hasn't denied itself a little drama, either. When I first tried to open the Yoga Book C930, I found myself searching in vain for a large enough groove or notch where the two halves join. That's only very slightly present, because Lenovo uses what it's calling Knock-to-Open: you rap the closed notebook gently with your knuckles, and it pops the lid slightly. Necessary? Not really. A fun little gimmick? Absolutely.
What's inside, though, isn't a gimmick. If the primary concern first-gen Yoga owners had was the typing experience, then the Intel Atom processor inside was a close second. The Yoga Book C930 steps up to a far healthier 7th Generation Intel Core m3-7Y30 or Core i5-7Y54 processor instead, paired with 4 GB of LPDDR3 memory and up to 256 GB of PCIe SSD storage. There's Intel HD Graphics 615, too.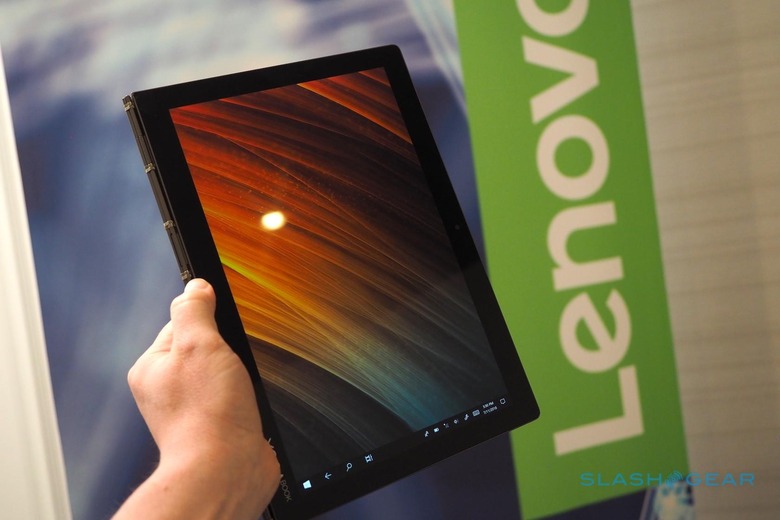 Gone is the Android option – it just didn't have the same appeal, Lenovo tells me – in favor of Windows 10 alone. There'll be a WiFi-only model, with 802.11ac, and an LTE version which throws in 4G LTE. Either way you get two USB 3.1 Type-C ports, which can each handle power, data, and a external display, and a new optical fingerprint sensor.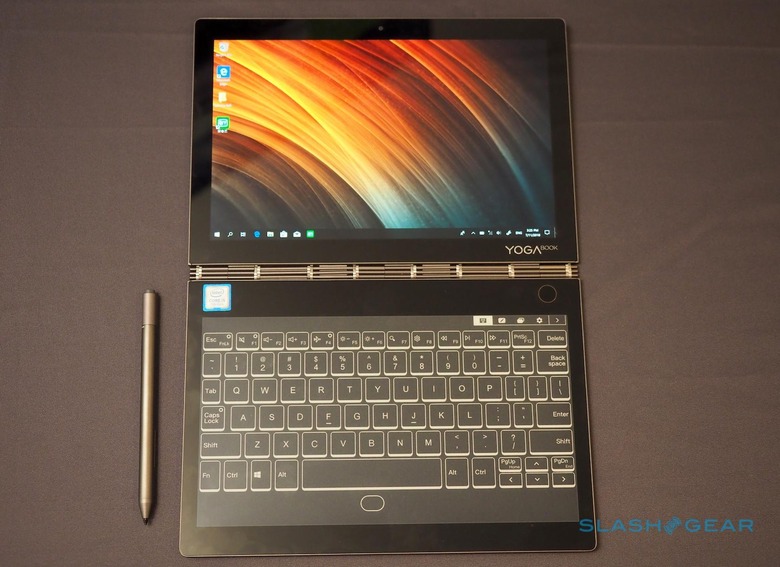 Dolby Atmos support – which sounds oddly good on such a small device – and a 35.8 Wh battery round out the core specifications. Lenovo tells me it expects the Yoga Book C930 to run for up to 8.6 hours on a full charge. Less than the old model was rated for, true, but you're getting a far more useful machine to use for those hours.
That's a trade I'd be willing to make, were it my money and my road-warrior lifestyle. The first-generation Yoga Book felt like a movie prop: eye-catching and tempting in a geeky way, but in practice hampered by its underwhelming specifications and questionable ergonomics. In contrast, this second-generation model makes a far more compelling case.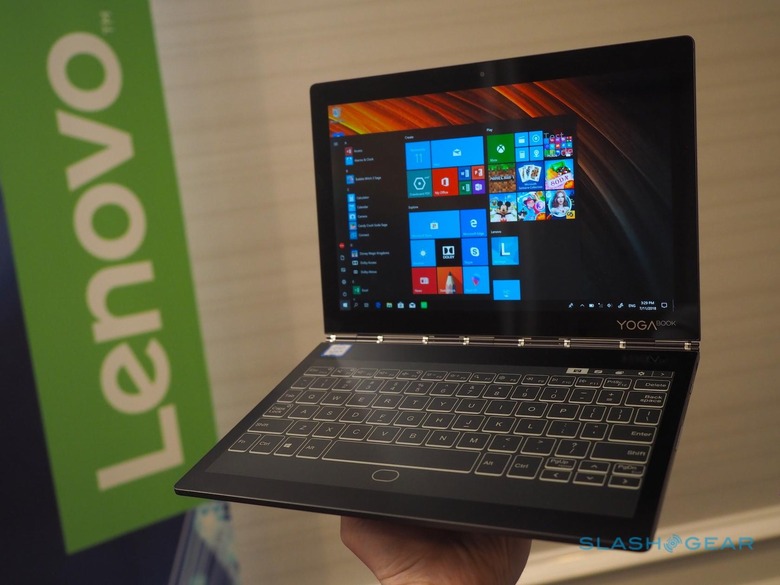 The flat-profile keyboard is no longer just a compromise to make for a super-skinny notebook. Instead, it's legitimately useful with its flexible layouts, virtual notepad duties, and ereader talents. Certainly the Lenovo Yoga Book C930 isn't for everybody but, for those who sit at the center of its Venn diagram of talents, it's an altogether unique and quite probably rewarding device. If you're among that cohort, you'll be able to pick one up in October, priced from $999.99.